Trip Report
---
Cross Country Figure 8
August-September 1979

Section 3 of 3
by


---
Previous section
September 10, 1979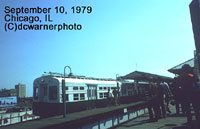 The last leg of the trip began in the evening from Union Station. The Floridian had been periodically switched from a morning Chicago departure and night Miami arrival to a night Chicago departure and daytime Miami arrival. When I lived in Orlando in 1977, it was on the former schedule. This also was necessitated by the shortlived combination with the Louisville-Sanford Auto Train. By my 1979 journey, the Auto Train was abandoned, and the schedule switched to a night departure from Chicago.
September 10, 1979
Ar/Lv
City, Train Info
Late
Times
Lv
Chicago, Union Station tr:57/93 275/476
-:08
9:38 PM
September 11, 1979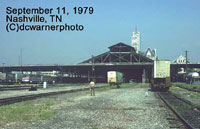 One of the long-standing defining characteristics of Amtrak's long distance trains has been the difference in quality of trains and services between those that travel east/south of Chicago and those that go west. Why this is the case will long be debated by Amtrak historians, but the root causes for this difference was probably 1) the deplorable state of the Penn Central lines Amtrak inherited and 2) the high-quality of passenger trains operated by the Santa Fe up to the Amtrak takeover. Even in the early days of hand-me-down equipment, this difference was present.
The east/west divide was in sharp evidence on the Floridian. It was also running out its last month of service, thanks to the impending "Carter Cuts." But, whereas there had been a feeling of optimism on the North Coast Hiawatha, the Floridan had the sense of doom about it. The equipment did seem more run down. The crews were indifferent, at best. There wasn't any pervasive sense of excitement for the trip among the passengers. Admitedly a trip through the Appalachians may not be as interesting as through the northern tier of the country, but it still had worthwhile sights to see. Yet, looking back, most of them were somewhat forelorn.
The Floridian still used the station adjacent to the abandoned Louisville Auto Train terminal. A large purple and red open-steel building loomed over weed-covered pavements and tracks. In the early evening, the train stopped at the imposing Montgomery, AL, station. But, the large train shed was empty of life, save for our train. The only color I recall was a yellow streetcar on display in the station plaza. Yet, the train was handled in an expeditious manner by the host railroads, and we spent the day on time. Take that, 2009.
September 11, 1979
Ar/Lv
City, Train Info
Late
Times
Ar/Lv
Bloomington, IN (CDT)
-:03
3:08/3:12 AM
Ar/Lv
Louisville, KY (EDT)
-:01
7:31/8:05
Ar/Lv
Bowling Green
-:01
9:11/9:12
Ar/Lv
Nashville, TN
-:00
10:46/11:15
Ar/Lv
Decatur, AL
-:11
1:07/1:10 PM
Ar/Lv
Birmingham
-:15
4:10/4:32
Ar/Lv
Montgomery
+:03
6:45/7:35
Ar/Lv
Dothan
+:00
10:10/10:15
September 12, 1979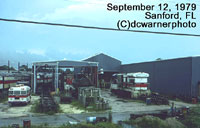 Today was a day of visiting friends in and near Florida. The first stop was Winter Park, a favorite haunt of mine when I lived nearby in 1977. I spent a number of Friday evenings in the park by the station or at various places along the former ACL route. At Winter Park I hung out with a doctor from the nearby Navy Hospital whom I had met in February, 1977 while taking photos of Auto Train north of Sanford. We enjoyed an early lunch at a "Steak and Shake." My friend would frequently time his lunches so he could take photos of the two noon-time Amtrak trains that passed through the Orlando area. It was on the northbound train that I continued by journey.
The next leg of the journey was on the one Florida-service trains slated for abandonment at the end of the month. (My doctor friend's lunch hours were about to become boring). I rode to Jacksonville to meet a college friend who was based at the Navy's submarine base at King's Bay, GA. She drove me up to the base and I got a tour of the tender to which she was assigned--one of the first women assigned to a submarine tender. Then it was back to Jacksonville to catch train 82, due to depart just after midnight.
Looking back at this day of the journey, it is too bad that today's Florida service wouldn't enable a repeat.
September 12, 1979
Ar/Lv
City, Train Info
Late
Times
Ar/Lv
Jacksonville, FL tr:57
-:45
5:57/6:30 AM
Ar/Lv
DeLand
-:55
8:35/8:35
Ar/Lv
Sanford
-:34
8:51/8:59
Ar
Winter Park
-:35
9:20
Lv
Winter Park tr:86 301/643
-:32
1:00 PM
Ar/Lv
Sanford
-:42
1:35/1:50
Ar/Lv
DeLand
-:40
2:09/2:10
Ar/Lv
Palatka
-:43
3:05/3:06
Ar
Jacksonville, FL
-:15
4:08
September 13, 1979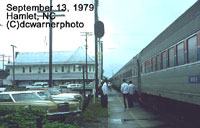 After a busy day in Florida, and a nearly 1:00 a.m. departure, I slept during most of the northbound journey over the Seaboard Coast Line "S"-Line, waking near Hamlet, NC. The trip into Washington, DC, was uneventful. I took the subway to Silver Spring where my Mother picked me up. The "ancestral home" was in Bethesda, eventually a 10-minute drive to the future Grosvenor Red Line station, but at the time of this trip the closest station on the Red Line was the 1978-opened Silver Spring station.
September 13, 1979
Ar/Lv
City, Train Info
Late
Times
Lv
Jacksonville, FL tr:82 646/611
-:43
12:52 AM
Ar/Lv
Hamlet, NC
-1:20
8:40/8:53
Ar/Lv
Southern Pines
-1:38
9:32/9:33
Ar/Lv
Raleigh
-1:24
10:50/10:54
Ar/Lv
Henderson
-1:26
11:40/11:41
Ar/Lv
Petersburg, VA
-1:15
1:24/1:25 PM
Ar/Lv
Richmond, Staples Mill Road
-:55
2:02/2:25
Ar/Lv
Fredericksburg
-:55
3;24/3:25
Ar/Lv
Quantico
-:54
3:48/3:48
Ar/Lv
Alexandria
-:58
4:21/4:23
Ar
Washington, DC, Union Station
-:50
4:40
Lv
Union Station Red 1161
5:19
Ar
Silver Spring
5:28
September 15, 1979
The final leg home was a familiar one, as it was going between my childhood home in Maryland to my current home in Connecticut. But, the trip wasn't quite routine. It started routine, and on time. Until Seabrook, just two miles north of the Capital Beltway station. There were still a few grade crossings on the NEC, and at Seabrook the Night Owl hit a car. We were not told of any injuries to the occupants. We weren't told too much, actually, other than the train had hit a car and we would be delayed for quite some time. After a two-hour delay, the northbound journey continued.
September 15, 1979
Ar/Lv
City, Train Info
Late
Times
Lv
Silver Spring Red 1236
9:30 PM
Ar
Union Station
9:41
Lv
Washington, DC, Union Station tr:66
10:10
Ar/Lv
Capital Beltway Station
10:23/10:26
September 16, 1979
Since 1979, I've spent more nights sitting up trying to sleep along the Northeast Corridor than I care to count. After the event at Seabrook, I did manage to sleep through most of the stops of the Night Owl. Actually, the late arrival in New London was always a blessing--6:00 a.m. always seemed to early in the morning after a trip from Washington.
Due to schedule padding--the Night Owl never was a speedster--my arrival home was just under 100 minutes late. Not bad for a 22-day, 11-train, 8,150-mile odyssey.
September 16, 1979
Ar/Lv
City, Train Info
Late
Times
Ar/Lv
Seabrook (train hit a car)
10:29/12:23 AM
Ar/Lv
Baltimore, Penn Station
-1:50
12:52:12:55
Ar/Lv
Philadelphia, PA, 30th St. Station
-2:10
2:52:3:50
Ar/Lv
Metropark, NJ
-2:08
4:07/4:08
Ar/Lv
New York City, Penn Station
-1:50
4:35/4:50
Ar/Lv
New Haven, CT
-1:46
6:30/6:46
Ar
New London
-1:36
7:36
Fini