Trip Report
---
Cross Country Figure 8
August-September 1979

Section 2 of 3
by


---
Previous section
September 3, 1979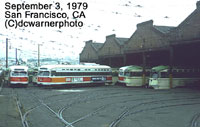 The wedding was over, and it was time for another five days of train riding. This was my first visit to San Francisco in six years, and it was nice to still see the PCCs running. The Toronto PCCs that had been purchased to hold MUNI over until the Boeing cars could be commissioned weren't running due to the holiday. The Boeings' destination signs indicated they were being used on the J-Church line; the standard light rail vehicles were all parked in the new Balboa Park car house across the street from the PCC's home, Geneva car house. The PCCs wore a mixture of the classic green/white and new "intertwined worms" orange/red colors. Work was still progressing on the east portal of the Twin Peaks tunnel to join it up with the MUNI Metro. (Though the PCC's days seemed permanently numbered in 1979, they have since staged a revival--albeit using cars from other cities--on the F-Market Street Line.)
My car attendant on the Coast Starlight had grown up in Vienna, just a few kilometers from my mother. It is a small world. And, in 1979, it was for me a largely on-time one on Amtrak.
September 3, 1979
Ar/Lv
City, Train Info
Late
Times
Lv
San Francisco Airport 7F 9813
11:02 AM
Ar
Trans Bay Terminal
11:25
Lv
Trans Bay Terminal L 1036
12:00 PM
Ar
East Portal
12:23
Lv
Duboce/Church L 1127
1:30
Ar
46th & Zoo
2:15
Lv
46th & Zoo L 1036
2:41
Ar
West Portal
2:55
Lv
West Portal K 1111
3:05
Ar
City College
3:17
Lv
City College K 1111
5:00
Ar
West Portal
5:10
Lv
West Portal K 1153
5:28
Ar
Forest Hills
5:30
Lv
Forest Hills K 1163
5:50
Ar
Market & Mason
6:10
Lv
Powell & Market 60 (Powell St. Cable Car)
6:20
Ar
Powell & California
6:30
Lv
California & Powell 59 (Cal. St.) 23
6:58
Ar
Bay & Taylor
7:07
Lv
Bay & Taylor 59 23
7:23
Ar
Powell & California
7:37
Lv
San Francisco, Transbay Terminal Ambus
8:30
Ar
Oakland
8:42
Lv
Oakland tr:14 513/536/SP9353
-:07
9:07
Ar/Lv
Richmond
-:10
9:20/9:23
Ar/Lv
Martinez
-:08
9:49/9:52
Ar/Lv
Davis
-:05
10:37/10:41
September 4, 1979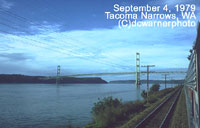 I was now entering new territory for me. Having never previously been into northern California, Oregon or Washington, I wasn't quite sure what to expect as far as scenery. (The Coast Starlight did make stops at Redding and Dunsimur, but I didn't wake up for them.) As I discovered, and many readers of this know, it is spectacular. I was able to get some dutch-door photos between Klamath Falls and Eugene. The hour in Portland gave me plenty of time to get photos of BN F-units in the yard north of the station. Note that the SP engine was removed in Portland.
I was a Civil Engineering major in college, and the story of "Galloping Gertie,"--the first bridge over the Tacoma Narrows--was required reading and watching. Consequently a highlight of the trip through Washington state was seeing the rebuilt bridge. (A parallel bridge has now been built, and the foundations have had to be placed so as to avoid disturbing the remains of the original bridge). Tacoma Union Station was impressive from the train; I didn't have time to go inside. This station is now a wonderful museum, and the buildings added adjacent to it were built in a similar style. Tacoma and Seattle were bitter rivals for being the main railroad terminal city on Puget Sound in the second half of the 1800s.
Lots of padding (needed, apparently) into Seattle. King Street Station in Seattle also had a run down appearance (something from which it is only recently beginning to revive). The adjacent Union Station didn't look much better, especially with some of the empty tracks Milwaukee Road and UP tracks intact. A few catenary supports were also in evidence.
September 4, 1979
Ar/Lv
City, Train Info
Late
Times
Lv
Klamath Falls, OR
+:03
5:35/6:06 AM
Ar/Lv
Eugene
+:02
10:40/10:54
Ar/Lv
Albany
-:01
11:36/11:37
Ar/Lv
Salem
+:03
12:07/12:11 PM
Ar/Lv
Portland 536/513
-:00
1:20/2:20
Ar/Lv
Vancouver, WA
-:04
2:41/2:45
Ar/Lv
Longview
-:11
3:30/3:31
Ar/Lv
Centralia
-:11
4:20/4:25
Ar/Lv
Tacoma, Union Station
-:19
5:35/5:39
Ar
Seattle, King St. Station
-:18
7:38
September 5, 1979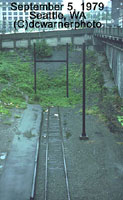 Ever since my father brought me one of those little snow domes with the Space Needle in it from the 1962 Worlds Fair (also known as the 21st Century Exhibition), I had wanted to visit the Space Needle. The site of the fair is now the Seattle Center and home of the Pacific Science Museum. Though the waterfront trolley was still a dream, as well as the Seattle Streetcar and Central Link light rail line, the plethora of trolley buses provided ample traction vehicle interest in downtown Seattle. A slight drizzle fell much of the day, but it was never hard enough to make walking around uncomfortable. Since 1979 I have been in Seattle many times, and I'm convinced the tales of "all rain, all the time" are just a ruse to keep people from moving to one of the most beautiful places in the country.
In the yard south of King Street Station were some brand new Superliners, but the North Coast Hiawatha was pure single-level, non-HEP equipment. The train had less than a month to operate, and at the time shared 3 vs. 4 times-a-week service with the Empire Builder. Unfortunately for mileage collecting, it had been rerouted over Stevens Pass instead of Stampede Pass a few years earlier.
I was also interested in seeing Everett. My 9th grade history teacher had grown up in Everett, and I wanted to see this other town (other than Seattle) that I had heard about in the state of Washington. As it turned out, the BN F units at Interbay Yard north of downtown Seattle were much more interesting.
September 5, 1979
Ar/Lv
City, Train Info
Late
Times
Lv
5th & Pine monorail
10:51 AM
Ar
Seattle Center
10:53
Lv
Seattle Center monorail
2:15 PM
Ar
5th & Pine
2:17
Lv
Seattle, King St. Station tr:18 240/245
+:00
5:20
Ar/Lv
Edmonds
-:04
5:55/5:56
Ar/Lv
Everett
+:00
6:17/6:20
Ar/Lv
Wenatchee
-:16
9:19/9:36
Ar/Lv
Ephrata
-:13
10:44/10:45
September 6, 1979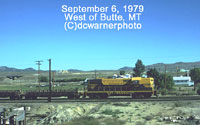 All day on the train. In new-for-me-territory. And mostly in one state. Readers of this message know that the wonder of what the next curve would bring is central to the magic of train travel.
The previous evening at King Street an individual observed me taking a photo of the train. Early this morning in the lounge car I met that individual, Chris, from Liverpool, England. We struck up a conversation, and remain friends to this day. In no small way, friends I made as a result of this chance meeting were instrumental for my ability to get a job in the transportation industry over 15 years later.
Our conversations frequently turned to the fate of the North Coast Hiawatha, as well as Amtrak in general. Though slated to be eliminated in less than four weeks, the mood of the passengers and crew on the NCH was upbeat. There seemed to be a general feeling that the train would be saved. It didnít feel like a train with a train-off notice hanging over it.
Iíve always been drawn to traction and electrified railroads. While the Milwaukee Roadís wires had disappeared, the railroad itself was still a focus of attention, and it was exciting to see places such as Deer Lodge that had been part of the electrification. Bankrupt for the past two years, the Pacific extension was on the endangered list. Yet, I was still able to photograph a few westbound trains between Missoula and Butte, and some of the wooden catenary supports were still trackside. At Butte, the once-electrified Butte, Anaconda and Pacific crossed over both the NP and MILW rights-of-way.
Iím also a Jimmy Buffet fan. While he is associated with the sun and sea of the Florida Keys, in the 70s he had a few songs with references to Montana (Come Monday, Livingston Saturday Night). Livingston didnít seem to be that exciting a place, but the stone NP station that had been the railroadís gateway to Yellowstone Park was impressive.
September 6, 1979
Ar/Lv
City, Train Info
Late
Times
Ar/Lv
Spokane
-:13
12:45/1:05 AM
Ar/Lv
Sandpoint, ID (PDT)
-:02
2:30/2:35
Ar/Lv
Paradise, MT (MDT)
+:00
5:33/5:35
Ar/Lv
Missoula
-:37
7:25/8:02
Ar/Lv
Deer Lodge
-:38
9:17/9:18
Ar/Lv
Butte
-:36
10:06/10:11
Ar/Lv
Bozeman
-:40
12:20/12:25 PM
Ar/Lv
Livingston
-:32
1:10/1:32
Ar/Lv
Billings
-:34
3:21/3:37
Ar/Lv
Forsyth
-:29
5:10/5:12
Ar/Lv
Miles City
-:16
5:59/6:01
Ar/Lv
Glendive
-:25
7:12/7:35
Ar/Lv
Dickinson, ND (CDT)
-:12
9:18/9:20
September 7, 1979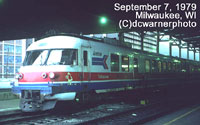 My new-found friend Chris left the North Coast Hiawatha in Minneapolis to ride the North Star to Superior. That train was made up of Amfleet cars with an F40 for motive power. Readers of these trip notes will note that F40s were in charge of train 18 from Seattle. A former BN car provided the steam heat for the trip.
The effect of poor Milwaukee Road track east of Minneapolis showed as the train lost more and more time as it approached Chicago. I detrained at Glenview to spend a few days with friends. The friends I met included my friend from Denver who, while I was heading west/north/east by rail, had moved back to Chicago to begin work at the Chicago Sun Times. The journey continued on September 10.
September 7, 1979
Ar/Lv
City, Train Info
Late
Times
Ar/Lv
Mandon, ND
-:05
12:25/12:25 AM
Ar/Lv
Bismark
-:12
12:38/12:45
Ar/Lv
Staples, MN
-:02
6:13/6:15
Ar/Lv
St. Cloud
-:06
7:18/7:31
Ar/Lv
Minneapolis/St. Paul, Midway Station
+:00
9:00/10:00
Ar/Lv
Red Wing
-:06
11:15/11:16
Ar/Lv
Winona
-:25
12:58/12:58 PM
Ar/Lv
La Crosse, WI
-:30
1:39/1:52
Ar/Lv
Tomak
-1:10
3:23/3:23
Ar/Lv
Wisconsin Dells
-1:21
4:24/4:28
Ar/Lv
Portage
-1:30
4:55/4:55
Ar/Lv
Columbus
-1:50
5:45/5:45
Ar/Lv
Milwaukee
-1:39
7:02/7:08
Ar/Lv
Glenview, IL
-1:42
8:15