Trip Report
---
Cross Country Figure 8
August-September 1979

Section 1 of 3
by


---
August 26, 1979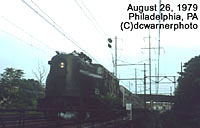 Thirty years ago I made my most extensive Amtrak trip ever. It was a cross-country journey literally from New England to California and from Seattle to Florida. The main purpose of the trip was to be the best man at my best friend's wedding in Santa Cruz, CA. The secondary purpose of the trip had been to ride the North Coast Hiawatha and Floridian, two trains that were due to be cut as a result of the Carter cuts of 1979. Through a series of happy coincidences, it also turned out to be an opportunity to visit a good friend of mine from college in her home town of Denver and in the city where we first met...Chicago. On August 13 I visited her for a few hours in Washington, DC, and then changed the travel plans to 24-hour layover in Denver. This person whom I "chased around the country by train" has been my wife for 31 years.
Looking back at the arrangements for the trip, I'm somewhat in awe that I was able to pull it off. I had been out of the country from Mid-March until early August. I must have made the reservations immediately upon my return to the U.S. because I couldn't have made them while I was out of the country. The second gas crises was still creating gas shortages, and train ridership was high. Yet, I was able to get seats on all the trains I wanted to ride, and I was even able to add a stop over in Denver.
August 26, 1979
Ar/Lv
City, Train Info
Late
Times
Lv
New London, CT tr: 171 211
-:15
9:46 AM
Ar/Lv
Old Saybrook
-:12
10:05/10:07
Ar/Lv
New Haven 971
-:03
10:45/10:58
Ar/Lv
Bridgeport
-:09
11:20/11:22
Ar/Lv
Stamford
-:13
11:47/11:49
Ar/Lv
Mianus River Bridge, Engine Failure
11:55/1:48 PM
Ar/Lv
Rye, NY
-2:11
1:58/2:00
Ar
New York, Penn Station
-1:51
2:36
Lv
New York, Penn Station tr:41 4909
-:11
3:11
Ar/Lv
Newark, NJ
-:15
3:26/3:30
Ar/Lv
Trenton
-:19
4:10/4:14
Ar/Lv
North Philadelphia, PA
-:16
4:36/4:38
Ar/Lv
Harrisburg 310-412-430-403
-:03
6:14/6:43
Ar/Lv
Altoona
-:06
9;13/9:15
Ar/Lv
Johnstown
-:06
10:14/10:16
As you can see, I almost missed my train in New York due to the E60's failure at the catenary break on the Mianus River bridge. I had a great vantage point from the bridge (where my car stopped), but it was very frustrating to watch the minutes tick by. The train behind 171 passed us; I had taken 171 to get a bit of free time in New York. As train 41 came up from the Pittsburgh Subway at Zoo, the Washington section passed over head, and paralleled us for several hundred yards.
August 27, 1979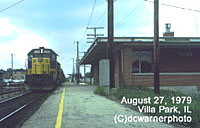 The Broadway Limited ended up being an hour late into Chicago, a fairly typical performance. My trip to Villa Park was to see my friend who was getting married in Santa Cruz. He flew out the next day, and he also drove me back to Union Station. Note how much later in the day train 5 used to leave than now.
August 27, 1979
Ar/Lv
City, Train Info
Late
Times
Ar/Lv
Pittsburgh (train 41)
-:11
11:49/12:10 AM
Ar/Lv
Canton, OH
-:29
2:40/2:42
Ar/Lv
Crestline
-:45
4:55/5:02
Ar/Lv
Lima (EDT)
-:35
6:20/6:25
Ar/Lv
Fort Wayne, IN (Indiana Time)
-1:00
7:40/7:53
Ar/Lv
Valparaiso
-1:00
8:48/8:50
Ar/Lv
Gary (CDT)
-:58
9:16/9:18
Ar
Chicago, IL, Union Station
-1:05
10:10
Lv
CNW Station West 5031A
10:41
Ar
Villa Park
11:38
Lv
Chicago, Union Sta. tr:5 505(SDP45)/716(P30)
-:05
6:20 PM
Ar/Lv
Aurora
-:06
7:05/7:06
Ar/Lv
Galesburg
-:00
8:50/8:55
Ar/Lv
Monmouth
-:07
9:14/9:14
Ar/Lv
Burlington, IA
-:07
9:40/9:45
Ar/Lv
Mt. Pleasant
-:07
10:14/10:15
Ar/Lv
Ottumwa
-:17
11:09/11:10
August 28, 1979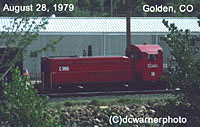 The westward trip on train 5 continued through the night without noteworthy delays. But, upon arrival at Fort Morgan, we were held for a broken rail. As the log shows, we left after waiting slightly over an hour, but there were other delays associated with the problem that resulted in the train arriving in Denver 3h 16m late. This was the latest I was at any time during my trip. Remember, too, this was before cell phones (and Julie), so there wasn't any way for those of us on the train to let people waiting for us in Denver know about our predicament. My then-friend/now-wife had never spent so long in Union Station, but she didn't have too much to say about being kept informed one way or the other.
Denver activities included a drive-by of the Coors Brewery, a visit to the Colorado Railroad Museum and an evening at the (real) Elitch Gardens. (The current incarnation of Elitch's in former rail yards south of downtown Denver is a very poor imitation).
August 28, 1979
Ar/Lv
City, Train Info
Late
Times
Ar/Lv
Creston
-:00
12:03/12:10 AM
Ar/Lv
Lincoln, NE
-:15
4:30/4:50
Ar/Lv
Hastings
-:12
6:30/6:37
Ar/Lv
Holdrige
-:11
7:23/7:24
Ar/Lv
McCook (CDT)
-:16
8:35/8:46
Ar/Lv
Akron, CO (MDT)
-:20
9:48/9:50
Ar/Lv
Fort Morgan (broken rail delay)
-1:24
10:20/11:32
Ar
Denver, Union Station
-3:16
2:51 PM
August 29, 1979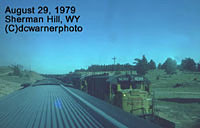 The travel time west from Denver on the UP route was much quicker than today's route on the former Rio Grande. But, the scenery is generally unremarkable, though the wide vistas are dramatic to observe especially, for someone who grew up in the eastern part of the country. The casual traveler isn't aware that the train reaches its maximum elevation above sea level west of Cheyenne on Sherman Hill. I certainly enjoyed the brief stop in Cheyenne, though the quick change of engines from one end of the train to the other didn't allow passengers too much time for exploring.
August 29, 1979
Ar/Lv
City, Train Info
Late
Times
Lv
Denver tr:5 626/627/UP954
-:25
12:45 PM
Ar/Lv
Greely
-:35
1:43/1:45
Ar/Lv
Cheyenne, WY
-:35
2:40/3:00
Ar/Lv
Laramie
-:26
4:13/4:16
Ar/Lv
Rawlins
-:19
6:03/6:04
Ar/Lv
Rock Springs
-:10
7:44/7:45
Ar/Lv
Green River
-:10
8:03/8:15
Ar/Lv
Evanston
-:00
9:50/9:55
August 30, 1979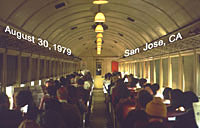 A nearly flawless journey to the Bay Area. The magic of padding made for an arrival at 16th Street in Oakland just five minutes late. The crew certainly got all the rest it was entitled to on this journey.
This was my second trip over Donner Pass, and I was able to "Dutch door" most of the way. On my first trip, which was eastbound, train 6 used the original alignment over the pass. Westbound 5 used the "new" line.
The SP commuter trains still had the single-level Harriman coaches and the number boards of the engines had the train numbers in them. The SP engine on the train I rode had been on a Coast Starlight I rode six years earlier.
August 30, 1979
Ar/Lv
City, Train Info
Late
Times
Ar/Lv
Ogden, UT (MDT)
-:00
11:20/12:20 AM
Ar/Lv
Carlin, NV (PDT)
-:25
4:00/4:05
Ar/Lv
Winnemucca
-:40
6:15/6:15
Ar/Lv
Sparks
-:43
9:02/9:20
Ar/Lv
Reno
-:45
9:30/9:35
Ar/Lv
Truckee, CA
-:46
10:30/10:30
Ar/Lv
Colfax
-:45
12:48/12:49 PM
Ar/Lv
Sacramento
-:40
2:27/2:35
Ar/Lv
Davis
-:54
3:05/3:07
Ar/Lv
Suisan-Fairfield
-:51
3:32/3:32
Ar/Lv
Martinez
-:51
3:53/3:54
Ar/Lv
Richmond
-:51
4:22/4:23
Ar/Lv
Oakland
-:05
4:35
Lv
Oakland connecting Ambus
4:45
Ar
San Francisco, Transbay Terminal
5:00
Lv
San Francisco, 4th & Townsend tr:140 3207
5:46
Ar
San Jose
7:20
August 30, 1979 was a Thursday. The next few days were spent in Santa Cruz...across the hill from San Jose. The journey will resume on Labor Day, 1979: September 3.
Continued in next section