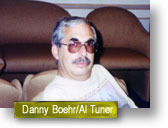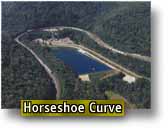 Danny Boehr/Al Tuner
The Muse From Here Archive

Last Update: March 1, 2015
Menu of the Muses
Except for the first and second "Muses," written in 1994, Al Tuner did not give titles to most of The Muses From Here; they were sent by e-mail with only a date for reference. We've added titles in the following list to give you a feel for the topic of each Muse.
If you happen to have a Muse From Here that is not contained on these pages, please notify to discuss adding it to this collection.
We would like to thank Danny's wife, Diane, and Carol Voss, the current moderator of Danny's OS List, for compiling these Muses and making them available to On Track On Line.

Al Tuner Bench Dedication
On August 23, 2003, the family of the late Danny Boehr, along with many friends, dedicated a bench at the Horseshoe Curve National Historic Landmark. Danny Boehr was better known to the internet as Al Tuner, and the Curve was his favorite place to watch trains. On the Bench Dedication Page you can find photos of the bench and the dedication ceremony.
1994






---