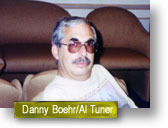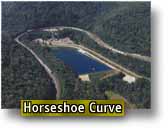 Danny Boehr/Al Tuner Bench Dedication

Last Update: October 30, 2003
---
The Horseshoe Curve Bench
On August 23, 2003, the family of the late Danny Boehr, along with many friends, dedicated a bench at the Horseshoe Curve National Historic Landmark. Danny Boehr was better known to the internet as Al Tuner, and the Curve was his favorite place to watch trains. On this page you can find photos of the bench and the dedication ceremony.

Al Tuner posted news on the internet under the title "The News From Here." These e-mails grew into the OS-List, a place where railfans could post citings about trains, track boxcar RBOX30000 on its travels around North America and more.

In the mid-to-late 1990s, Danny/Al became was well known for his short essays about the railroad--The Muse From Here. We are pleased to present a Muse that Danny's widow, Diane, read at the dedication. On-Track-On-Line is working to assemble all of the Muses from Here to serve as an internet memorial to a wonderful father, husband, friend and railroad enthusiast.

---
Diane's Comments
We are gathered here today for a dual purpose, both to mourn a death and celebrate a life. Altoona was always Danny's favorite place, and he used to say he wanted to be buried here. I told him he had it backwards, he should bury me here, and then he would have yet another reason to visit.

In any case, while his body is in Maryland, I believe that if there is a spirit which lives on after death, then unquestionably, this is where we would find Danny's spirit. So when I tried to decide on an appropriate memorial for him, I knew it had to be on the Horseshoe Curve, overlooking the tracks. I can envision him looking down and grinning with every passing freight train (although he's probably still occasionally lamenting the loss of the 4th track).

My hope is that the plaque we are dedicating today may serve as a pleasant reminder to those who knew Danny or "Al" either personally or only on the net. And maybe it will prompt a question or two from visitors who didn't know him, but in asking around will encounter another fan who is an OS list member or a Railbox car spotter, and they will learn a little more about the person Danny was.

I want to thank all of you for joining me here today to dedicate this plaque, and I particularly want to express my appreciation to those of you who contributed and helped make the plaque a reality. Thirty-three years ago yesterday, some of you here were with us at our wedding. Altoona was the first place Danny took me one week after we returned from our honeymoon. And just four years ago we celebrated Danny's 50th birthday with a surprise party right here. In between there were a lot of visits by Danny, sometimes alone, and sometimes with friends or family. So this is a place with a lot of memories and a lot of history. It is a place Danny always wanted to share with those he loved.

I think we would all agree that if there is a heaven, Danny's heaven has to have trains. And it came to me that since my heaven has to have Danny, I guess I'll be watching trains for eternity too. OK, Dan, you win.

I want to read you a muse that Danny wrote about the Curve in Oct. 1995, that sums up his feelings about this place. Although he is referring to different events that brought stress to his life, I think his words resonate strongly with us today. May this day and this place bring us the peace and healing it brought Danny.

---
The Muse From Here, October 4, 1995
The onset of Fall, for me, always brings a need for personal introspection. The cooling of the air, the transformation of the trees and animal life, the leaves on my lawn and car in the mornings, and most assuredly the end of the baseball season, creates a change in me as well.

So it was more than coincidental that I found myself last weekend sitting on the Horse Shoe Curve once again. The blue sky, golden Alleghanies and weak but warming sun, held me as a mother would hold a child in distress.

There were plenty of trains, and plenty of people to watch them. The recent improvments to the facility, as well as the new "train watching" platforms in Cresson and Gallitzin were hopeful signs of continued accesibility to this place, and symbolic of continued faith that there would be a show to observe.

Folks were taking in the glorious scenery. Lovers walked quietly holding hands, in the midst of rail enthusists avidly exercising the accoutrements of their passion - scanners, cameras, timetables and cam corders. A Norfolk Southern train dispatcher befriended a retired signal company employee as they jointly discussed radio controlled locomotives. Others found other common ground upon which to communicate. Some stood quietly alone, but clearly glad to be there.

At a time when the winds of change blow so hard, one must have substantial strength to keep standing, let alone advance forward, here I could quietly ease up on the effort to stabilize, because the ground was soild with familiarity. Perhaps like a seabird, becoming tired of the effort of flight at sea, this was the comforting sight of land, and some sense of safety and security. A deep breath was in order.

In a world where the trivial is focussed upon, so that the important can be ignored, at a time when leadership is some how confused with rhetoric, a haven from it all becomes more important. At a time when correctness is given higher marks than being correct, when a sense of community and joining together is supplanted by narrow interest, just plain folks joining together by their presence on this mountain radiates some hope for the future.

An integral part of a personal survey of oneself, has to include a review of what feels right, what is cherished, what is the basis upon which you retain things, so that you can best determine what must be jettisoned and what you need to fix up, or further explore. Even in baseball, one must touch all the bases before attempting to score.

So I went to that mountain again, to make sure my intuitively obvious understanding still was in fact the case. After a while, two double stack trains came down that mountain at the same time, placing an involuntary grin on my face. It was clear to me how I felt about this scene. I needed no further evidence.

The winds of confusion, distrust, perhaps creeping cynicism may blow harder still before, if ever, a much sought peaceful calm comes. Much like loved family, cherished friends and good music, this place, so often just in the mind rather than being there in reality, sustains me. Because it is a constant. Because it is a place to escape to. Because it shelters me in the shadow of its hills.

At the end of a contentious day, when the barbs and pressures of life sting hard, I can always close my eyes briefly and recall this place, to regain a sense of balance, a sense of joy, and a sense of self-definition.

So much of humankind's ancient history speaks of revelations on mountaintops. On my way home, alone in my car, I realized now I know why.

Al Tuner

---
Photos
To view larger versions of the images below, simply click on the image.
The bench with a plaque dedicated to Danny Boehr, aka Al Tuner, is covered in preparation for the unveiling.
Diane Boehr gives her speech, though a low rumble signals a train is about to interrupt the ceremony.
Diane Boehr and the gathered friends and family pause to watch a train go by; the noise drowned out any chance of continuing the speech until the train passed.
A Norfolk Southern intermodal train heads westbound around Horseshoe Curve while friends and family watch.
Elsie reads a poem dedicated to Danny.
Ira Silverman gives a few remarks.
Bob Grabarek shares memories and old photos.
Cliff Kendall, a native of Altoona, shares memories of working with Danny.
Michelle Boehr, daughter of Danny and Diane, unveils the bench bearing the plaque dedicated to her father.
The Plaque.
Diane Boehr rests on the bench dedicated to Danny following the ceremony.