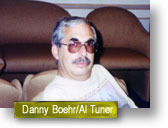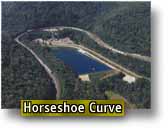 Danny Boehr/Al Tuner - The Muse From Here Archive - 2002

Last Update: November 8, 2003
May, 2002
OUR MUSE
The average lifespan for a man these days is around 75 year old. Danny Arthur Boehr passed away [17 April 2002] at the age of 52. About 1/3 of his life was taken away from him due to cancer. Some might call this a tragedy. However, Danny was no average man, and this is no tragedy.
He loved trains, plain and simple. He grew up spending his free time sitting beside some railroad tracks waiting for trains to go by. When that did not seem like enough, he went out started to work for the railroad. During his career, he was able to do some rather amazing things including organizing and managing trains for 2 network television shows and 2 presidential campaign trains. He often went beyond the call of duty by making sure he was the one who had to work over holidays like Christmas and Easter so that his co-workers could spend time with their families. He was able to travel all over the country and sometimes to other countries. When he came back from England, he did not speak of Big Ben or any other of the typical tourist spots, but rather, he went on about how cool riding the Chunnel train was.
He also started a railroad message board on the internet called "The OS List". This made it possible for others with a passion for trains to talk about all the different kinds of trains that they had seen. Many of them did not know who he was because he went by the pen name "Al Tuner", but by the many messages they posted in the last few weeks they were very appreciative for the knowledge of trains he would give. The OS List also gave him the chance to use his creativity when he would post his fictional writings entitled, "The Muse From Here." Because of his Muses, Al Tuner has been referred to as the "Internet's Rail-Poet Laureate" by amazon.com.
Danny was able to accomplish many things through his love of trains, but if you were to ask him what his greatest accomplishment was, he would probably tell you that holding on to the woman that was able to tolerate dates to the train stations. He was married to Diane for 31 years and was one of the few things that far surpassed his love of trains. With her, he had a daughter, and then a son. He approached his family, much like he approached his career, by going beyond the call of duty. He would bring home flowers to his wife without needing some sort of special occasion. He would stay up late at night helping his daughter her torah portion for her Bat-Mitzvah that week. Just a few days ago, when his son had a bad day, Danny put aside everything he was going through and asked his son if he would like to talk about it. And of course, he would never give up the opportunity to make the whole family laugh around the dinner table. He was such a good family man that he passed leaving his wife, daughter and son with no regrets about not spending enough time with him.
Danny Boehr was no average man, and his life was no tragedy. Had he not been able to spend his time doing the things that he loved, and spending his time with the people that he loved, and lived to be 152, then that would have been a tragedy. So whenever you hear the horn of a train blow in the distance, think of Danny and the life he had, and be inspired.
Josh Boehr

---