Trip Report
---
Roundtrip from Martinsburg WV-Fort Worth TX
March 13-21, 2007

Section 2 of 2
by
(Click small photos to see larger)
---
Previous section
March 19, 2007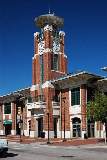 Our time to leave Texas had come and we started out trip back to Pennsylvania. We arrived at the Fort Worth Intermodal Transportation Center for a 2:20 pm departure.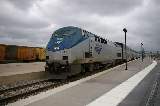 The Texas Eagle was about a half hour late arriving at Fort Worth, TX. We were waiting on the station platform and just enjoyed the breezy day.
As we approached our sleeping car, our car attendant Robert called out our name. He said that there was a little problem with our bedroom E on the car. The electric was not working and he said that they were going to have to move us to the Family Bedroom. Initially, we were a little unhappy about not having a shower and bathroom in our room. That soon changed when we were stretched out in our bedroom. The Family Bedroom runs the entire width of the car on the bottom level and provides a window on each side of the car. The bathroom and shower were down the car a short distance and were indeed larger then our regular bedroom.
The dining car steward came around to ask about supper reservations and we decided to have an early supper at 5:15 pm seating. While waiting for supper, we watched the Texas landscape pass by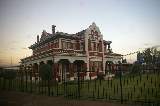 The nicest small station that we saw along the way was at Marshall, TX
We ate a light supper consisting of the Angus Burger with Chocolate Cake for dessert. It was very good.
About 9:30 pm we had our car attendant turn down our bed. It was long before we were both asleep. We slept soundly all night and didn't wake up all night. We had gotten use to the train sounds.
March 20, 2007
We awoke to the first call to breakfast prior to arriving in St Louis, MO. During the night we had a slow order around Poplar Bluff, MO due to heavy rains and flash flood warnings. Our speed was slowed from around 75 mph to 50 mph. This caused us to be about 1-1/2 hours behind schedule.
Breakfast did not require a seating time so we decided to grab a light breakfast. The continental breakfast consisted of cereal, fruit, croissant, yogurt, juice, and coffee. Our server appeared to be in a little bit of a hurry and spilled my milk on the table. He was apologetic but that didn't stop my milk bath.
After breakfast, I decided to take a shower to remove the milk bath. The shower was a lot bigger then the bedroom shower. It wasn't bad at all.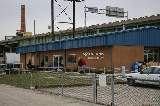 We stopped in St Louis, MO for a refueling stop. It gave us a chance to stretch our legs.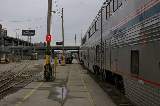 After the refueling stop, we continued on our trip to Chicago. We never made up the 1-1/2 hours that we lost.
Chicago
After leaving the Texas Eagle, we made our way to the Amtrak Metropolitan Lounge in Union Station. After checking our baggage, we took a small walking tour of downtown Chicago. It was fun to just sit and people watch.
This is good place for a warning. At this time of day, the commuters have left work and are rapidly making their way to the waiting Metra trains. Anyone not familiar with commuters will learn rather quickly that it is not a good idea to act like tourists during rush hour.
We also took our time looking at the interior of Union Station. The Great Hall in the station is really a sight that you shouldn't miss.
We had been given a time that we should be in the Metropolitan Lounge so we headed back. Upon arrival, we learned that there was a problem with the departure time of the Capital Limited (CL) and the Lake Shore Limited (LSL). By now, we were a little hungry, but didn't want to eat on board the train. We left the lounge in search of a good sandwich in the food court. (Don't forget to watch out for the commuters) We decided to get a sandwich at Nino Panino's Sandwich Shop in the food court. This was a great choice. We took our prized sandwiches back to the lounge to await our departure.
Capitol Limited
Finally, we board the Capital Limited after 1-1/2 hour delay. As luck would have it, the same crew we had at the start of our trip was our crew on this trip. We settle into bedroom E of our sleeping car. Since we brought our sandwiches on board, we didn't make a reservation for supper on the train. Our car attendant Brenda thought it was funny that we did take out on the train.
The LSL left about 15 min before us and we could hear him calling signals ahead of us. The LSL also had to endure the same stop signals as did the CL. We had Brenda turn down our bed about 9 pm and we read a little before falling asleep.
About 11:30 pm we were awakened by the fact that our train was stopped and we could hear voices outside. We also could smell wood smoke. Getting dressed I went downstairs and found out that we were in South Bend, IN and that a large warehouse fire next to the tracks blocked our travel. The glow of the fire could be seen ahead of us. The LSL was stopped ahead of us.
March 21, 2007
Two hours after stopping for the fire, both the LSL and CL were allowed to proceed. We looked out as we passed the fire scene and then went back to sleep.
We were awakened at about 7:00 am as we backed into Cleveland station at the Cleveland Browns Stadium. We realized that we were now about 5 hours behind schedule. We decided to shower before breakfast. I had a nice breakfast and brought a small breakfast back for my wife. Our car attendant echoed our concern about being late but said that at least we weren't the LSL. The LSL lost an engine during the night and were going to be delayed much longer then us. Note: An Amtrak representative issued a press release saying the CL lost an engine. This was not correct.
Prior to our arrival in Pittsburgh, the conductor made an announcement. All persons that were making connections in Pittsburgh, PA and in Washington, DC were going to be bussed. Since we were going to be about 6 hours late, this was the only way some people were going to make connections. We stopped in Pittsburgh and there were three buses waiting at the station.
Pittsburgh, Pa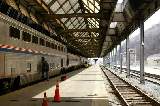 Our Pittsburgh, PA stop was long enough to remove passengers and checked baggage. We lost about half the passengers on the train.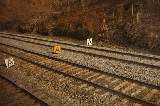 Out next obstacle on the train were the dreaded stop boards and work area boards posted by Norfolk Southern (NS) Maintenance of Way (MoW).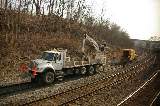 We also encountered plenty of MoW equipment between Pittsburgh, Pa and Martinsburg, WV.
Finally, we arrive in Martinsburg, WV after about 6 hours behind schedule. We were glad to leave the train after such a long trip. We both found the trip very enjoyable and will probably travel again on Amtrak. In spite of the delays, it was a great trip. We ended up logging mileage of about 3500 miles. Great trip.
I filled out the online survey on the Amtrak site and submitted it to Amtrak. Several days after the trip, we received a call from an Amtrak representative concerning my submission of the online survey. We talked at length about the trip and he asked for suggestions, which I provided. I can't ever remember an airline calling me to ask about the trip. If Amtrak could ever reduce the freight service delays, their ridership would increase on long distance trains.