Trip Report
---
Roundtrip from Martinsburg WV-Fort Worth TX
March 13-21, 2007

Section 1 of 2
by
(Click small photos to see larger)
---
Planning the Trip
October 15, 2006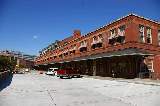 We were deciding whether or not to take the Amtrak trip to Texas for a wedding. My wife & I decided to make the trip to the Harrisburg Train station in Harrisburg, Pa. We had been looking on the Amtrak site to get some pricing, and information for the trip. Sometimes it helps to talk directly to someone. Upon arrival at the Harrisburg Station, we were faced with limited parking. It was a Sunday afternoon, so we had our access to several 30 min parking meters. If it had been during the week, a nearby parking garage would have been our choice. The Amtrak ticket agent was very helpful with all our questions. While standing at the ticket counter, my wife noticed a sign that advised that the tickets rates were going up 7%. This was the push we needed to make a reservation. The Amtrak agent gave us a reservation number and advised us to call the 1-800-USA-RAIL (1-800-872-7245) since we had a question about discounts that he not sure of the answer.
October 16, 2006
I called the 1-800-USA-RAIL (1-800-872-7245) and was greeted by JULIE who is the automated attendant. I said the word agent and was soon connected with a person. I talked with Christine, and from the start, I could tell that she was very Amtrak oriented. She was very helpful and friendly while answering my questions. Unfortunately, there were no discount programs that applied to me. (Mental note, join NARP (National Association of Railroad Passengers) before buying another Amtrak ticket for 10% savings). After a very nice conversation, we concluded our business with the purchase of our tickets.
November 7, 2006
We decided to take a ride to Martinsburg, WV to check out the area. Now you may wonder why we are leaving from Martinsburg instead of Harrisburg. We live half way between both cities. Well, from Harrisburg, we would have to take coach on the PENNSYLVANIAN to Pittsburgh. Then we would have to wait several hours for the CAPITOL LIMITED and our sleeping car. By going to Martinsburg, WV, we can board the CAPITOL LIMITED and enjoy the bedroom in our sleeping car early on the trip. It was actually a little bit cheaper to do it this way. Be aware that the Martinsburg Train Station has no ticket agent for Amtrak. They do have a MARC agent that is there part time in the morning and evening. Also, parking is very limited and is regulated.
March 13, 2007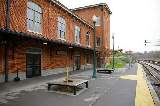 The day has arrived. We are scheduled to depart from Martinsburg WV at 5:45 pm, so we arrive at the station about an hour ahead of time. But, as luck would have it, the only thing that arrives at 5:45 pm is CSX 401 which is a westbound coal train. About 37 min late, Amtrak 29 arrives at the station. The train consists of 3 engines, a baggage car, 3 sleepers, 1 dining car, 1 lounge car and 3 coaches.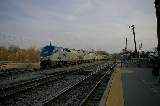 We board the train, found bedroom E on our car and get ready for out first leg of the journey, which will take us to Chicago. About 15 min after leaving MRB, we encounter CSX 401 in a siding waiting for us to pass. Go figure!! We have a 7:30 pm reservation in the dining car. As we are called to supper, we are arriving in Cumberland, MD. It is dark outside so there is little to see. I ordered the braised beef, bake potato, broccoli while the wife settled for the burger. Both were very tasty. For dessert we shared a piece of chocolate cake, which I highly recommend. After supper we made our way to the room and had our car attendant (Mark) turn down our beds.
About 9 pm I tried to find comfort in the upper berth. This was not going to work, as there was limited space for my oversized body. I found that it was much easier to share the lower berth with my wife.
Sleep did not come easy. There was a lot of stop and go during the night. Passing freights caused quite a rumble as they passed. Being new to rail travel, we had a lot to learn about the sounds of a train trip.
March 14, 2007
We awoke to the announcement of the second call for breakfast. We decided that we were not really very hungry owing to the chocolate cake the night before at supper. We shared a continental breakfast in our bedroom. We realized that we were running about three hours behind schedule. During the night we had encountered heavy freight traffic west of Pittsburgh, Pa which slowed our westward progress.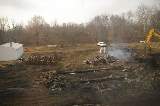 As we neared Elkhart, Ind., the conductor (knowing I was a railfan) stopped by to tell us that the week before, there had been a derailment in the area. She advised that if we went to the lounge car, we could possibly see some of the remnants of the derailment.
The conductor also advised us that it was going to be close for connections in Chicago. She felt that we would make the Texas Eagle with some time to spare. She was very friendly and informative.
Chicago Union Station
We arrived in Chicago with about 1 « prior to the departure of the Texas Eagle. We found the Metropolitan Lounge, checked in at the front desk and stored our luggage in the lounge luggage storage area. Since we had been sitting for some time, we decided to at least take a short walk outside the station to stretch our legs. The windy city was true to its name that day. Since our time was short, we returned to the lounge to enjoy some complementary snacks and beverages.
Texas Eagle
Our conductor came to the lounge about 15 min before boarding and collected our tickets. We then retrieved our luggage and followed the lounge agent to our train. Since we had booked a bedroom for entire trip, we made our way to our sleeping car. Our car attendant (Gerard) directed us to our bed which was D on the second floor.
As always, my first order of business was to get my scanner set up and ready to listen to the action. I was in for a little disappointment. It seems that the Texas Eagle operates by Track Warrant with the information relayed over the cell phone from the dispatcher to the conductor and engineer.
While leaving Chicago, we crossed more diamonds in the Chicago area then I've ever seen. There were numerous freights waiting for our passage. There was indeed traffic on the scanner but mostly the trackside detectors that announced the information of the passing train. It was interesting to note that the UP detectors would announce axle count, number of cars, speed and ambient temperature. Our speed was normally in the 73-78 mph range.
We decided to eat supper in the diner. We were seated with two gentlemen en-route back to Fort Worth from Chicago. One was a railfan and the other a computer geek. My wife had to endure train and computer talk at the supper table. My food was very tasty and there was plenty of it. I had the chicken fried steak with sausage gravy. My wife had the pizza and she was not too impressed with her selection. We did share a piece of the cheese cake but both agreed that the chocolate cake was much better. Our server was pleasant and kept an eye on our needs.
After supper we returned to our sleeping car to let our supper settle. We were on time when we stopped at St Louis station. At this stop, the engine was refueled, trash removed plus passengers left the train and got on the train. The old St Louis station is not used by Amtrak. As a youngster I can remember changing trains at the old station from the T&P to the PRR. I guess that sort of dates me!!
We decided to turn in about 0930 pm and had our attendant turn down the beds. We slept off and on during the night. We made several stops to wait for passing trains and then we were on the move quickly.
March 15, 2007
We got up early so that we could stretch our legs at Texarkana, TX. I managed to take a shower prior to our arrival. I tell you that being in a shower, with the train traveling at 75 mph, is something that you need to practice. Don't soap up and sit down in the shower. You will slide around a lot.
Due to UP track work, passengers for Longview, TX and Marshall, TX had to detrain at Texarkana, TX. They would be bussed to their station. The Texas Eagle would be rerouted and would reenter the mainline at West Big Sandy, TX. Our reroute took us through Maud, Omaha, Pittsburg and Gilmer, TX.
The station at Texarkana, TX was in deplorable condition. The roofs above the passenger train shed area rotted and falling down. Orange safety barriers had been erected to keep people out of these areas. Unknown what the rest of the station looked like but can only imagine.
As we left Texarkana, TX, we observed the jail next to the tracks. Armed guards were standing between the tracks and the razor wire covered fence due to the fact that the prisoners were already out in the exercise yard. Most of the jail seemed to be comprised of Quonset huts. Not a place that would interest us.
As you are aware, there is a strict No Smoking policy on any Amtrak train. Our conductor made an announcement about smoking on the train. He said that there would be no warnings or second chances if you were caught smoking. He also stated that your ticket would be taken without a refund, you would be removed from the train and the police would be called. From our car attendant we found out that someone in coach was smoking but they could not determine who it might be. There are scheduled stops that allow smokers to grab a quick puff.
We knew we were in Texas when we had a stop at Terrell, TX to wait for a passing stack train. We took the siding to wait for the meet. As the train passed, we could see that the engineer was wearing a big cowboy hat.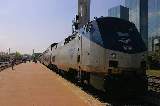 We had been making good time and were running about 45 min ahead of schedule. We stopped at Dallas TX to take a schedule 15 min stop. I walked to the front of our train and got a shot of the Texas Eagle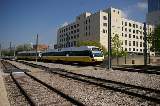 Snapped a shot of DART (Dallas Area Rapid Transit) at the Dallas station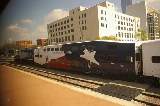 Next came TRE (Tinity Railway Express) into the station
We were off again and headed for our final stop at Fort Worth, TX. Just east of Arlington, TX we had to take the siding for a meet with a manifest train. The manifest train was almost clear of the switch when he went into emergency. The last three cars of the train had not cleared the switch, so we were stuck. The Amtrak conductor and the UP conductor walked the train but could find nothing wrong. After a few minutes, the UP manifest train built up his air and was on his way. We got a clear track west and headed to Fort Worth.
At Fort Worth, TX we had to back into the station. Had we been able to use the TRE trains from Dallas to Fort Worth, we would have pulled right into the station. We still arrived about 30 minutes ahead of schedule. We left the train to enjoy several days in the Fort Worth area.
Fort Worth, TX
I won't bore you with the details of our visit but here are some points of interest that you might consider if you happen to go to Fort Worth, TX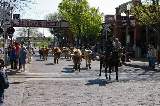 Fort Worth Stockyards.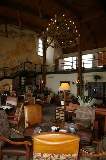 Rough Creek Lodge. We attended a wedding here.
Sundance Square in downtown Fort Worth.
Places to eat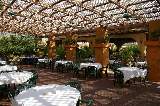 Joe T. Garcia's.
Billy Minor's Saloon. Great place to eat in downtown Fort Worth. Hamburgers are great.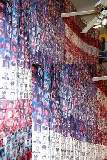 This one was special and sort of unexpected. We found this 9/11 quilt when we dropped off some dry cleaning. There are only three like it in the US and these people have two of them. It can be found at Garvel Furs, 2737 W. 7th St, Fort Worth, TX
Continued in next section