Trip Report
---
OTOL Southern California RailFest 2009
July 13-25, 2009
by

Photos by Piotr Dzwonek, Patrick Galligan, Lynn Hammond, Eric Minton,
Jishnu Mukerji, Chris Stephens, and Jack Suslak.


---
Previous section
Chapter 7: Saturday, July 18, 2009
Day Six found us taking two Metrolink round trips. A total of 16 people were involved in travel with our group today, or 19 including lunchtime.
Chapter 7.1: Metrolink San Bernardino Line, Train #354, Los Angeles Union Station to San Bernardino

Meeting at Los Angeles Union Station that Saturday morning were HaRRy, Steve, Chris, Jishnu, Eric, Evan, Christine, Rick, Lynn, Mike, Piotr, Alan, Grace, Michael, and me. We boarded our first official conveyance of the day, an outbound Metrolink train to San Bernardino.

Our train departed on time, and remained so across the Inland Empire to its largest city, San Bernardino. A very short portion of this line around El Monte runs on the same right-of-way as we had encountered about 24 hours prior on our approach to Los Angeles on the Sunset Limited.

We arrived in San Bernardino at 10:27 AM, eight minutes ahead of schedule. The temperature was already in the upper 90's and destined to be over 100 degrees, so we sought shelter. One very pleasant surprise was that part of the building that houses the San Bernardino Amtrak station is the San Bernardino Historical and Railroad Museum. We were therefore welcome to browse the displays inside the building, and purchase snacks and drinks there as well. We also wandered into the actual Amtrak station that serves the Southwest Chief. It is now staffed by volunteers from the museum; in fact the museum's very presence helped get the former Santa Fe depot reopened after it had been closed for a while.
Chapter 7.2: Metrolink San Bernardino Line, Train #359, San Bernardino to Los Angeles Union Station
Back on the train, our group of 15 retraced our previous trip. Leaving San Bernardino on time at 11:05 AM, we again ran on schedule throughout the trip, getting into Los Angeles Union Station at 12:28 PM, seven minutes ahead of schedule.
Chapter 7.3: Lunch in Los Angeles
Well over two hours had been allocated for lunch between our Metrolink trips. Our original plan was to take the Red or Purple Lines to Pershing Square, look at the dormant Angel's Flight funicular, and then have lunch at Clifton's Cafeteria a few blocks away. However, the walk between those locations was one of the things I had previewed on Friday; the "blocks" are much longer than many of us Easterners are accustomed to. Some in our group might not have been able to walk that much in the time we had available, especially given the temperature. So we instead split up and went to different places.

I had previously arranged to meet my brother and his family at Clifton's, so we kept to those plans (cutting out the walk to Angel's Flight). Chris and Rick accompanied us. So at Clifton's we had Chris, Rick, Jeff, Sharon, Anna, Michael, and me. The rest chose to have lunch at Phillipe's, which is a short walk from Union Station. Unless anyone further deviated from that group, the crowd at Phillipe's included Steve, HaRRy, Alan, Grace, Piotr, Lynn, Mike, Christine, Evan, Eric, and Jishnu.
We said goodbye to Jeff, Sharon, and Anna and the rest of us who had eaten at Clifton's took the Metro back to Union Station, where we rejoined the rest of the group. Rick chose not to join us on our afternoon trip to Lancaster, but we were met by Ken who would accompany us.
Chapter 7.4: Metrolink Antelope Valley Line, Train #265, Los Angeles Union Station to Lancaster
It was 15 people (with one different face) who set out on the Antelope Valley Line Train 265 to Lancaster. We left Union Station on time at 2:45 PM. We retraced our travel the previous evening on the Ventura County Line, up to the point where the two lines split in Burbank. Now on "new" trackage, we headed through the remainder of the San Fernando Valley, through Newhall Pass, into the Santa Clarita Valley, then through Soledad Canyon, over the Sierra Pelona Mountains, and finally into the Antelope Valley. This was arguably the most scenic of all our Metrolink trips.
The Antelope Valley, whose largest city is Palmdale, is at the southwestern edge of the Mojave Desert. (Lancaster is the second largest.) Thus we had again gone to an area where the temperature was at least ten degrees hotter than we had left in downtown Los Angeles. When we detrained in Lancaster at 4:33 PM, we were seven minutes early, and the temperature was 107 degrees.
Chapter 7.5: Dinner in Lancaster
While we had plenty of time to find dinner here, none of us wanted to walk too far in that heat. We therefore split into three groups. Chris S., Piotr, and Jishnu went to The Thai Restaurant across the street from the station. The rest of us took taxicabs to other locations. Ken, Michael, and I shared a cab to a local Carl's Jr. that we had seen from the train just before we arrived at the station. HaRRy, Christine, Evan, Eric, Steve, Mike, Lynn, Grace, and Alan went to a place called The Lemon Leaf Cafe a couple of long blocks to the north and west.
After we ate, we convened back at the station. Luckily, the station canopy had water jets that kept us relatively cool. Also we saw that the consist we had arrived on had been stored in a yard just north of the station. Our inbound train would be the turnaround of Train 267, the next outbound behind ours. Once that train did arrive, we were allowed to board and enjoy the air conditioning as we prepared to depart for Los Angeles once more.
Chapter 7.6: Metrolink Antelope Valley Line, Train #270, Lancaster to Los Angeles Union Station
It was another scenic trip south towards Los Angeles, as we also got to enjoy the sunset. In the canyons it got dark rather quickly. Train 270 remained on time throughout its run. Chris got off this train in what was then his hometown, Glendale. (He has since moved to Arizona.) He texted to us that the southbound Coast Starlight was right behind us. The other 14 of us arrived at Los Angeles Union Station at 8:15 PM, five minutes earlier than the timetable called for. That ended our travels together for this day, as we broke up to head to our respective homes or hotels.
Chapter 8: Sunday, July 19, 2009
Sunday the 19th was the midpoint of our Fest, and by far the most popular day. Twenty of our 28 participants were involved today, although no more than 18 at one time. With a crowd of that size, we certainly set some records! For our seventh day together, we rode all of Metro's light rail lines and one heritage streetcar line.
To start the day, 14 people met in Union Station's waiting room. The group included Ken Ruben, his friend Eugene Salinsky, Jishnu, Mike, Lynn, Alan, Grace, Piotr, Evan, Eric, Christine, Steve, Michael, and me. Together we walked to the upper level platform to catch our first of many conveyances, the Metro Gold Line to Pasadena.
Chapter 8.1: Metro Gold Line, Union Station to Sierra Madre Villa, Pasadena

We left Union Station at 9:12 AM, right on time. It was a flawless trip up to Pasadena. At the Fillmore station in South Pasadena, we were joined by Chris, who had taken a bus from Glendale.

Now 15 strong, we arrived at the Sierra Madre Villa station in eastern Pasadena at 9:42 AM. I had allowed us 18 minutes here for dwell time, giving us some time if we wanted to shoot photos or walk around. We also expected to meet Rick here, who had planned to join the group having come right from his hotel here in Pasadena. It turned out that nobody wanted to explore, and with Rick already there awaiting us on the platform, so we got back on the Gold Line train that had brought us there to return to Los Angeles.
Chapter 8.2: Metro Gold Line, Sierra Madre Villa, Pasadena to Union Station
The result of running one train ahead of the intended one was that we were now 12 minutes early. Our group of 16 people left Sierra Madre Villa at 9:48 AM rather than 10:00. Another quick trip down to Los Angeles Union Station, and we arrived at 10:17 AM.
A few people broke away briefly at Union Station to use the rest rooms and then returned. I thought this would put us back on schedule, but I was wrong. We moved along to our next trip, not realizing at the time that two people would be left behind.
Chapter 8.3: Metro Purple Line, Union Station to 7th Street/Metro Center
When we left Union Station on a Purple Line train, it was 10:29 AM, so we were still 12 minutes and one train ahead of the schedule. Five minutes later we arrived at Metro Center to transfer to the Blue Line.
Chapter 8.4: Metro Blue Line, 7th Street/Metro Center to Long Beach-5th Street
At 10:40 AM we departed from Metro Center on a Blue Line light rail train. Nothing seemed amiss until we came out of the tunnel by the Staples Center, and both Ken's and my phones started ringing. Ken had expected another person to join us, John Ulloth. My phone call was from HaRRy, who we had also left behind at Union Station. Ken told John to catch the next train, and I told HaRRy the same thing. We would meet them at our lunch stop in Long Beach.
We got to Fifth Street in Long Beach at 11:28 AM. We were joined there by a friend of Jishnu's, Carol Burt. Also Eugene did not have lunch with us but he returned to Los Angeles on his own, so we were still at 16 people. The group walked over to the restaurant, while I waited out on the platform for HaRRy to arrive on the next train. When he did, we joined everyone for lunch. John Ulloth, who I didn't know at the time, was apparently on the same train.
Chapter 8.5: Lunch at Hometown Buffet in Long Beach


Now up to our maximum for the day, the 18 of us had a very nice meal at the Hometown Buffet. The extra time we had gained from the morning activities was absorbed into a longer lunch period, during which we sat and chatted for a while as we filled up with many delicacies. We left the restaurant about 12:40 to return to the light rail station.
Chapter 8.6: Metro Blue Line, Long Beach-5th Street to Long Beach Transit Mall
Truly back on schedule, we departed from Fifth Street at 12:54 PM, and rode around to the Long Beach Transit Mall. We should have gotten off one stop earlier at First Street, as the main stop for our bus connection to San Pedro was back over two long blocks from where we had gotten off. We still got to the correct bus shelter in plenty of time before our 1:15 PM departure.
Chapter 8.7: Los Angeles DOT Bus Route #142, Long Beach Transit Mall to Harbor & 6th, San Pedro
Los Angeles DOT Bus Route #142 was a rare Fest trip on a bus, necessary in order to get to San Pedro for the heritage streetcar ride. The bus cost 90 cents in each direction for adults, with half price discounts for children and seniors. Long before our trip I purchased a book of 20 one way tickets for $18, knowing we would have a large group boarding together. My intent was to make it easier for both our group and the driver in not having to handle so many coin transactions. Up until our lunch at Hometown Buffet I was selling the tickets to those who could use them.
Initially the driver did question the tickets, but I think he came to appreciate that we had them as he probably never had so many people board there at once, especially on a Sunday. The trip was rather quick, highlighted by our run over the Vincent Thomas Bridge. We however did run into some traffic when traversing from the bridge to city streets when we got to San Pedro. Such delays were probably built into the schedule, because we got to our stop, Harbor & 6th, on time at 1:38 PM. From there, we walked across the track to the streetcar's Downtown Station.
Chapter 8.8: Port of Los Angeles Waterfront Red Car Line, Downtown Station to Marina/22nd Street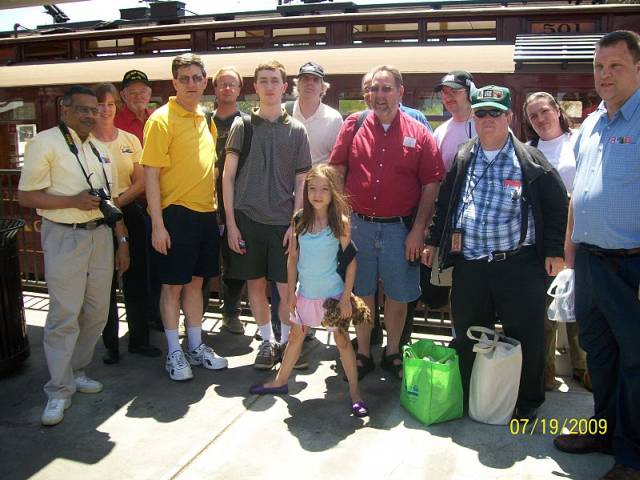 The schedule of the Port of Los Angeles Waterfront Red Car Line had recently been modified so that only one car operates back and forth on the line. They at one time operated with two cars running simultaneously, passing one another at one of a couple of sidings along the line. So not knowing the exact time a streetcar would arrive or its direction, I had decided that we would take the first one that came, and just ride both ways until we got back where we had started.

The car came not long after we had arrived, and our large group of 18, along with other passengers, boarded headed for the Marina first. We paid our $1 fares to the conductor, who gave us each a large proof of purchase ticket that would also serve as a souvenir.

Our scenic ride along the Los Angeles Harbor had one intermediate stop at Ports O' Call Village (since renamed Ports O' Call Marketplace), and then we arrived at the Marina/22nd Street stop. The latter mainly functions as a park & ride facility, and tourists who wish to go further along the Harbor can do so in a rubber tired vehicle. We dwelled about six minutes, during which time we briefly went outside and then returned to the streetcar, and our friendly motorperson with braided hair changed ends.
Continued in next section