Trip Report
---
Wilmington, DE - Grand Junction, CO
May 27 - June 5, 2008
by
---
Taking my third Amtrak trip in three years, with the general goal of visiting my parents and sister in New Mexico, I decided to alter the route yet again, opting for the California Zephyr instead of my usual trip on the Southwest Chief. The western end of my trip would be at Grand Junction, Colorado, where I would rent a car and drive down through Montrose, Ouray, Silverton, and Durango before crossing the state line to reach Farmington, NM. Though this is a 5-hour drive, it would be incredibly scenic, crossing mountain passes at 12,000 feet and visiting the mining town of Silverton, the northern terminal of the Durango & Silverton Railroad. And, as for the train itself, I had never rode the Zephyr, so it would be all new trackage for me west of Galesburg, IL.
About one month before my trip, Amtrak notified me that a portion of the trip had been detoured, and that I would have to take an Amtrak chartered bus from Denver to Grand Junction. This was a huge disappointment since the scenery west of Denver is spectacular, climbing the Front Range of the Rocky mountains, and passing through 3 impressive canyons enroute to Grand Junction in the western half of the state. I considered changing back to the Southwest Chief routing, but having made car and motel reservations already, and the fact that I would be riding the eastbound Zephyr on its' normal route, I decided to let the itinerary stand as is. One benefit would be the earlier arrival in Grand Junction, so I would not have to worry about the car rental place closing if the train was substantially late.
Through the generosity of my friend Rich, who works at Amtrak, I was able to park at his house for the duration of my trip, and he dropped me at the Wilmington station on his way to work. The station was alive with the morning commuters who were boarding Septa trains to Philadelphia, as well as Amtrak trains in both directions. A cloudy sky was threatening to drop a little rain while I was on the platform to see the arrival of a southbound Acela, which I was not riding. A few minutes later my Regional train pulled in on the same track and we departed at 8:11AM, on time. AEM-7 924 had the honors of pulling us to Washington, and the trip down the corridor was swift and uneventful. I did spot a Norfolk Southern intermodal train waiting for us at a bridge just south of Aberdeen, MD; the tracks at this point narrowed down from 3 to 2, and our 120 mph operation took precedent over the "hot" intermodal freight. We picked up a healthy crowd at the BWI (Airport) stop, and left behind an even larger crowd that was waiting for the cheaper MARC commuter train.
Arrival was on time at Washington, DC., and I left my bags with the Acela lounge attendant so I could roam around the city for the day.

First stop was the Postal museum, located adjacent to the Union station. Once you go through a security checkpoint, then find your way to the basement of the Post Office, and negotiate some construction work, you eventually land in a rather interesting museum. The history of the US postal service, complete with an airmail plane hanging from the ceiling, a collection of collection boxes, a stagecoach, part of a railway post office car, and various displays show the history of mail service. In another room, there are huge quantities of stamps from around the world, easily organized to find whatever country you are interested in. There is also a permanent display of unusual U.S. stamps, and a few interactive displays to keep kids interested in their visit.
After leaving the postal museum, I went back into the Union station to catch the Metro subway to Dupont Circle. I was heading to Mark & Anthony's, a small restaurant on P Street near 20th. I had arranged to reunite with a woman who I met on the Cardinal and Chief the previous year; her son owned the restaurant; he could easily compete (and do well on) Hell's Kitchen. The dining experience there was definitely upscale, easily outshining everything in my home town. You know you are on to something different when there are 4 different kinds of butter! A grilled caesar salad started things off, and there were plenty of lunch entrée selections, most of which had ingredients I'd never experienced before.
Having been well fed, and thinking I better get a later dinner sitting on the Capitol Limited, I took the subway back to the station, and walked around a little both in and out of this beautifully restored station. I spent a little time in the first class lounge before an attendant escorted us to the train for boarding. The Capitol had its usual consist of 2 P-42 locomotives, a baggage car, 3 sleepers, dining car, lounge, and 4 coaches. My car attendant, Sharon, greeted me and pointed me towards my roomette. Our departure was delayed about 6 minutes due to a passenger who was either not supposed to be travelling that day, or had his room sold out from under him. I didn't find out how that was resolved, but one way or another we set off for Chicago.
On the way out to Harpers Ferry, we had some slow running and crossing over due to track work, and we fell about 30 minutes behind schedule. Freight traffic was fairly heavy with us passing about 4 eastbounds, including coal, mixed freight, and helpers. A sign at the Brunswick, MD yard proclaimed: "Brake stick use is Mandatory" which I found rather "Big Brother-ish" and something one would more likely see on Norfolk Southern. We continued to pass many more eastbound trains, and we also had to stop and flag a grade crossing which was having trouble with its' automatic protection devices. Our crew member was not allowed to get back on the locomotive or train while it was moving, so this necessitates a second stop after we got the front of the train across the road. Anyway, I had the 7:30 dinner reservation, which coincided with our arrival in Cumberland, MD. This is a fairly long stop, as they make 3 separate stops to put a new crew on and access both the sleepers and coaches on the short station platform. It was a good time to have dinner as there wasn't much scenery going past the windows, and the train is rock solid sitting in the station. There was a tiny bit of dusk left as we climbed the Sand Patch grade out of Hyndman, PA, enroute to our next stops at Connelsville and Pittsburgh. I went to sleep soon after we topped the mountain and wouldn't awake until close to Elkhart, IN the next morning.
Thursday, May 28th started off with a clear sky, and a little bit of crossing over around the many freight trains between Elkhart, IN and South Bend, where we seemed to be about 20 minutes late.

However, after that departure, we made a trouble-free run to Chicago, and arrived on time. I beat most of the crowd to the First Class lounge and dropped off my bags, then went to check the Metra schedule to see where I could ride a commuter train in the 5 free hours available. I decided on the Milwaukee North line to Fox Lake, though I would only ride to Glenview. That trip afforded a little view of the Union Pacific yard before we headed north into the suburbs. On this line I only saw one small Soo Line local freight, and another Amtrak train. I turned back on a train 13 minutes later and spent the rest of my free time around the Union station north approaches, as well as getting lunch inside at the food court.
We began boarding the California Zephyr around 1:30PM, and I was surprised to see two special Amtrak cars on the rear end. One was the Amtrak President's private car, the Beech Grove, and the other was the Corridor Clipper, the Amtrak Track Geometry Car. I also spotted the car attendant on those two cars who works special cars for Amtrak when he is not on his normal Capitol Ltd. assignment. He remembered me from my trip on the Capitol the year before! By my watch, we actually left Chicago 30 seconds early!
The ride heading west out of Chicago was the usual spirited running through the nicely developed suburbs along the old Burlington "Racetrack". Triple track mains gives the dispatchers some flexibility to keep Amtrak on the move around any freights or Metra local commuter trains. We did come to a stop at West Eola while we waited for the eastbound California Zephyr (Train No. 6) to get by us; he was on the "wrong" track due to some rail defects that were just discovered on the other main by the Sperry Rail detector car. To avoid the slow orders, it made sense to lose a few minutes and then be able to run the good track at 79 MPH. Speaking of which, after you get a little further away from Naperville, there is more green space and several small towns to go through. Two of the interesting ones are Sandwich and Plano, IL. Each of these towns has at least 4 crossings close together, and the combination of 79-MPH trains and the horns blowing for the crossings makes quite a show!
At Mendota, IL, we passed a wrecked engine loaded on a flat car (CP9554) going for repairs or scrap, whichever was more cost effective. We arrived at Galesburg about 20 minutes late, though we made that up by the time we crossed the Mississippi River at Burlington, Iowa. I had dinner with a couple from Ohiopyle, PA, a small town southeast of Pittsburgh. They were surprised that I knew where it was, and had done some hiking into the hills east of there, to an overlook in an area known as Victoria. People do go to Ohiopyle to raft on the Youghiogheny River (Pronounced "yok-a-gainee"), get on the Western Maryland Rail trail, or visit the nearby summer home (Fallingwater) of famous architect Frank Lloyd Wright.
After dinner, I read a little bit before going to sleep, and despite some rough track, managed to sleep through the stops during the night. I found out that we never made the station stop in Omaha, Nebraska, due to a hazardous materials car that was leaking somewhere in the area. We detoured around that on a freight-only route after picking up a pilot crew. The Amtrak passengers were bused to the next station west where the two lines rejoined. Regardless, we arrived in Denver, CO at 7:30AM, (only 15 minutes late) and I set off to find my Amtrak bus to Grand Junction.
This was a little disorganized in that there were no signs on the two buses outside as to where they were going, and one of them seemed to be occupied mostly by a British tour group. The drivers were not clearly marked and didn't seem very forthcoming with information, either. Eventually an Amtrak agent came out onto the bus to take our tickets, and confirmed that we were on the right bus. (The Brits were going to Grand Junction, also, thence down to the Narrow Gauge railroad at Durango.) I wound up with a $74 refund for not being in "First class" on the bus ride, and although it was 5-hours long, it still beat the train time by 3 hours. Also, there was a cute girl across from me who got a little tipsy in the lounge car the previous evening, but she was entertaining to listen to, and in an unexpected bit of geologic knowledge, she rightly knew that diamonds came from kimberlite rock formations!
I got my rental car in Grand Junction, but stayed the night so I could see the scenery on the way south the next day. I started to chase a hopper train down the branch towards Montrose, CO, but got discouraged by the inaccessibility without the proper maps, so I abandoned that idea after about 30 miles and only one shot.

The next day was picture perfect, and the road from Ouray to Silverton, CO is something that keeps you alert---no guard rails, 25-mph speed limit, sheer drops, "S" curves, a snow shed, and a tunnel! Not a good place to be on your cell phone or eating! There were a few places to pull off the road for photos of the climb through the spectacular mountain pass, so I took advantage of those.

At the top of the mountains you are around 12,000 feet, and I took some pictures after walking across some snow (June 1st and 70 degrees) to frame the shot. After spooking around Silverton for a while, I made my next stop in Durango, CO. I browsed the railroad gift shop, then found a used book store a few blocks away from the station. The guy running that was a dead ringer for the "Comic Book Guy" from the Simpson's! I did find an interesting book about two teenagers who flew an airplane across the country by themselves, which I purchased for my father.

The weekend with my family went by too quickly, as usual, but featured some interesting "firsts" for me. We made a trip down Largo Canyon, which is purported to be the largest dry riverbed in the United States, where we found Indian etchings in the canyon walls. At the south end of the canyon, the road climbs to a higher level plateau, where we explored an abandoned stone ranch house. On the way back home, we also stopped at our favorite winery, which has all the trappings of an oasis in the desert---wine, shade, music, and friendly people! Later, my sister cooked a great dinner of venison in a raspberry vinaigrette sauce over noodles; the meat was from their own "harvest" of the past hunting season.
All too soon, I was on my way north to Grand Junction for the return trip.
I planned a little extra time to shoot the Durango & Silverton trains on their northward trip, and was happy with the shots I got from several high vantage points. The rental car people would've been dismayed had they seen the gravel road on the mountain on the east side of town, but it afforded the best lighting and an angle most people don't bother to take. When I got to Grand Junction later in the day, I looked for some scenic shots around town of the railroad, but I was rather disappointed with the settings. Also, there was very little freight traffic around, just one or two coal trains and the yard job finishing up for the day.

I returned the rental car the next morning, and was at the station to catch the early arrival of train 6, the eastbound Zephyr. We departed on time at 11:28 AM, and about an hour later at MP 391 the train went into emergency. A low-boy flat bed trailer drove across a private crossing right in front of us, and the engineer made the emergency stop. Fortunately, we did not hit him, but we lost about 25 minutes there for an inspection of the wheels on the train, and making the necessary reports to the dispatcher. We didn't encounter too many other trains until we reached Bond, where the Craig Branch joins in to the main line. That branch serves several mines and there are no shortage of loaded and empty coal trains around between there and Denver.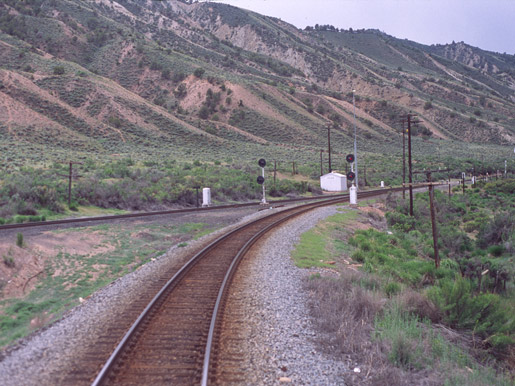 I cannot say enough about the spectacular scenery crossing Colorado by train.

It gets better and better after you leave Glenwood Springs, heading through the first of three deep canyons before you get to the 6-mile long Moffat tunnel. And, after exiting the tunnel, you begin the descent into Denver on the "Front Range", and the views continue to be awesome, although they are interrupted by the transiting of another 20 tunnels or so. I've told people "if you can't ride this train, just follow the route on Google Earth to see what the railroad had to build to climb up out of the Great Plains". This has to be the most scenic route in the 48 contiguous states.

We arrived in Denver at 8:15PM, about 90 minutes late, and the station crew did not seem to be trying to make up any time for us, so it took another hour and fifteen minutes to add a sleeper car and drop off a locomotive.
The next morning found us leaving Lincoln, NE about 2 hours late, and after breakfast I spent some time in the lounge car talking with a girl who lived in Montrose, CO, where I had just been two days before. She was a teacher there, but originally was from Michigan. After visiting her family on this trip, she was enroute to Argentina to spend the summer (their winter). Later in the day we reached the Mississippi River at Burlington, IA, and we had another delay for the drawbridge opening. Even now the broad expanse of water makes a formidable barrier to travelers! At this point we were 3.5 hours late, and I was beginning to worry about my connection to the Capitol Ltd. at Chicago. We managed to lose a little more time enroute to Galesburg, and by the time we went by Naperville, IL, we were down 4 hours and 6 minutes. However, there is a little padding in the schedule from there to Chicago, and we went right in to our terminal track at Union Station, detraining at 6:45PM. I swung through the lounge area to check the track assignment for the Capitol, which was already boarding. The attendant, who was expecting me as the only first class passenger connecting to his car, greeted me at the sleeper car. We left Chicago on time at 7:05Pm, which gave me only 20 minutes to spare!
Our on-time performance was short-lived, though, as we sat at South Bend, IN for about 90 minutes at two different interlockings waiting for freight traffic. I thought the delays seemed quite excessive, as there were long lulls when there didn't seem to be any freight trains in the area. After dinner, I was able to sleep fairly well, perhaps because we were stopped long enough for me to doze off!
The next morning found us still well north of Pittsburgh, and our arrival was at 8:30AM. Amtrak held the Pennsylvanian for an hour to make the connection with those passengers leaving our train. I toyed with the idea of jumping ship, but figured there wasn't enough time to get the ticketing straightened out to take a shortcut to Wilmington, DE. As it was, we were held for the westbound Capitol, running 10hours late! Apparently there had been some flooding between Washington, DC and portions of Maryland that closed CSX for the overnight hours. I also discovered the private car "Navy" (number 218, I believe) on the rear of our train heading to Washington.
After departing Pittsburgh, it was interesting to see the Edgar Thompson works of US Steel; still producing steel from an impressive pile of raw materials such as coke and iron ore. We slowed for some trackwork near MP 293, which showed evidence of a westbound train derailment. I spotted some steel billets, and finished steel plate pushed off the right of way, plenty of fresh bulldozer tracks, and some new rail and ballast at the next curve east of the wreck site. I also saw a fair number of "Color Position Light" signals east of Braddock, which are rapidly being replaced by a more generic color signal lamp. There were a few places that looked interesting from a photography standpoint, such as Dawson, PA, and an overhead railroad bridge at Smithton, PA, which was very high above the railroad and also crosses the river at that point. The westbound traffic was very heavy, probably due to the rain delays from the night before, but I saw 3 intermodal, 5 mixed freight, and two sets of locomotives as we worked our way up the Allegheny mountains.
Our arrival at Cumberland was about 4 hours late, and our car attendant Nathan was nice enough to let me use his cell phone to call my ride in Wilmington. We passed through Harpers Ferry at 5:05PM, not too much earlier than the westbound Capitol would be due! After a fairly uneventful run, we arrived in Washington 5 hours and 20 minutes late, so I got a ticket for the next northbound corridor train. Amtrak thought nothing about charging me an additional $11 for this "peak time," but I didn't protest; I then called my friend in Wilmington to give him the new arrival time.
Despite the poor performances east of Chicago (only part of which could be attributed to the weather, and most of which could be attributed to NS dispatching, and CSX slow orders) the trip was very enjoyable, and the trip up the corridor was reliable as always. My friend who met me works for Amtrak, so except for his making two trips to Wilmington in one day, he was very understanding and anxious to hear details of my trip. I shared those stories with him and his wife over some pizza at their home, then headed back to my home to wind up another good Amtrak trip.