Trip Report
---
Pennsylvania-New Mexico Amtrak Roundtrip
September 5-14, 2007
by
Click small photos to see larger
---
Introduction
Having enjoyed my 2006 trip on Amtrak to the southwest, I decided to make another trip during the same week of 2007. To vary the route, I decided to ride the Cardinal out of Philadelphia, which takes a southerly loop through Washington, DC, Clifton Forge, VA, White Sulphur Springs, WV, and parts of Kentucky before heading north to Chicago. It is Amtrak's longest possible route to Chicago from the East Coast, consuming 22 hours after entraining at Philadelphia. Since I didn't want to park in Philadelphia, I took the first train out of Lancaster at 5:25AM, which although early has the benefit of getting a parking spot in Lancaster's small lot. The train was on time and filled up as we approached Philadelphia, which had the added benefit of having an attractive woman who works for Merrill Lynch sit next to me; she was astounded that I could have one small bag to travel to New Mexico for 10 days and vowed that she would travel light in the future.
The Cardinal West Bound
The Cardinal had 3 coaches, a diner "Lite", and a sleeping car. Due to tunnel clearances, these sleepers are the single lever Viewliner. We left Philadelphia on time, and I believe I was the only passenger to board the sleeping car there, which is understandable since there are shorter ways to get to Chicago. As a result, I was one of three people who was in the diner as we left Philadelphia, where I had a surprisingly good Southwest Omelet and some baked potato pieces. As we shot down the Northeast Corridor, I timed a few mileposts and clocked us right around 120 MPH a few times. It is difficult to see the mileposts when they go by so fast! Looking out the rear window, I watched as another southbound train overtook us on the adjacent track...he must've been doing the maximum 125 MPH. I grabbed a few shots of the cat and mouse action as we would get ahead of him at times, and then lose our lead due to a slow order. The benefit of having the sleeper car on the rear was that the back windows are not tinted, and you can get some acceptable shots with no color distortion. We beat that other southbound out of Baltimore, and did not see him again until I was on the platform at Washington.
At Washington, there is a stop to change locomotives from the overhead electric locomotive that pulled us, to a diesel engine for the remainder of the trip to Chicago. Riders are allowed to walk on the platform to have a smoke, get some exercise, etc. I was enlightened by an Amtrak police officer who (creatively) made up her own laws when she said "We don't take kindly to picture takers....your family has to be in the photos" after she saw me shoot a few frames of the locomotive that was going to be pulling our train. Turns out this officer also had also given unique legal advice for two older women who were on the platform doing something that was similarly illegal.
We departed Washington on time with one locomotive and our 5-car train, and had a good run until we got west of Culpepper, VA. We stopped there for half an hour while they waited for "Signal trouble" to get cleared up. Since I was in the dining car for lunch, we didn't have to worry about any rough track while attempting to eat. I had lunch with "Mary" from Tobago (Yes, I had to look that up...it is an island in the southern Caribbean near Trinidad. As a bit of trivia, it is also where the Walt Disney movie "Swiss Family Robinson" was filmed.) and her friend "Myney" from Washington, DC. They were on a tour around the country by train, with some stops along the way to see relatives. As we headed deeper into Virginia, the scenery started to get more mountainous, and we passed through several long tunnels, one of which is just east of Staunton. I could see the need for a single level car as we went through several single track bores that don't accommodate much more than coal cars and locomotives! We passed the eastbound Cardinal at Crozet, VA at 2:55PM; he was running 20 minutes late just like us! Later, dinner was with Mary & Myney again, and also a third woman, Irene, whose daughter was working for the Buckingham Branch Railroad, over which we were riding. In fact, Irene was heading back to North Dakota, and it turns out she was retired from the Burlington Northern Railroad where she was employed as a block operator. I contributed to the conversation about the Greenbrier resort when we stopped at White Sulphur Springs, home to the underground bunker built beneath the resort that was intended for Congress in the event of an evacuation of Washington, DC. We passed through Montgomery, WV at 8:38PM, about an hour late, and just as the scenery of the Kanawha and New River Gorges was beginning. It is better to ride this section of the trip eastbound as the schedule allows for more viewing in the daylight.
Thanks to the wonders of schedule padding, we were on time at Indianapolis the next morning at 6:30AM. A drawback of the Viewliner sleeper is that there is no luggage area set aside for people who are in the small roomettes, and as a result our attendant had put bags against the back door of the train, as well as in the actual shower room! I had to switch some stuff around to get a morning shower as the attendant was not on hand. One surprise for me was that a section of the line through Crawfordsville, IN still had working semaphores! We fell behind schedule by about 30 minutes when we stopped at Dyer, IN, but made up all but ten minutes for our arrival in Chicago. I had several hours to kill in Chicago, and since the weather was decent I took the walk to the Roosevelt Ave. bridge near the throat of the Union Station; watched a few passenger trains and had a nice lunch at a new Panera Bread franchise on Canal Street.
Southwest Chief West Bound
After a brief wait in the first class lounge, we boarded train #3, the Southwest Chief, and departed on time, running 4 minutes ahead of time at Naperville and Princeton, IL. At Princeton, we coordinated with the eastbound California Zephyr, whose passengers needed to cross our track to get to the platform. The run through Illinois was swift, and we arrived at La Plata, MO on time, after crossing the Mississippi River at Fort Madison, IA. I met a couple that lived only 20 miles from me in the diner car that evening and the husband worked with a friend of mine!
The overnight portion of the trip was uneventful, and we arrived in La Junta, CO on time. At lunch time, I had an interesting conversation with an instrumentation specialist who had worked on the Mars Rover who told me some of the problems that led to the failure of that mission. (This was one of the probes that crashed on the surface and was destroyed; a huge let down after all the years that went into the project. Even worse, they were within 200' of landing when the accident happened. It was related to a sensor that was supposed to provide a reverse thrust; when the legs were folded up before launch the computer stored that information as having already touched down on Mars.)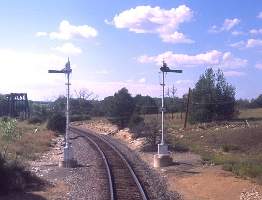 The afternoon was mostly spent in the sightseer lounge car as we climbed over Raton Pass and the second pass at Glorietta, which is between Watrous and Lamy. We met the eastbound Chief at Canyoncito, and arrived at Lamy only 21 minutes late. We didn't pass any freight trains on this part of the trip, and I was surprised at how many intermodal cars (truck trailer and container flat cars) were parked in sidings along the route. Apparently the economy was already slowing down. Arrival in Albuquerque was about 10 minutes late, which allowed plenty of time to get my rental car before they closed for the day. After fighting some congestion getting out of downtown, I made the trip to Farmington in time for a late dinner with my parents.
In New Mexico
My visit with my parents and sister included a trip to the Saturday market in Durango, CO, which showcased some unusual foods and spices, where we each walked away with some new thing to try. We also got a tip to try an Italian deli/store/restaurant at the north end of town; we had an excellent lunch in an informal setting, and I tried Coca Cola made in Mexico...they use cane sugar instead of corn syrup. It was in a traditional, if slightly taller, glass bottle and tasted pretty much like the American version. We then visited the roundhouse museum of the narrow gauge railroad.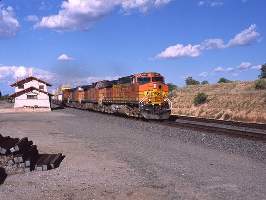 I also spent the day before my eastbound trip exploring a few more spots on the Santa Fe main line between Belen and Mountainair. One of the unique trains was an eastbound military equipment train; very long and full of sand-colored equipment. The weather was perfect and I got a few shots around Mountainair that I wasn't able to get the previous year, and after the post office "lost" 2 rolls of film for about 9 weeks, I finally got those pictures back safe and sound. Mountainair, besides having a cool name, is best described as a sleepy, dusty western town. There are a few paved streets, and a western mural on the wall of a building that really fits in with the atmosphere of the place. It appears that the town falls along a ridge that is the summit of the hills between Texas and the drop down into the Albuquerque area, so there probably is a "mountain air" blowing most of the time. A nice stucco railroad station still stands, though it hasn't seen a passenger train in many years as the Amtrak route comes down from Colorado to get into Albuquerque.
Southwest Chief East Bound
Wednesday, Sept. 12th was departure day from Albuquerque. When the Eastbound Chief pulled in, it sported two extra sleeping cars on the head end, and despite there being a sign taped onto these cars about "Albuquerque to Chicago," my sleeper was on the rear end of the train as expected. This gave us a 9-car train and we departed on time at 12:40PM. As we climbed into the mountains towards Colorado, I spotted the branch that goes off towards Santa Fe. I managed to get a few shots out the back window of the train despite it being rather grimy. We met the westbound Amtrak train at Canyoncito, the normal spot, and later began passing the section of the line that still has semaphore signals. Since these are rapidly disappearing from the United States railroad scene, it was worth while to photograph them, and I was able to correct for the window grime later using a photo shop program. About an hour later we overtook the eastbound freight train that had passed through ABQ earlier in the morning; my guess was that they do all the local work on the way to La Junta, CO, where they would take rest and return west the next day. This was the only freight train we passed on the New Mexico-owned portion of the line.
One of the interesting passengers on the train was a former aircraft carrier pilot - he used to fly propeller driven planes off the ship! We had a few conversations as he migrated to the rear window once in a while.
We had a brief, rather quick stop just west of the Trinidad, CO station due to an unexpected red signal (the previous one had been "Clear"); the conductor had to get on the ground and put the power switches on manual control so we could proceed through the interlocking. Nonetheless, we departed Trinidad on time by cutting the amount of station time. One other problem with the train; our sleeper lost it's vacuum system for the toilets, and we were instructed to use the ones in the adjacent car. This was not a big inconvenience, but somehow during the night they fixed the problem since all was well at Kansas City the next morning. Getting out of Kansas City, from a place called "Congo," we ran slow (60 MPH, maybe) behind a Union Pacific container train, but resumed our 90 MPH when we got around him at Sibley, MO. I noticed a third track that was a few hundred feet from our right of way, which I assume was a former competitor railroad; this ran all the way to Norbone, MO before it rejoined us. This route has lots of traffic, and there has been a lot of signal and track work to improve capacity; I spotted new interlocking crossovers going in at La Plata, MO to give the dispatcher more flexibility.
Our arrival in Chicago was on time at 3:15PM, which gave me two hours until boarding of the Cardinal. I took a brief walk around the downtown area and watched the commuters rushing into the station on their way home.
The Cardinal East Bound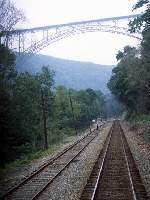 Our departure was on time, but by the next morning, we had lost almost two hours. East of Ashland, KY, we passed a lot of branches heading off into coal country, and the CSX dispatcher saw fit to put us behind a 150 car coal train who was not making good time between Thurmond and Prince, 9 miles of single track. Despite the weather being gloomy with occasional rain, the trip through the New River Gorge was impressive, including the highway bridge at Gauley, WV, which is 870 feet above the water (and about the same height above the railroad). At Hinton, we passed three coal trains in the yard waiting to go east, with a 4th one pulling in as we skirted around it. I was impressed with the Big Bend Tunnel east of Hinton; I'm sure it is over a mile long, and the old bore next to it may possibly be part of a trail. (Bring your flashlight!) There are probably 15 tunnels between Kentucky and Virginia, making this an interesting trip through the mountains.
While we never really recovered our scheduled times, we departed Manassas 2 hours and 11 minutes late, but after arrival in Washington, the new crew put an electric locomotive on for the trip up the Northeast corridor to New York, and we departed only 45 minutes down. Since this train only discharges passengers, they are allowed to run ahead of schedule at all stations, which is a great incentive for the crew to "go for the quit." It was a fun ride up the corridor, even in the dark, as I watched out the rear window for other trains passing and the color position light signals. The sleeping car was virtually abandoned, as again most of the long distance passengers had left the train at Washington.
Conclusion
When we arrived in Philadelphia, I still had 40 minutes to make my connection to Lancaster, which was a good performance considering that at Charlottesville it looked like I would miss that train. After a brief run out to Lancaster on the 10:25 PM train, which was surprisingly full, I retrieved my car and wrapped up a very good trip.