Trip Report
---
Milwaukee (MKE) - La Crosse, WI (LSE) - Chicago (CHI) - Milwaukee
February 5-7, 2007
by
Click small photos to see larger; all larger photos are less than 50K
---
Planning the trip
A little more than a year ago our friends moved downtown Chicago. We knew of the Amtrak Hiawatha line and decided to give it a try on our second trip to see them. After factoring in high priced parking in the downtown area, the tolls, and the headache of traffic on Friday nights, we decided that it was probably worth taking the Hiawatha line at any expense. Once we did the actual calculations, we found that from door to door for a weekend trip from Oshkosh, WI to downtown Chicago we were only paying about $18 total premium and that was without the wear and tear factor on our car. For $9 each for a round trip "premium", we decided to never take the car again...thus starts my desire to learn more about Amtrak as compared to European trains I've ridden on. That sets the stage for the trip I'm about to discuss.
I work for a large electrical contractor, one of the largest in the Midwest and one of the larger in the nation. Most of our offices are located in Wisconsin but others exist elsewhere in the Midwest and one in Georgia. I had an upcoming need to visit our Milwaukee office and needed to install some equipment in our La Crosse office. The challenge was that I was getting short on time to accomplish these visits and I needed to go to a large event in Chicago as well. One afternoon it hit me that I could spend a lot less road time and be a bit more productive by arranging my schedule to use the train. I calculated the mileage reimbursement that my company would have to pay me, my productive time vs. non-productive time, etc. and found it would be the best option to take the train. With coach class only, I would have saved the company $165 on the trip, with the upgrade to the roomette it was down to $70 savings, not including calculations for meals.
Monday, February 5, 2007
On Monday, Feb. 5th, I drove to our Milwaukee office in the morning and had nearly a full day of work there, completing all of my necessary meetings. I drove downtown and parked in the temporary lot due to the massive remodel project going on at the Milwaukee Downtown station. I arrived about 20 minutes prior to the 3:55PM departure to LSE, and had to get my ticket at the window as the Quick-Trak unit was out of order. The train arrived about 2 minutes late from Chicago but boarded quickly and left about 6 minutes late. I believe there was a few minutes delay due to rail traffic based on what another passenger stated. Welcome to the Empire Builder #7...I took my seat on the full upper level of the car specified by the conductor. He instructed me to "double up" with someone and probably try to find someone who was getting of a LSE as well. I took my seat next to a 24 year old Amish man who was heading to northeast Iowa for a funeral. He had come from Virginia! The trip seemed to start out just fine but some seriously cold midwestern weather was about to put a stop to that. By the time we arrived at Portage many people had migrated to the diner or lounge car to get a bite to eat and the train was moving very slowly. We had a long stop at Portage to let other train traffic pass by. We were informed that there was track working being done due to the cold weather. The rails had separated because of the extreme cold and traffic was to pass the troubled section of track at 10 mph. You can imagine how long it takes a train going that slow to cross a little section of track, especially the long freight trains! Finally, we were underway again and last call for dining was made for all customers. It seemed that some of the passengers seemed to want to socialize rather than hang out that long in their seat.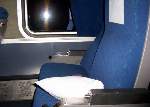 As I was sitting there I started thinking about how nice it was to be in such a large seat as compared to the airlines. I fly enough with one of the airlines that I usually get upgraded to First Class and I felt the train seat was definitely more roomy than that. Finally, I had peeled through 4 of my trade magazines and decided that my hunger was getting the best of me. I headed off to the lounge car and grabbed a drink and a snack pack with cheeses and crackers. I was pleasantly surprised that the prices were not terrible, not any worse than any airport, and better than many! After that, I headed back to my seat and used the last 30 minutes of my laptop's battery. I have a small ultra-portable laptop because I travel often so battery life is limited to a few hours at best and I had already used some of that earlier in the day. We ended up passing the working rail crew who looked very cold and eventually cruised in to Tomah and then on to LSE. Our arrival was scheduled for 7:14PM but we arrived just before 9PM. Because of this delay, I had missed the easy connection of a 2 block walk and a nice warm bus ride to my hotel. I was prepared with my ski jacket, hat, and gloves, so just walked the 14 blocks to my hotel. I was quite cold when I arrived, but hadn't had my 30 minutes of exercise that day anyway.
Tuesday, Febrary 6, 2007
On Tuesday, Feb. 6th, I got an early start and walked 1/2 block to our office in La Crosse. I completed the installation of the equipment that had arrived the day prior and took care of some other business at that location. The office manager there took me to the train station for a 10:55 departure. We had looked on the website earlier to know the train was going to be a few minutes late. Inside the La Crosse train station were several business people, 3 families of Amish folks, and a few college kids. I was at the station 10 minutes before the train was scheduled to arrive, and about 5 minutes before the train came in, the attendant let people know they were looking to board quickly to shorten the delay. We all moved outside and when the train arrived, we all loaded quickly. We made up 2 minutes on that quick load. I had decided the longer trip to Chicago would be more productive if I was certain to have a power outlet, and I wanted to see what the Roomette was like on the Empire Builder. We were in the last car and I was in #4 in the upper level. No sooner did I settle in and the attendant came around with some bottled water and offered me the newspaper. He mentioned that he wouldn't normally turn the beds but if I required a nap, I could just call for him. I informed him I was there to work and to have some quite time. Come to find out he lives in Fond du Lac, WI, which is just 20 minutes from Oshkosh (my home). He's worked for Amtrak for a good number of years and is heading toward retirement in a few years. I told him my trip details and he could tell I was enjoying it already. He reminded me to write my representatives both at the state level and at the national level and let them know of my experiences and desires for more rail. I haven't done it yet, but I certainly will! The dining call came right after we left the station in La Crosse, so about 20 minutes later I headed for the dining car at the complete opposite end of the train.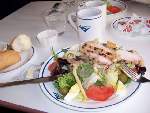 I enjoyed a very nice salad with chicken, some tea, and even ice cream for dessert. The gentleman sitting across from me was from one of the northern Chicago suburbs and was heading back from Minneapolis. He hates flying so takes the train a few times a year to visit his friends. He also hates traffic so avoids Chicago, Milwaukee, and Minneapolis traffic by taking the train trip between the two end points. He decided to borrow my power outlet in my cabin to recharge his DVD player, so I met him on my way back to my room.

I knew I had a couple of hours of battery on my laptop so it was going to work out well for each of us. I just returned the battery to him when I needed some juice again. I was able to connect to the internet via my cell phone. The speed was slow, but allowed me to accomplish everything I needed during the trip. From Portage to Chicago the connection was much higher speed and only dropped off once. For you techies out there, I was able to keep a VPN session alive during this part of the trip and do work requiring our servers back in our main office! All of this while the scenery is just beautiful after a fresh snowfall and some flurries.

We arrived in Chicago about 5 minutes early (3:50PM) and I hung out in the lounge there to use the WIFI connection and wait for time to pass until my friends arrived home from their day of work at around 6:00. I took a few pictures of the roomette cabin just in case someone needs to see the dimensions. The location of the power seems odd to me, but I was glad to have it regardless. The "closet" is small and would fit a few shirts or maybe a single winter jacket.

I traveled with a 20" carry-on type rolling bag and my backpack (computer goes in here) and had plenty of room for all my bags and was able to feel like I was sitting in my office at work. I'm not sure two people could spread out quite like I did, but with consideration two could still be productive.
Wednesday, February 7, 2007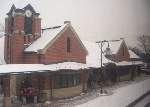 On Wednesday, after my conference, I took the Hiawatha back to MKE to pick up my car and finish the trip by driving home. The Hiawatha stops in Glenview, IL, on its way back to Wisconsin.
This particular day the train left on time at 3:15PM. I had tickets for the 5:08PM train, but with the Hiawatha, the day of the ticket is all that matters and one can catch any train. I finished my conference earlier than expected so was looking forward to getting home. Unfortunately, our engine had difficulty and we were delayed 30 minutes just outside of Glenview. Still, it's better than sitting in traffic. We got into Milwaukee about 5:15PM, just in time to sit in rush hour traffic there. I wondered, after sitting in that traffic and seeing how it thinned out as I turned northward, why does Wisconsin not have the funding in place to partner with Amtrak and get the high speed line, or any line for that matter, to Madison and points in-between? About 2 miles north of the I-94/I-894 interchange, traffic was back to normal. I'm convinced many of these people on the road were heading out to the far western suburbs or back to Madison in some cases.
My whole trip was cost effective for my employer, time effective for me, and a great experience. I'll do it again the next time I have the opportunity. I'm now looking forward to using Amtrak for some leisure travel at some point after experiencing the roomette, the dining car, and the wonders of the Empire Builder service.