Trip Report
---
OTOL Big Apple RailFest 2006
January 13-15, 2006
by
Photos by Piotr Dzwonek and John Corbett
Click small photos to see larger; all larger photos are less than 60K
---
Chapter 0: Introduction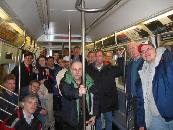 Yet another RailFest took place in New York City. This time on Saturday we featured elevated subway lines primarily in Brooklyn and Queens. For our Sunday activity, we rode the Long Island Railroad's Ronkonkoma Branch all the way out to Greenport and back.
Twenty-one people were involved at one time or another. All but one participated at one time or another on Saturday. Our total on Sunday was fourteen, but the most together at any one time was twelve.
We had four participants from the Midwest (two from Indiana, one each from Illinois and Ohio). There were four from New England as well (three from Massachusetts and one from Connecticut). One person came from Virginia. We had three from Pennsylvania and four from New York. New Jersey led by sending five participants to BARF 2006.
We accomplished a lot over those two days. Besides following the prescribed itinerary, we of course chatted with one another about trains and other topics and had a good time in each other's company.
Chapter 1: Preparation
Our New York fests are becoming easier and easier to prepare, since we have been through so many. We have learned to watch the service alerts online so that it is known whether any diversions will affect us. Indeed, there were a few late changes but they were not too drastic.
This was the first fest in New York since 2001 without the route guides that I was preparing for each participant. This task became too much to handle, due to the increased number of fests we have been holding per year. It was definitely more relaxing for both Alan and me the week before the fest weekend not having to worry about revisions and printing.
Still, there were the usual tasks of creating and updating the fest's official web pages. As usual there were current lists of all transit and commuter lines, scanner frequencies, hotel and restaurant listings, the itinerary, a list of expected costs, and the guest list.
With all that finally completed, not to mention my own hotel reservations, everything was ready for another big gathering of railfans in the New York City area.
Chapter 2: Friday, January 13, 2006
On Friday, some people were on their way to the New York area in advance of Saturday's events. Those who got there early enough were able to partake of their own pre-fest activities.
Chapter 2.1: Getting to the New York City area, Part 1
We had many participants coming from the Midwest and New England who had to make their respective ways to New York.
Mike Hammond took the LAKE SHORE LIMITED eastbound from Cleveland to New York. A GCRTA van took him directly from his home to the Amtrak station around in the wee hours of the morning, in order for him to make a scheduled 4:10 AM departure. I got an e-mail from Mike's wife Lynn that morning saying that he had reported his train was about 4 hours late. Somebody in Indiana had decided to commit suicide by stepping in front of a freight train. This delayed both eastbound Amtrak trains on the line. He did not expect to leave Cleveland until 8 AM. Mike was upbeat about that, saying he would get some rare daylight running through Ohio and Pennsylvania.
Meanwhile, Don Sillence and David Korkhouse had boarded the CAPITOL LIMITED in South Bend on Thursday night, only to become late themselves due to the same incident along Norfolk Southern's tracks. They endured further delays as they headed east. Their original intention was to catch Regional Train 94 from Washington to New York. However since Train 30 was over eight hours into Washington, they ended up on Regional Train 198, which got into New York City around midnight Friday night. Lucky for them, they were staying at the Hotel Pennsylvania right across the street from Penn Station.
Skip Howard took Amtrak's Acela Express 2159 from Route 128 in Massachusetts to New York. He got into the city Friday afternoon before 1 PM.
Rick Metcalfe was another Massachusetts resident coming down to our fest. He came down on Amtrak's Acela Express 2171, and stayed at the Regency Inn in Midtown Manhattan.
Steve Weagant had taken an early flight out of Chicago to Newark. There, he caught the hotel shuttle to the Hilton Gateway. After checking in, he went into Manhattan for lunch and took in a movie as well. He then returned to the Hilton Gateway in Newark to await us.
Jishnu Mukerji, upon hearing that some of us might be meeting for dinner in the city, decided to meet up with us in Greenwich Village after work. He communicated with me a few times by cell phone during the day.
I had to wait until Michael got home from school, and then with usual delays in getting out of the house before a trip, we did not leave until 3:30 PM. It was while I was driving up the Garden State Parkway that I spent a good amount of time on the phone coordinating with Mike, David, and Don on their respective rail trips, and with Steve and Jishnu about meeting for dinner.
At Metropark, I parked the car and we took the next NJ TRANSIT Northeast Corridor Line train up to Newark. We then walked across the skybridge and entered the hotel. Steve Weagant was sitting in the lobby. He waited a little longer while we checked in and put our suitcases in the room.
Chapter 2.2: Dinner in Greenwich Village and meeting the LAKE SHORE LIMITED at Penn Station
Both Steve and Mike had previously asked me where they might get the best pizza in New York City. Immediately I thought of Famous Ray's in Greenwich Village. The slices there are slightly larger (and more expensive) than usual, but they are well worth the price and the trip. Unfortunately, Mike would not be able to get there with us since he would be aboard the LAKE SHORE LIMITED through dinnertime.
We met Steve back downstairs in the hotel lobby, and then we began our evening trip to New York. We rode PATH's Newark-World Trade Center line to Journal Square, and then changed across the platform to another PATH train on the Journal Square-33rd Street line.
We got off PATH at 9th Street, and then walked two blocks north on Sixth Avenue. Outside of Famous Ray's we met Jishnu.
The four of us had our pizza. Then, since we had nothing else to do, we then decided to go to Penn Station to meet Mike's train.
At Penn Station, we found out from the monitors that the eastbound LAKE SHORE LIMITED was now running five hours behind schedule. That would have put it into Penn Station around 8:25 PM. We decided to wait it out. Steve had not been to New York much, so he enjoyed hanging out around various parts of the massive station to watch the action in the Amtrak, Long Island Railroad, and NJ TRANSIT concourses.
At some point, the arrivals monitor changed, now showing the LAKE SHORE to be 4-1/2 hours late. So we now expected it at about 7:55 PM. At about 7:05, Steve called Mike, who reported that his train had just passed Ossining. We knew it would be roughly half an hour from there. We then began to hear station announcements indicating that the LAKE SHORE LIMITED would be arriving on Track 8. We had most recently been standing in the Amtrak departure area near a stairway leading up from Tracks 7 and 8, but we realized that Mike could come up anywhere, including the arrivals level or the NJ TRANSIT concourse. I figured the latter was more possible since Mike was in a sleeper and would therefore be near the front, or eastern, end of the train. Michael and I left Steve and Jishnu and went to the NJ TRANSIT concourse. We had no problem descending to track level there. When we got to the platform, the train had already arrived and had begun discharging its passengers. We saw Mike leave his sleeper car and head for the next stairway. As it turned out, he would have come up right into the Amtrak departures area where Steve and Jishnu were still standing. All three of us climbed the stairs and the group was then reunited.
Mike said that due to the train's lateness, sleeper passengers were given some food, so he was not hungry. We decided to go to our hotels by PATH, so that we could get Mike to his stop. The five of us left Penn Station's main exit at Seventh Avenue and 32nd Street, and then walked one block east on 32nd Street to Herald Square.
Jishnu would be taking the PATH Hoboken-33rd Street train from there, to get to his NJ TRANSIT Morris & Essex Lines train home. Steve, Mike, Michael, and I boarded a Journal Square-33rd Street train instead.
Our train left the station first. At Pavonia/Newport, we said goodbye to Mike for the day. The station is right next door to his Courtyard by Marriott hotel. Steve, Michael, and I returned to Journal Square, changed to the Newark-World Trade Center line, and rode back to Newark. When we got to Newark Penn Station, the escalator down from PATH brought us directly to the sky bridge that leads to the Hilton Gateway.
Chapter 2.3: Other participant activities
Upon his arrival in New York, Skip hooked up with Nick Gibbon, and they rode the Long Island Railroad's Port Jefferson Branch together to Port Jefferson and back. Nick then returned to his dormitory in Manhattan, while Skip went to Newark and got his room at the Hilton Gateway.
Chapter 3: Saturday, January 14, 2006
Saturday was Day One of OTOL Big Apple RailFest 2006. We had a full slate of subway rides that would last us all day. In addition, lunch at Nathan's Famous in Coney Island and dinner in Manhattan rounded out the day.
Chapter 3.0: Getting to the New York City area, Part 2
We had more participants who set out from home on Saturday morning. Ed Findlay left Boston on Amtrak Regional Train 195. Knowing he would not make it to the initial meeting location on time, he said he would meet us later. We expected to hook up with him in Coney Island.
Ross Kudlick left his home in Virginia very early and made his way into Washington, DC to catch Amtrak Regional Train 160. He got into Newark at 8:25 AM, and would take PATH the rest of the way to Herald Square.
Ellis Simon came in from Oceanside on the Long Island Railroad, then walked from Penn Station to meet us at Herald Square. Lou Petrillo, of West Haven, CT, took Metro North Railroad from New Haven to Grand Central Terminal, and then made his way to our meeting point by subway. Aron Blum came from Warwick, NY on NJ TRANSIT's 197 bus and got to Herald Square from the Port Authority Bus Terminal.
Jishnu came back into the city on NJ TRANSIT's Morris & Essex Lines and walked from Penn Station to Herald Square. Piotr Dzwonek, meanwhile, came in from South Amboy on NJ TRANSIT's North Jersey Coast Line and did the same thing.
Steve went to have breakfast in a restaurant next to the Hilton Gateway. Skip, Michael, and I opted instead for the McDonald's in Newark Penn Station. The four of us then went upstairs to the PATH station, where we met Ross, who had just arrived from Washington. This group of five then left Newark on PATH's Newark-World Trade Center line. We changed at Journal Square to the Journal Square-33rd Street line. I called Mike Hammond to let him know we were coming, so he could start walking from his hotel towards the Pavonia/Newport station to meet us on the same train. We sat in the front car of this train for his convenience so he could find us.
Mike joined us when we stopped at Pavonia/Newport, and then the six of us continued to 33rd Street. We found a spot out of the way of other passengers, and made this our spot to gather. Then we decided that some of us wanted to either purchase Metrocards or add value to the ones we had. So we went into the adjacent subway station and did our business before returning to the PATH concourse.
Chapter 3.1: Meeting at Herald Square
We still had about half an hour until the fest would begin, so some of the gang who had not yet had breakfast went into a McDonald's in the lower level of Manhattan Mall. Meanwhile, everyone else began to assemble. Don and David walked over from Hotel Pennsylvania, and Rick from the Regency Inn. We would be starting out with an impressive total of seventeen people.
Chapter 3.2: MTA New York City Transit N train, 34th Street/Herald Square to Astoria/Ditmars Blvd.
We started out with a slight delay. Our N train was about five minutes later than the advertised. However, we made up some time and got to the Astoria/Ditmars Blvd. terminus a minute earlier than expected. Along the way, Alan Burden joined us, getting on at Queensboro Plaza. That brought the size of our crowd to 18.
We had an unexpected treat. A CSX freight train was crossing the Hell Gate Bridge. Moving much slower than Amtrak trains, it provided an easy photo opportunity for those with cameras.
During our seven minutes at this station, our group made our way to the other end of the train, so that we would be in the front of the train so others could locate us later.
Chapter 3.3: MTA New York City Transit N train, Astoria/Ditmars Blvd. to Coney Island/Stillwell Ave.
We set in for what would by far be the longest subway trip of the fest. We would be riding this train's route from beginning to end for one hour 12 minutes.
Our train left Astoria on time at 10:56 AM. First, we retraced our previous trip into Manhattan. At Herald Square, we were joined by Ed, who had recently arrived at Penn Station from Boston. Now we were 19 people strong.
We were not sure whether our train would be taking the Manhattan Bridge or the Montague Street Tunnel between Manhattan and Brooklyn. Although the N train makes local stops in Manhattan on weekdays, we switched tracks just before Canal Street and we all knew we would be going via the bridge.
Our trip along Brooklyn's Fourth Avenue line was uneventful. Then we branched off onto the Sea Beach line. This particular weekend, there was a service diversion on the West End line that had all through D trains running on the Sea Beach Line with the N's to various endpoints.
Chapter 3.4 Lunch at Nathan's Famous in Coney Island
Nineteen of us descended upon Nathan's. We got on one of two lines that had already formed for lunch, and soon a third line opened. The place handled us very well, thanks to a telephone call I had made the day before informing them that a group of about twenty would be coming around lunchtime. After lunch, many of us partook of the rest room facilities around the west side of the restaurant. Unfortunately, the rest room appeared to be open to anyone (not just customers of Nathan's) and it was in dire need of some attention.
We then headed back to the subway station. I noticed that we were missing a few people. While most of the group went ahead and boarded a waiting N train, I remained back and looked for them. It turned out that Don, Dave, and Rick had stopped to get some photos and were unaware the rest of us had gone back to the subway. When I saw them across Stillwell Avenue I called to them, and they hurried across to join Michael and me. The five of us got up to the Q platform to find our group already aboard the train, with some standing in the doorways just in case we did not make it.
Chapter 3.5: MTA New York City Transit Q train, Coney Island/Stillwell Ave. to Prospect Park
The ride on the Brighton Line was uneventful. We continued to be on time. Some participants enjoyed the ocean and bay views seen on the right in the early part of the trip.
At 1:27, we arrived at Prospect Park. An S train was sitting on the track across the platform from where we stopped. Because part of the platform is split as the tracks leave the station at different elevations, some of us had to climb a short stairway to get to the S train.
It was here that our twentieth and final participant of the day, Bill Antonides joined us. He had arrived in New York and had taken the Q train from Midtown Manhattan directly to Prospect Park.
Chapter 3.6: MTA New York City Transit S train, Prospect Park to Franklin Ave./Fulton St.
The S train was our shortest ride of the day. It is one of several shuttle trains in the system so designated. Unlike the Times Square-Grand Central S shuttle in Manhattan, this one has two intermediate stops. It is also the only single-track operation in the system.
We departed from Prospect Park on time at 1:32 PM. Our ride took just five minutes, placing us at Franklin Avenue/Fulton Street at 1:37 PM, two minutes earlier than planned. We then walked down a few sets of stairs within the paid area of the station until we were underground on the Queens-bound platform of the A and C lines.
Chapter 3.7: MTA New York City Transit C train, Franklin Ave./Fulton St. to Utica Avenue
Most of the time, A trains run express, bypassing this station while C trains make the local stops. We would have to take a C to an express stop and then switch to an A.
The first C train came at 1:43, so we were ahead of our schedule by seven minutes.
We could have changed to the A at the first stop, Nostrand Avenue, but the local and express tracks run there at different levels. It would be much easier to make our switch two more stops down the line at Utica Avenue, so that is what we did. When we arrived at Utica Avenue we were still six minutes ahead of the time called for in our itinerary.
Chapter 3.8: MTA New York City Transit A train, Utica Avenue to Ozone Park/Lefferts Blvd.
Utica Avenue provided us with what could have been an easy, cross-platform transfer. However since we were early, the first train to come in was a Far Rockaway-bound A. We had to let it pass, and take the next one headed for our destination of Lefferts Blvd.
Our actual trip was uneventful, other than it took a little longer than prescribed. I had the journey carded for 17 minutes, but it actually took 22 minutes. Our arrival at the Lefferts Blvd. terminus was at 2:16 PM, two minutes later than expected.
Chapter 3.9: MTA New York City Transit A train, Ozone Park/Lefferts Blvd. to Broadway Junction
This trip just retraced our previous ride, as we returned to Broadway Junction. The train operated exactly on time, leaving Lefferts Blvd. at 2:22 PM and arriving Broadway Junction 2:36 PM.
We now made our transfer from the A to the J, which necessitated using a series of escalators between the subterranean A/C platforms and the elevated J line.
There was a bit of confusion at Broadway Junction, since L trains were terminating here. Canarsie-bound L trains were leaving from the Jamaica-bound J platform, while L trains coming from Canarsie were terminating at the Manhattan-bound J platform. In the confusion we lost Mike Hammond, as he somehow went astray and ended up on the Jamaica-bound platform. Luckily, somebody saw him before he got on the wrong train and he rejoined us on the correct platform.
Chapter 3.10: MTA New York City Transit J train, Broadway Junction to Broadway/Myrtle Avenue
This segment was a repeat of BARF 2005 a year ago. We were riding this line to get to the M train, which we missed in 2005.
We were 8 minutes ahead of our itinerary when we left Broadway Junction on the J train. Our ride was uneventful up to the Myrtle Avenue station.
At Myrtle Avenue, M trains, which at off-peak hours run only as a shuttle between here and Metropolitan Avenue, use the middle track. There was some confusion since we thought that the doors on the M train would quickly open on both sides of the train. At first, only the doors on the other side, the side where passengers on the Jamaica-bound J would transfer to the M, opened. We all trudged down the stairs and up another set to access that platform. By the time we got to the opposite platform, the M train's doors had opened on the Manhattan-bound platform where we were originally standing. We all got some needed but unnecessary exercise!
Chapter 3.11: MTA New York City Transit M train, Broadway/Myrtle Avenue to Middle Village/Metropolitan Ave.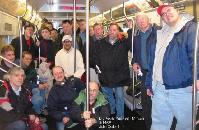 Six minutes ahead of the itinerary, we departed on the M train at 2:55 PM. Our ride to Metropolitan Avenue took just nine minutes. Our layover there would be five minutes.
Chapter 3.12: MTA New York City Transit M train, Middle Village/Metropolitan Ave. to Broadway/Myrtle Avenue
We returned in the opposite direction towards Myrtle Avenue. Our original plans were to get off the M at Myrtle-Wyckoff and switch to the L train there. However, since the L was not operating this particular weekend between Lorimer Street and Broadway Junction, we had to take a slightly longer route and make one extra change of trains to access the L train at Broadway Junction. Therefore, we remained on the M to the Myrtle Avenue station to get the J train.
We got to Myrtle Avenue at 3:24 PM, six minutes ahead of our plans. This time, we were able to get off our train on the Jamaica-bound platform, so we did not have to negotiate any stairs.
Chapter 3.13: MTA New York City Transit J train, Broadway/Myrtle Avenue to Broadway Junction
We only had a three-minute wait before a J train came. We were on our way at 3:27, and eight minutes later we arrived at Broadway Junction once more.
At Broadway Junction, we alighted on the platform that Mike Hammond had earlier scouted out for us. Due to the L train diversion, we did not have to go upstairs to make our transfer. The L would pick us up on the same platform and track where we had just gotten off the J.
Chapter 3.14: MTA New York City Transit L train, Broadway Junction to Livonia Avenue
This segment of the L line was another repeat of last year's activities. On this excursion, we rode just three stops from Broadway Junction to Livonia Avenue.
With the L not running on a real schedule, we were able to remain ahead of the itinerary. A train left the Broadway Junction J platform at 3:40 PM, and five minutes later we arrived at Livonia.
From this station we left the system and walked over to the Junius Street station on the 3 line. The walk took less time than expected.
Chapter 3.15: MTA New York City Transit 4 train, Junius Street to New Lots Avenue
This one late change had to be made to our itinerary two weeks before the fest took place. On this particular weekend, due to work at the Fulton Street station, there was no 2 or 3 service operating between Chambers Street and Brooklyn. To cover the portion of the 3 line in Brooklyn not served by other trains, the 4 train was extended beyond its normal terminus at Utica Avenue to run to New Lots Avenue. From here on to the end of Saturday's activities, the times in my itinerary were estimates since trains running diverted or extended routes do not operate by any published timetable.
As soon as the first of our twenty participants got to the New Lots Avenue-bound platform, we spotted a 4 train coming. We yelled down to those still coming through the faregates to hustle, and we all eventually made it onto that train. We departed at 3:52, which was just seven minutes after we had gotten off the L.
Another uneventful trip, we rode on Brooklyn's only elevated subway of IRT heritage eight minutes until the train terminated at exactly 4 PM at New Lots Avenue. When we got there, we saw another 4 train sitting across the platform. We crossed over, and boarded the next train headed back towards Manhattan.
Chapter 3.16: MTA New York City Transit 4 train, New Lots Avenue to Bowling Green
When we left New Lots on this train at 4:03 PM, we were now 28 minutes ahead of my estimated itinerary. We retraced our previous trip to Junius Street, and the continued inbound into the tunnel.
It was during this segment of our journey that our group began to get smaller. First to go was Ellis Simon, who left our 4 train at Atlantic Avenue. He took a Long Island Railroad train home to Oceanside from there. The other 19 people continued onward into Manhattan.
Aron Blum chose to leave the group at Bowling Green, remaining on our 4 train while the rest of the group detrained. He would go to Grand Central Terminal first before heading home by bus from Port Authority Bus Terminal.
Our 4 train arrived at Bowling Green station amidst utter chaos. The service diversion caused many passengers to have to change trains and platforms at this station, which was not set up to handle this activity. In place of the 2 and 3 lines, we had to catch an Uptown 5. This train would be on the Downtown platform. So all 18 of us had to walk down a narrow flight of stairs, and then up another one.
When we got up to the correct platform, we had just missed a 5 train. The next two trains to stop at that platform were both 4's headed back to Brooklyn. In all, we were in that station for 14 minutes.
Chapter 3.17: MTA New York City Transit 5 train, Bowling Green to 34th Street/Penn Station
When we finally embarked on Saturday's last subway trip, it was 4:42 PM. We were 28 minutes ahead of the itinerary.
We started out with a special treat, riding over a small section of what is normally non-revenue trackage. This track connects the Bowling Green station to South Ferry, and it is used to loop 5 trains when they originate and terminate at Bowling Green. Just before the South Ferry station, we switched over to what is normally the 1 track, and rode around the loop. We did not make a stop at South Ferry nor Rector Street, as these stations were closed for this particular weekend diversion. 1 trains were turning at Chambers Street.
Our 5 train arrived at the local track at Chambers Street. At first, we thought we would be riding local all the way to Midtown Manhattan. In fact, the conductor announced that this train would be a local. Then there was a change in plan, and he announced we were going to be going express instead. Just after Chambers Street, we switched over to the express track normally used by 2 and 3 trains, and we had a quick ride from there to 34th Street, stopping only at 14th Street en route.
We detrained at exactly 5:00 PM at the 34th Street-Penn Station stop. We walked through the 32nd Street corridor and then entered the Long Island Railroad area. It was here that we officially broke up for the day. I pointed out where we would meet in the morning for our Greenport excursion. A few people who still needed them purchased tickets for that trip.
Chapter 3.18: Various plans for dinner and getting home
John Corbett left us to return to Ronkonkoma. We would next see him the next day at that station.
Ross was headed home to Virginia, by way of Washington, DC. He had a reserved ticket on Train #57(14), the VERMONTER. Since we finished early, he was able to change his ticket and take Regional Train #135(14) instead. He was lucky he did that, because he found out that #57 was running 90 minutes late.
Rick, Skip, and Steve went for dinner at the Stage Door Deli. Nick left us to return to his dormitory. David and Don went dinner with Don's cousin at a Greek restaurant near Times Square, and then they walked back to Hotel Pennsylvania for the night. Half of the group had left us, but we still had ten people together for dinner.
Chapter 3.19: Dinner at Sbarro near Penn Station
Still with the group were Bill, Jishnu, Ted, Ed, Piotr, Mike, Alan, Lou, Michael, and I. The ten of us had dinner at the Sbarro across Seventh Avenue from Penn Station. This restaurant's basement dining area has a window that looks out on the 7th Avenue/34th Street/Penn Station subway station.
This was another little piece of unfinished business from AppleFest 2001. We wanted at that time to eat there, but the place was being renovated, and the area near the subway window was closed. Recently that area reopened, so we decided to do what we could not do five years ago.
Chapter 3.20: End of Saturday's activities
After eating our various Italian dishes, the rest of us began to break up. Alan went home to Queens. Ed remained in Penn Station to take a later Amtrak train home. Ted went to his hotel in the city, and Piotr went to a relative's home in Washington Heights.
That left Mike, Lou, Bill, Michael, and me to board an NJ TRANSIT Northeast Corridor Line train. To our surprise, Skip also joined us on the same train after breaking away from Steve and Rick after having eaten together at the deli.
Bill would remain on this train to Metropark. Mike, who was actually destined for his hotel in Jersey City, decided to take the long way there via our train to Newark and then the PATH. Lou, Skip, Michael, and I went to the Hilton Gateway.
With everyone at their destinations for the night, BARF 2006 was half over. One day down, and one to go!
Chapter 4: Sunday, January 15, 2006
Day Two of OTOL Big Apple RailFest 2006 would be a round trip excursion to Greenport, NY over the Long Island Railroad. This trip to Long Island's North Fork would complement our previous trip in 2003 to the South Fork when we rode to Montauk. The 15 people who participated on Sunday were never together all at once, but we had a maximum of thirteen for much of our outbound trip.
Chapter 4.1: Meeting at New York Penn Station
We arranged to begin meeting at our usual LIRR spot at the foot of the escalator at 9:00 AM. There were thirteen of us there: Dave, Don, Jishnu, Ted, Steve, Skip, Lou, Mike, Nick, Maurice, Piotr, Michael, and me. Maurice was the only one joining us who had not been on the subway excursion the previous day. The rest had traveled to this location from the various homes or hotels where they went after Saturday's activities. Skip, Steve, Lou, Michael, and I arrived together on an NJ TRANSIT commuter train from Newark.
The weather on Sunday was very different from Saturday. Not only did the temperature drop dramatically overnight, but also some parts of the metropolitan area got some heavy winds and measurable snow. When we started out, we were just ahead of the trailing edge of this storm as it moved eastward.
Chapter 4.2: MTA Long Island Railroad Ronkonkoma Branch, Train #8014: Penn Station to Ronkonkoma
We departed from Penn Station two minutes late at 9:16 AM. When we got to Woodside, we achieved our maximum number of participants for the day as Alan boarded our train.
Our train lost another ten minutes en route, possibly due to the weather. The combination of wind and ice or snow on the platforms did not make it easy for passengers to board or detrain.
Our Indiana duo, David Korkhouse and Don Sillence, had reservations on that day's LAKE SHORE LIMITED from New York City to South Bend. Their initial plan was to ride with us on the electric train out to Ronkonkoma, and then return on the next inbound train back to Manhattan. Even before our first outbound LIRR train was delayed, we agreed it might be a good idea if they got off one stop earlier at Central Islip rather than Ronkonkoma, where the rest of us would be transferring to a diesel train. This had initially been suggested on Saturday by John Corbett, who knows Ronkonkoma better than any of us does. The five minutes between trains was too close for comfort, especially since they would have to change platforms.
We therefore said goodbye to Don and David as they ventured into the cold and wind in Central Islip. We figured that since we were late anyhow, they would have less of a wait for their inbound train.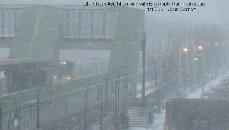 We ended up arriving in Ronkonkoma at 10:50 AM, twelve minutes late, and seven minutes after the inbound train was supposed to have left. Under normal circumstances, Don and David would have missed their connection and had to wait a full hour for the next one. However, for some reason the inbound train had not yet left the yard when we got to Ronkonkoma, so they would have made it had they stayed aboard our train.
The rest of us made our way on the same platform to the diesel train that was sitting head of our electric train.
Chapter 4.3: MTA Long Island Railroad Ronkonkoma Branch, Train #6200: Ronkonkoma to Greenport
John Corbett joined us in Ronkonkoma, and rode the diesel round trip portion of our day's journey. Again, we had 13 people.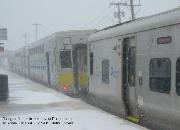 Three minutes after our arrival in Ronkonkoma, we were rolling eastward again. Due to depart at 10:43 AM, it had waited for us to arrive. We therefore started out ten minutes late on this train.
We lost a little more time en route due to icy platforms. (One man fell flat on his face trying to board our train.) Arrival in Greenport was at 12:17 PM, fifteen minutes late.
I reminded the group that our return train would depart from Greenport at 1:17 PM. Missing it would result in a five hour wait for the next and last train of the day. We therefore had exactly one hour for lunch.
Chapter 4.4: Lunch in Greenport
In advance of this fest, John Corbett had provided me with a list of the various eateries within walking distance from the Greenport train station. All were mom and pop places, but there seemed to be a good variety of foods from which to choose.
It was still bitter cold, and there was about an inch of snow on the ground. So most of us did not venture too far. The majority of us ended up at either La Capricciosa (a pizza place), or the Stonington Deli.
After lunch, we made our way back to the train station. Given how cold it was, most of us went straight for the heated train.
Chapter 4.5: MTA Long Island Railroad Ronkonkoma Branch, Train #6201: Greenport to Ronkonkoma
Our return trip to Manhattan started out on time at 1:17. However, along the line we lost about five minutes due to icy platforms. We arrived at Ronkonkoma at the time our electric train was scheduled to leave. With a guaranteed connection, we should not have been worried about making it.
We bid goodbye to John Corbett, who was within blocks of being home for the day. The other dozen of us detrained and walked forward on the platform, as quickly as we could, along with the other transferring passengers and the head wind we were experiencing. Some from our group walked towards the front of the train, figuring we all would be sitting up there. All of a sudden, bells began to ring as the doors were closing. Everyone had to duck into the nearest car quickly or they would have missed the train and had to wait an hour for the next one. As the conductor closed the doors, there was still a stream of passengers walking on the platform coming from the connecting diesel train. Obviously, the people were walking as quickly as they could, given the conditions. This conductor was highly unprofessional in his work, and he could have caused injuries or worse had people begun to run for the train. There could not have been a check made to see that the doorways and platform were clear before pushing the button to close the doors.
Chapter 4.6: MTA Long Island Railroad Ronkonkoma Branch, Train #8055: Ronkonkoma to Penn Station
Like the game of musical chairs, we all took seats in whatever coach we had landed. Those from our group who had ended up closer to the front of the train walked back to be with the rest of us. We departed at 2:45 PM, just two minutes late and two minutes after the diesel train had arrived. Waiting a few more minutes for all passengers to safely make the transfer would not have adversely affected the on-time performance of this train. The schedule normally allows five minutes for the transfer, so that would have been a reasonable amount of time to wait.
The rest of our trip was uneventful by comparison. Since we were now headed west, we had left the storm behind us. The sun was out, although it would be going down for the day before long.
At Jamaica, Alan left us. Since the train we were on was an express between Jamaica and Penn Station, he would have to change to a local to get to Woodside.
The eleven of us who remained on the train had a quick ride into New York's Penn Station, where we arrived just two minutes late at 4:07 PM. That was the official ending to another great fest.
Chapter 4.7: End of Sunday's activities
At Penn Station, we all split up to take our respective trips home. Steve and Skip remained in Penn Station to catch Acela Express #2256 to Boston. Maurice caught a southbound Amtrak train home. Ted and Nick ran for and caught the next NJ TRANSIT train for Trenton, where they would change for SEPTA and head to their respective homes in Pennsylvania. Piotr headed for Washington Heights, and then to JFK Airport to pick up the relative whose home he was staying in over the weekend. Maurice caught a southbound Amtrak Regional train to Philadelphia. Lou went to Grand Central Terminal to catch Metro North back to Connecticut. Jishnu caught an NJ TRANSIT Midtown Direct train home. Michael and I had to purchase our tickets for NJ TRANSIT, so we did not make the same NJT train that Ted and Nick did. We caught the next Trenton-bound train to Metropark, and they we drove home.
Chapter 5: Conclusion
As always, I was quite pleased with the turnout. Getting twenty-one people out in the middle of the winter to ride trains is always impressive. We had our usual share of interesting experiences, and we had ample down time to sit and chat about trains and other things as well.
Many from this group participated in another fest two months later. The OTOL New Jersey RailFest 2006 event started in Philadelphia, and ended in Herald Square, at the same location at the 33rd Street PATH station where OTOL Big Apple RailFest 2006 began. In between, we rode the rails in New Jersey. More on that in another report.
The future looks a little cloudy right now, thanks to layoffs at work. I surely can plan these fests, but I cannot be there to take the trips if I have am working at a new job and can't take vacation time. Almost certainly, we will be able to take our Montreal excursion in July. I hope that later this year we will be able to ride newly restored light rail lines in both Philadelphia and Baltimore.