Trip Report
---
OTOL Washington RailFest 2005
August 26-27, 2005
by
Click small photo to see full size (less than 63K)
---
Chapter 0: Introduction
OTOL Washington RailFest 2005 was the second such railfest held over the summer. It was decided to have another fest during the summer months in order to be able to utilize one weekday. The Washington area, which has two commuter rail agencies (neither of which operates on weekends), required us to meet on a Friday and Saturday so that we could do commuter rail on Friday and the Metro on Saturday.
We had a total of 12 people at our two-day event, which was held only five weeks after OTOL Eagle RailFest 2005. Most participants were with the group both days, but a few opted to join us either Friday or Saturday only.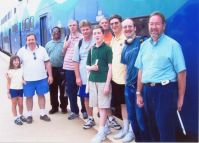 Chapter 1: Preparation
The advance planning began years before the event. I took several trips to Washington to ride the Metro and document the routes on my own for a potential route guide. However, due to the increased number of fests being held, it was decided not to do any route guides for this gathering.
The itinerary was pretty much set a long time in advance. At one point, the Washington Fest was part of a two-day fest in Washington and Baltimore. However, the two were later split up, since there would not be enough time to do both. Baltimore also requires a weekday in order to ride MARC. Also, with Maryland MTA having the northern portion of its light rail line closed all year for a double tracking project, 2005 was not the time to visit Baltimore. Instead, that was scheduled as part of a four-day August weekend fest in 2006, combined with Philadelphia.
The original itinerary called for us to do a round trip on MARC's Camden Line to Baltimore and back. However, I changed that to a one-way trip on MARC's Brunswick Line, since the latter is not accessible from Baltimore. That way, when we have our 2006 fest in Baltimore, we can do a round trip from Baltimore by taking the Camden Line in one direction to Washington and the Penn Line in the other direction. Unfortunately, we would only be able to go as far as Rockville, MD on the Brunswick Line, since there is no possible return by rail beyond there. Doing this would also allow us to save a little bit of time on the Metro on Saturday, since we would not have to ride the Shady Grove leg of the Red Line since we were doing it Friday.
Chapter 2: Friday, August 26, 2005
The first day of OTOL Washington RailFest 2005 would include meeting at Washington Union Station, and a round trip on Virginia Railway Express (VRE) Manassas Line to Broad Run/Airport. It would be followed by a one-way trip on MARC to Rockville, returning on the Metro Red Line.
Chapter 2.1: Getting to Washington
The first day of OTOL Washington RailFest 2005 saw most participants making their way to Washington. We would not be starting until after lunch, so many of us were able to leave home that morning.
Mike Hammond flew from Cleveland to BWI Airport a few days earlier, using his time in the area to visit Six Flags America. He also took a trip on the MARC Camden Line since he knew we were not doing it officially on the fest.
Alan Burden left his home in New York on Thursday, and was situated in his hotel room in Arlington, VA by that afternoon after taking Acela Express 2119 down.
Ted Patchell came down from the Philadelphia area, using a Chinatown bus.
Piotr Dzwonek and Bill Antonides met Michael and me at Metropark on Friday morning. Piotr was there to take Amtrak Regional 183, while Bill, Michael, and I would be on Acela Express 2107. The Acela was first, followed by the Regional. Our trip on 2107 was uneventful. We came into Washington Union Station ahead of schedule.
Upon arrival in Washington, Michael and I left Bill. We took the Red Line and then the Orange Line to Court House station in Arlington, VA. From there, we walked over to the Hilton Garden Inn, where Alan had already spent one night. We were booked at the same hotel, having stayed there the previous summer and enjoyed it. I had arranged with Alan for us to leave our luggage in his room, since it was too early for us to check in. The three of us then returned to Union Station to meet the others and have lunch.
Chapter 2.2: Lunch at Washington Union Station
In the lower level food court of Union Station, we met Mike, Piotr, Bill, and Ted. The seven of us had dinner from various vendors, and of course talked trains.
Those who had not yet purchased their VRE and MARC tickets went upstairs and did so. The rest of us congregated near Gate L, through which we would be boarding our first train. There at the gate area, we met Maurice Carson. Maurice had seen discussion of this fest on our Forums, and he decided to drive down to the area from King Of Prussia, PA and join us.
Chapter 2.3: Virginia Railway Express Manassas Line, Train #325: Washington Union Station to Broad Run/Airport
Soon VRE Train 325 was called, and the eight of us were on our way downstairs to our first official conveyance of this event.
Our ride down to Broad Run/Airport station in Manassas was smooth and uneventful. At Alexandria, Don Weinstein and his daughter Penny, age nine, joined us. We had not seen Penny since she was an infant.
When we got to Broad Run, our group of ten detrained for our 17-minute scheduled layover.
Chapter 2.4: Virginia Railway Express Manassas Line, Train #336: Broad Run/Airport to Washington Union Station
Soon we were able to reboard the same equipment for our northbound trip back to Washington. Train 336 was ready to pull away from the platform at 2:45 PM, but host Norfolk Southern Railroad was not ready to accept us. We were delayed on the VRE siding for ten minutes until a long freight train passed. We would continue to be ten minutes behind schedule throughout the rest of our return trip.
Don and Penny got off where they had gotten on, at Alexandria. The eight of us who had left Washington returned there at 4:05 PM. Being so late was not an issue, because our next train would be leaving at 4:25. Therefore, we had some time for those who needed to do so, to take a rest room break.
Chapter 2.5: MARC Brunswick Line, Train #875: Washington Union Station to Rockville
Our MARC train, bound for Brunswick, was on Track 8. MARC's trains are short enough that they can fit two consists on the same track. Being early in the rush hour, we had to walk pretty far to the one at the north end of the platform.
The trip to Rockville was uneventful. When our group of eight got off at Rockville, it was probably the largest group they had ever seen detrain there. Rockville is primarily a pickup stop in the evening rush hour, as people transfer from the Metro Red Line to go to suburban locations.
Once off the train we walked through the short tunnel to the Metro station. Here, we decided that our dinner stop would be at the White Flint Mall, rather than Rockville or Twinbrook.
Chapter 2.6: WMATA Metro Red Line: Rockville to Shady Grove
Our first order of business on the Metro was to ride the Red Line one stop to the end of the line at Shady Grove. We did not have long to wait for a train to come. The whole trip took just four minutes.
At Shady Grove, we stuck with the same consist, but changed ends to be near the front. We were at the station about six minutes before departing at 5:15 PM.
Chapter 2.7: WMATA Metro Red Line: Shady Grove to White Flint
The trip from Shady Grove to White Flint took just ten minutes. During this time, we said some good-byes. Piotr and Bill would be remaining on the train to head back downtown. Piotr was going to a pre-season football game between the Pittsburgh Steelers and the Washington Redskins at FedEx Field, and he would be routing for the visiting team. From there, he was going to a YHI Hostel for the night.
Bill was headed home. He got to Union Station in time to catch Acela Express 2124.
Chapter 2.8: Dinner at White Flint Mall
The rest of us detrained at White Flint, and walked the quarter mile or so to the mall. We walked through a department store and eventually found the food court, where we indulged in the various delights it offered.
When we were finished, we retraced our steps back to the Metro station, and awaited the next inbound Red Line train.
Chapter 2.9: WMATA Metro Red Line: Shady White Flint to Metro Center
Our basic activities for today complete, we now began to further disperse. Ted left us at Farragut North, to go to his hotel, the Marriott Residence Inn. The rest of us stayed aboard to Metro Center, where we changed to the Orange Line.
Maurice had not arranged ahead of time for a place to stay, and his car was sitting at one of the Metro stations in the northern suburbs. Mike, with his work connections with the Marriott chain, was able to get Maurice a room at a decent price at the same hotel where he was staying, the Marriott Key Bridge. They got off together at Rosslyn, leaving Alan, Michael, and me to head back to Court House and our Hilton Garden Inn. After retrieving our luggage from Alan's room, we went to check into our own room and were soon relaxing there.
Chapter 2.10: End of Friday's activities
I later found out that after he checked in, Maurice got back on the Orange Line and went to retrieve his car, and bring it to the hotel. Somehow he missed the correct exit on the Capitol Beltway, and ended up driving completely around the Beltway before he came to the correct exit once more.
In our room, I received a call from Skip Howard, who had arrived in town on Acela Express 2171 from Route 128 to Washington, and went directly to his hotel room at the Phoenix Park Hotel. Ed Findlay also would only be joining us on Saturday; he left on overnight Regional 67 from Boston South Station on Friday night.
The rest of us were safe and sound in our rooms, sure to rest up before our big day on the Washington Metro.
Chapter 3: Saturday, August 27, 2005
Saturday promised a complete tour of the Metro system, except for the one leg of the Red Line that we had already ridden. As always, people would come and go from our group all day.
Chapter 3.1: Meeting in Union Station
Michael and I left on the Orange Line from Court House to Metro Center, and then took the Red Line from there to Union Station. Alan opted to sleep a little later and join us when we passed by Court House on the official part of our fest. Luckily, we were doing this segment of the Orange Line early in the day.
In front of the B. Dalton Bookstore at Union Station, we met Ed, who had since arrived from Boston and had already ridden the Red Line segment he had missed the previous day. Skip was there, after his short walk from the Phoenix Park Hotel. Also returning were Ted, Piotr, Maurice, and Mike.
Since we were all assembled, we headed for the Metro a little earlier than our schedule called for.
Chapter 3.2: WMATA Metro Red Line: Union Station to Metro Center
Since the Red Line at eight-minute headways at that hour, we were one train ahead of the intended one. We departed Union Station at 9:29 AM and got to Metro Center (and our Orange Line transfer) in just five minutes.
Chapter 3.3: WMATA Metro Orange Line, Metro Center to Vienna/Fairfax-GMU
We left Metro Center at 9:43 AM, still one train or eight minutes ahead of schedule. This was a 29-minute trip.
On the way, Alan joined us at Court House, making us a group of nine. Don Weinstein, who would again be meeting us along with Penny at East Falls Church, also contacted me. They decided to join us on the inbound trip rather than going out to Vienna with us. Since Don and Penny were just leaving their house, we had to give them some time to get to the East Falls Church station. I decided that at Vienna, we would let our train leave without us, and instead wait for the next one. That would put us right on schedule and allow Don and Penny to hook up with us on the correct train.
Chapter 3.4: WMATA Metro Orange Line, Vienna/Fairfax-GMU to Rosslyn
Our inbound Orange Line train left Vienna at 10:35, matching our itinerary exactly. When we arrived at East Falls Church, Don and Penny had no problem finding us in the front car. Now our group had swelled to eleven people, one more than our maximum from the preceding day.
We got lucky at Rosslyn. I allowed 14 minutes for the transfer to the Blue Line because I thought that two minutes might be too tight. With the Blue and Orange Lines running at twelve-minute intervals, I thought that we would be waiting a long time here after just missing our connection. However, we all descended the stairs, got to the southbound platform within two minutes, and made the next train.
Chapter 3.5: WMATA Metro Blue Line, Rosslyn to Franconia/Springfield
We left Rosslyn on the Blue Line train at 10:59 AM, again running ahead of schedule. Since we did not expect anyone else to be joining us, being twelve minutes ahead was no longer an issue.
We had a nice, quick trip down to Franconia/Springfield, getting there in just 28 minutes. At that station, we remained with the same train, but again during the eight-minute layover, we changed ends so we would be sitting near the front when it departed.
Chapter 3.6: WMATA Metro Blue Line, Franconia/Springfield to King Street
The next segment, which involved retracing our steps on the Blue Line to Alexandria's King Street station, took nine minutes.
At King Street, we got lucky once more as we made an outbound Yellow Line train in just one minute rather than waiting eleven minutes as expected. All we had to do was walk directly across the platform to complete our transfer.
Chapter 3.7: WMATA Metro Yellow Line, King Street to Huntington
For a short while, we were 24 minutes ahead of schedule. That was short-lived, and it lasted only during our brief three-minute Yellow Line trip from King Street to Huntington. We pulled into Huntington too late to make the one-minute connection I had gambled with, just missing a train departing from the opposite track. Therefore, we had to wait 13 minutes at Huntington before we could return in the opposite direction by taking the same set of equipment.
Chapter 3.8: WMATA Metro Yellow Line, Huntington to L'Enfant Plaza
Because of the wait at Huntington, we were once more twelve minutes ahead of the itinerary. We left there at 12:01 PM, headed towards L'Enfant Plaza and our lunch break.
Chapter 3.9: Lunch at L'Enfant Plaza
When we got to L'Enfant Plaza station, two goofs my part took place. The first one was a little confusion in the station. When I had scouted out L'Enfant Plaza and its restaurants, I had arrived on the Blue/Orange Lines as opposed to the Green/Yellow Lines. The two routes cross at different grades perpendicular to one another at L'Enfant Plaza, but the stations otherwise look identical since most are generic looking. With the intended exit from the station being along the other line, I led the group upstairs to the wrong exit. Luckily, the mistake was realized while we were still in the fare paid area, so we just turned around and made our way to the correct exit.
We then walked into the concourse searching for a place to eat lunch.
Goof number two was that when I did my scouting mission on a weekday, every restaurant was open for business. Since we had arrived on a Saturday, many places were closed. We found a Frank And Stein (a Washington-area fast food hot dog and beer chain) and a place called Gourmet Too (a deli that serves salads, sandwiches, sushi, and chicken dishes). Since you are all dying to know: Alan, Ed, Skip, Don, Penny, Maurice, and Ted went to Gourmet Too, while Mike, Piotr, Michael, and I ate at Frank And Stein.
When we were all finished, Don and Penny left us to go home. They boarded the Orange Line back to East Falls Church.
That left nine of us to finish the Metro system. We resumed our journey by boarding the Metro Green Line south from L'Enfant Plaza. It turned out that we had needed the extra time during our lunch break, as we caught our next train at 1:34 PM, which is exactly what our itinerary called for.
Chapter 3.10: WMATA Metro Green Line, L'Enfant Plaza to Branch Avenue
Our travels down to Branch Avenue were uneventful. We remained on time, getting to that endpoint station at 1:53 PM.
Chapter 3.11: WMATA Metro Green Line, Branch Avenue to Greenbelt
After a three-minute layover during which we changed ends once more, we left Branch Avenue for what would be our only end to end ride of the day, the entire Green Line to Greenbelt. We remained on our schedule, getting there at 2:43 PM. We had eleven minutes layover on the Greenbelt end.
Chapter 3.12: WMATA Metro Green Line, Greenbelt to Fort Totten
This would again be simply a retracing of our steps. We would return southward on the Green Line, going only as far as Fort Totten. We were still adhering to our itinerary, but things were about to change!
Chapter 3.13: WMATA Metro Red Line: Fort Totten to Glenmont
Like most rail transit agencies, Metro often does its larger trackwork projects during off-peak hours, to minimize impact on the customers. Such a project was being done this particular Saturday on the Red Line, between Fort Totten and Silver Spring. In between those two stations is the Takoma station, which is where the work site was located. As we found out on our last fest in New York, such deviations have the result of making any timetable useless. Trains pretty much operate when they can through the work zone, which also affects calling times along the entire route.
So after we had gone up the two flights of escalators from the Green Line platform, we found ourselves on a crowded Red Line platform. We had to wait about ten minutes before a Glenmont-bound train came. This train was actually running six minutes ahead of our itinerary, since it was really the train before our intended one running late.
We proceeded north on what is usually the southbound track, and then returned to the correct one just before the Silver Spring station. Then it was a quick ride up to Glenmont. We arrived there at 3:32 PM, five minutes ahead of our plan. As usual, we changed to the opposite end of the train.
Chapter 3.14: WMATA Metro Red Line: Glenmont to Metro Center
We then left Silver Spring at 3:39 PM. We were now twelve minutes ahead of schedule. Since the Red Line runs at 12-minute headways to the extremes of the line, we were again one train ahead of our planned itinerary.
When we got to Takoma, we found out that the trackwork project and single tracking had ended while we were north of the area. We saw a train operating northbound on the northbound track near that station.
We arrived at Metro Center at 4:06 PM, still 12 minutes ahead of our schedule. We now went downstairs to change to the Blue Line.
Chapter 3.15: WMATA Metro Blue Line, Metro Center to Largo Town Center
I had allowed for a 16-minute layover at Metro Center, figuring that four minutes might be a little tight if we had a lot of walking to do. As it turned out, we made it down to the Blue/Orange Lines platform fairly quickly. Since we had already been one train ahead, this put us 24 minutes early, or two trains ahead of where we would have been.
Our timekeeping was a big issue here, because we wanted to avoid any potential crowds coming from a home Washington Nationals baseball game. Had we been too early we could have run into crowding and congestion around the Stadium/Armory station on our way to Largo. Luckily, the game did not run into extra innings, and the baseball fans had already made their respective ways home.
We got to Largo Town Center at 4:39 PM, still running early. We did get to make use of our extra 24 minutes while at our dinner stop.
Chapter 3.16: Dinner at Boulevard at Capital Centre
Boulevard at Capital Centre is an outdoor mall built on the site of the old Capital Centre arena, known in its later years as US Air Arena. There is a small outdoor food court, as well as many freestanding restaurants.
I had figured on the group eating at the Golden Corral, since that place offers a good variety of good foods. To us from the Northeast, it would be a novelty since we do not have very many Golden Corrals in our area. However, some were in the mood for a steak restaurant instead. When they spotted a Bugaboo Creak Steak House across the parking lot, Maurice, Alan, Skip, and Mike decided to go there. Meanwhile, Ted, Ed, Piotr, Michael, and I went to the Golden Corral.
Everyone enjoyed his respective meals. Miraculously, we all came out of the restaurants about the same time, and we met in the parking lot between the two restaurants. Together the nine of us walked back to the Metro station.
Chapter 3.17: WMATA Metro Blue Line, Largo Town Center to Stadium/Armory
It just so happened that we caught the 6:30 PM departure of the next inbound Blue Line train. That is exactly how things were planned, so we were running according to our itinerary once more. We rode as far as Stadium/Armory, in order to switch to a New Carrollton-bound Orange Line train.
Chapter 3.18: WMATA Metro Orange Line, Stadium/Armory to New Carrollton
The segment between Stadium/Armory and New Carrollton on the Orange Line was the last one our group needed to ride to complete the entire system. Again we did it right as planned, arriving at New Carrollton at 7:08 PM.
It was here that Piotr left us. He would catch Amtrak Regional 182 back to Metropark from here. After waiting about 7 minutes, the rest of us returned to Washington on the same Metro train.
Chapter 3.19: End of Saturday's activities (WMATA Metro Orange Line, New Carrollton to various stations)
Our quest of the Metro system was over, and so was the fest. We had now aced the system in two days. From this train, the eight of us would disperse at various stations.
First to get off were Ed and Skip. Our two Massachusetts representatives switched at Metro Center for a Red Line train to Union Station. Ed would take overnight Regional 66 back to Boston that night, while Skip would go to the Phoenix Park for one more night.
Then Ted got off at Farragut West, returning first to his hotel for his luggage, and then taking a Chinatown bus back to Philadelphia. That left five of us on the train.
We continued into Virginia. Maurice and Mike left us at Rosslyn. Mike would return for one more night at the Marriott Key Bridge, while Maurice would collect his car from the same hotel's parking lot and drive home to Pennsylvania. That left Alan, Michael, and me to return to Court House and our Hilton Garden Inn, where we would all get a good night's sleep before setting out for home the next day.
Chapter 4: Sunday, August 28, 2005
Those Saturday participants who stayed over that night returned home on Sunday morning. Skip would be the earliest traveler to awaken in the Washington area for his trip home. He took Acela Express 2250 at 9 AM from Washington to Route 128 near Boston. Michael and I were on the next hour's premium train, 2208, which happened to be a Metroliner. Then Alan took the 11 AM departure, Metroliner 2252, back to New York. Mike Hammond got to sleep later on Sunday morning. He had an afternoon flight from BWI Airport to Cleveland.
Chapter 5: Conclusion
It was a relatively short fest (especially when compared to our previous Eagle RailFest), but it was still a memorable one. Many participants got to ride what was new trackage for them. We met new friends and got to see existing ones once more.
We look forward now to as many as four fests in the year 2006, starting with another Big Apple RailFest in January. See you in New York!