Trip Report
---
Metro New York RailFest 2003
October 4-5, 2003

Section 1 of 2
by
Photos by John Corbett, Ellis Simon, Piotr Dzwonek, and Lou Petrillo.
(Click small photos to see larger; all larger photos are less than 40K)
Additional photos in our
Photo Gallery
.
---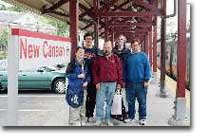 The group poses at New Canaan station (Ellis Simon photo)
---
Chapter 0: Introduction
Our autumn foray onto the rails took place in the form of Metro New York RailFest 2003. It was so-named to distinguish it from the AppleFest that took place in January of the same year, and because we focused on riding rails outside of the city.
Chapter 0.1: Planning and Preparation
My original intent was to ride all three branches of Metro North's New Haven Line in Connecticut. I worked out a schedule that called for a very long day on the rails, with some backtracking along the New Haven Line mainline. It was possible, but it was not meant to be.
I needed to take a preview trip to Connecticut to search for the best place to take our lunch break, and get comfortable with Metro North's operations in Connecticut. On August 30th, Michael and I took one such trip, going to Bridgeport and Stamford. From that trip it was determined that Bridgeport has more places to eat within two blocks of its station than Stamford does.
Then Metro North announced they were going to do some bridge and track work on the Waterbury Branch for a 38-day period including the weekend of our Fest. They totally closed the branch and ran substitute buses in place of the trains. So that left us with two branches, and some filler time.
I needed to return to Connecticut, since the revised schedule due to the closure of the Waterbury branch meant that we would not be in Bridgeport at lunchtime. For my second preview trip on September 21st, I decided to check out Norwalk instead, since South Norwalk is where one transfers to and from Danbury Branch trains. I also returned to Stamford (the transfer point for the New Canaan Branch) and ventured further from the station, finding the Stamford Town Center mall. After that trip, Stamford was determined to be the best place for a group of hungry railfans to stop in Connecticut, but we would have to walk several blocks from the station, and we would have to schedule two hours for lunch instead of one hour. This extra hour was available in the itinerary since we were unable to go to Waterbury.
Meanwhile, as usual I had a website dedicated to this Fest, which included a homepage, and pages with a list of restaurants, transit costs, scanner frequencies, our itinerary, and a list of the participants.
With all the changes being made, especially to the itinerary, I told a few people that this was the most poorly planned Fest I had ever thrown. That can be attributed partially to the backlog of activities from over the summer, dating back to our Windy City RailFest 2003, whose report took two months to prepare, cutting into the planning time for this one. Another reason was the aforementioned closure of the Waterbury Branch, which caused me to go back to square one and create a totally new itinerary. Then I got some suggestions to fine tune Sunday's itinerary as well, allowing more transfer time in Jamaica in the event our connection from Penn Station might be delayed. The bottom line is that I was still making changes to the itinerary within one week of the Fest. It was a good thing that I had vowed not to do any route guides for this event, because there was simply no time to do any more preparation.
Before we knew it, the Fest weekend fast approached, and we headed into our activities, still feeling unprepared. Luckily things would work out just fine!
Chapter 1: Friday, October 3, 2003: The night before
About 6:30 PM on Friday evening, after Michael and I were confident that we had sufficiently packed, prepared the house for our absence, and fed the cat for two nights, we left home bound for Jersey City. Just as it was for JerseyFest 2002 one year ago, and AppleFest 2003 this past January, the Doubletree Club Hotel in the Newport section of Jersey City was our base of operations.
After we had checked in and gotten our cookies, I took a quick walk over to the Newport Centre Mall to purchase some needed travel items. When I got back, we turned in for the night, since we knew we had two long days of train travel ahead of us.
Chapter 2: Saturday, October 4, 2003: Connecticut Fest
Chapter 2.1: Getting to Grand Central Terminal
Our meeting time at Grand Central was 8:45-8:50 AM, for a 9:07 train departure. This is how Michael and I made our way there.
We left our hotel at roughly 7 AM, and walked two blocks to the Pavonia-Newport PATH station. After paying our fares, we went down into the station.
Chapter 2.1.1: PATH Train, Pavonia-Newport to 14th Street
This was our first time in this station since the side platform (Platform 1) had been reopened for use by northbound trains (towards Hoboken or Midtown Manhattan). It had not seen regular use since the days when the Erie Railroad had its railhead above us in the area now occupied by the Newport development. The center island platform (Platform 2) is still used regularly for southbound trains, those bound for Jersey City or Exchange Place (and soon the return to Lower Manhattan). During night hours, the center platform is still used by trains in both directions.
At this early hour on weekends, not all PATH lines operate. So we had to first deviate into the Hoboken station before continuing our trip into New York. This meant, of course, reversing direction in Hoboken. Our train sat in Hoboken just long enough for the motorman and conductor to change ends, and then we were off once more.
It was a quick ride through the tunnel and under Christopher Street. I decided that we would take this train to 14th Street, walk east on 14th to Union Square, and then take the Lexington Avenue subway up to Grand Central. After we turned onto Avenue of the Americas, we detrained at 14th Street.
We followed the masses up the narrow stairway, which lets out in a storefront on Avenue of the Americas. Then we walked two blocks east on 14th. When we got to Union Square, we found the subway kiosk in the middle of the square, and descended the stairway.
Chapter 2.1.2: MTA/New York City Transit, 6 train, 14th Street/Union Square to Grand Central Terminal
We searched for the Uptown 4 5 6 platform, and soon found it by crossing a small bridge over the tracks. We had the choice of taking a 6 train on the local tracks, or a 4 or 5 train on the express tracks. A 6 happened to come in first, so we took it. Strangely, no express train passed us by as we made several local stops on the way to 42nd Street/Grand Central. But a Bronx-bound 4 train came in across the platform just as we were detraining at 42nd Street/Grand Central.
We made our way up to the street. The time was about 8:15 AM, so I knew we had some time to grab breakfast. We headed up to the McDonald's at Lexington Avenue & 45th Street, and ate quickly.
On our way back to Grand Central, as we were crossing Lexington Avenue at 44th Street, we ran into Alan Burden, who was by coincidence on his way to the McDonald's where we had just eaten.
Chapter 2.2: Meeting at Grand Central Terminal
We found out from the monitors that our first train to Bridgeport would be leaving from Track 26. Michael and I first went to a ticket vending machine, where I purchased all of the Metro North tickets we would be needing for our day's travels. We had arranged to meet up with the group at 8:45 AM by the information booth in the center of the terminal's main level, so we headed there next. By the time we got there, Alan had returned from McDonald's, and he informed me that he had already seen Ellis Simon somewhere in the building. Ellis soon joined us, and then since nobody else was expected to originate in New York City with us, the four of us headed for Track 26. To find seats together, we had to walk pretty far up to the front of the train, since most of the cars already had every seat occupied with at least one passenger.
John Corbett had originally planned to join us at Harlem/125th Street, transferring there from a Hudson Line train since he was coming from Riverdale. But he had sent me a voice mail message that he would instead join us when we got off in Stamford later on. So we only needed four seats together up to Bridgeport.
Chapter 2.3: MTA/Metro North Railroad New Haven Line, Train #6514, New York-Grand Central Terminal to Bridgeport, CT
We had a smooth express run to Stamford, and then local the rest of the way. We had no incidents on this train, just relaxing and talking trains.
When we got to Bridgeport, we checked the schedule and learned that a southbound Acela Express was due to pass through Bridgeport soon. I called Julie the AMTRAK robot and found out that this Acela Express was running about seven minutes late, so that gave us the time needed to go through the tunnel to the opposite platform, and walk to its east end to await the passing of the Acela. The curve between the station and the Dock Bridge offers a good photo opportunity.
After Acela Express 2251 passed and was recorded on film, we went into the waiting room briefly to kill some time. We had about 15 minutes left before our next train.
On our Metro North train back to Stamford we were supposed to meet Lou Petrillo, who had originated from New Haven, in the head car. So we walked to the west end of the platform to await the train.
Chapter 2.4: MTA/Metro North Railroad New Haven Line, Train #6523, Bridgeport, CT to Stamford, CT
Lou had saved a set of facing seats for the five of us. It was a little tight, but we knew it would only be a 29-minute trip. We were aboard one of the weekend "tweeners", which is a train that operates in between the normal hourly pattern, effectively creating 30-minute headways instead of the normal hourly ones. We therefore skipped some of the local stops that we had made previously on the New Haven-bound train we had taken to Bridgeport.
When we got to Stamford, we went upstairs into the station. We split up, as some had to use the restroom facilities. We also met John Corbett in the station, and learned that he had driven to Stamford from Riverdale.
Soon we went down to the platform for Track 5, from where our New Canaan Branch train would be departing. We wanted to get good seats on this train before the mainline connection from New York arrived. While on the platform, we saw over on Track 2 the calling of AMTRAK Train 54, the VERMONTER, headed for its namesake state. We noticed that it no longer carries its ex-Metroliner cab car, so we deduced that it would be getting either two diesel engines (one on each end) or one diesel and a cabbage when it got to New Haven.
Chapter 2.5: MTA/Metro North Railroad New Canaan Branch, Train #6722, Stamford, CT to New Canaan, CT
The New Canaan Branch uses EMU's like the mainline trains, only the consists are much shorter for the branch line.
Now a respectable group of half a dozen, we found plenty of available seats on our next train. Many, but not all, were taken when the mainline train came into Stamford and its passengers crossed over either upstairs or downstairs to access our train on Track 5.
We left Stamford on time, passed Metro North's yard facilities on both sides of the tracks, and then diverged onto the eight-mile-long New Canaan Branch.
The entire ride on the single-track branch takes just 17 minutes, and there are just three intermediate stops between Stamford and New Canaan.
There was one incident on this train. A girl was asked for her ticket, and when she could produce neither a ticket nor the payment for her fare, she was put off the train at Glenbrook.
When we got to New Canaan, we alighted onto the platform. We walked to the end past the bumping post, and ended up standing on a street corner in the downtown part of New Canaan. The track approaches this downtown intersection at a diagonal, but does not cross it. We chose to remain near the train, however, because we would be returning to Stamford on the same equipment in just thirteen minutes.
Chapter 2.6: MTA/Metro North Railroad New Canaan Branch, Train #6729, New Canaan, CT to Stamford, CT
After our brief layover in New Canaan, we returned to Stamford, and our lunch break. This trip was uneventful. When we stopped in Glenbrook we did not see the girl who had been asked to get off the train earlier.
When we arrived back in Stamford, the first portion of our day on the rails was complete, and it was time to eat.
Chapter 2.7: Lunchtime in Stamford
The six of us walked over to the Stamford Town Center and went up to the top floor of the mall where there was a concentration of eateries.
This was not a normal food court since it did not have a common seating area. Michael and I went to a place called My Kitchen, which has healthy foods (salads, etc.) as well as plenty of hot foods. You can take as much as you want of anything, and then pay by the weight of the plate. In addition to all of that, they offer a free cup of soup.
The rest of the group went for Sbarro. When everyone had finished, we met out in the mall, and then went exploring on our own for a while.
Ellis left us after lunch, walking back to the station by himself and taking the next inbound Metro North express train to return to the city.
Lou walked back on his own to the station, and the rest of us followed shortly after. It was time to begin the second half of our Saturday on the rails.
Chapter 2.8: MTA/Metro North Railroad New Haven Line, Train #6534, Stamford, CT to South Norwalk, CT
To get to the Danbury Branch, we had to proceed east once more on a mainline train bound for New Haven, and get off at South Norwalk.
Our train came into the station on time on Track 4, having just completed its express run from the city. Our group of five boarded one of the cars near the rear, and found some seats that had just been vacated.
The ride to South Norwalk was just twelve minutes. We got off in South Norwalk, and then realized we had made a minor mistake. Danbury-bound trains take on their passengers in South Norwalk on Track 6, which is across the eastern end of the New Haven-bound platform from where the mainline trains stop on Track 4. We should have sat near the front of the mainline train, since we ended up having a long walk to our diesel train connection. It had started to rain, which made us hustle a bit quicker to get onto our next train.
Chapter 2.9: MTA/Metro North Railroad Danbury Branch, Train #6834, South Norwalk, CT to Danbury, CT
A few minutes after the electric train to New Haven left the station, our diesel train left South Norwalk for Danbury. The trip starts out slow, as the train has to cross over the entire four-track mainline to access the Danbury Branch on the left side.
Once onto the actual branch, old catenary towers are visible, a reminder that this line was once electrified. This single-track branch is 24 miles long, which is three times the length of the New Canaan branch we rode earlier in the day. It takes ten minutes to go four miles to the first station on the branch, Merritt-7.
Outside it had begun to rain harder. We noticed that the engineer was having a tough time getting the train stopped at the stations, on account of leaves on the tracks. I felt some rather abrupt stops at the Cannondale and Branchville stations because the wheels were slipping.
When we approached the Redding station, we had a much worse problem. The train simply could not stop at the station; it was lurching a bit. We saw the platform come and go before we were able to come to a stop. In fact, the entire five-car train missed the station by three car-lengths. Alan had his scanner on, and he could hear the conductor making sure the engineer was alright. The engineer was dumping sand while trying to stop, but it did not help the process with the wet leaves on the tracks. We ended up having to reverse to do our station work, causing us a slight but necessary delay.
We were glad this happened here, and not at the end of the New Canaan branch, where a similar incident would have put our train in the middle of a street intersection or worse, into a store since the tracks end so abruptly. We kept our fingers crossed at our final two stops in Bethel and Danbury, but we did successfully make our stops at those stations without overshooting the platform. The latter was our last stop, so we all detrained there.
Chapter 2.10: In Danbury
When we got off in Danbury, our main concern was getting through this 47-minute layover while staying dry, since it was still raining pretty hard. We watched as our train left the station with only its crew aboard as it went around the long loop into its yard.
So it was a surprise that I heard a familiar, but unexpected voice calling my name as we walked through the parking lot next to the tracks. The voice was that of Brad Smith, from Chicago.
Brad had indicated he might be able to make our Fest, but he later on said that he had a school reunion to go to. So I assumed that meant we would not be seeing him. He did not say that this reunion happened to be in Danbury! He was able to leave the party for a while and meet with us while we were in town. By leaving his reunion and joining our group for our Danbury layover, Brad earned a spot on our participant list as well as mention here.
Alan and Lou went over to a Dunkin' Donuts across the street. John, Brad, Michael, and I walked over to the Danbury Railway Museum. I had been to this museum before, and was not overly impressed with it. While they have a large collection, not much of the equipment is mobile. They run a very short excursion within the yard area, not venturing onto the Metro North line or the nearby Maybrook freight line. We were able to view some of the equipment through the fence, but it would not have been worthwhile to enter the museum and pay its admission fee since we had a very short time in town.
Brad walked back with us to the Metro North station, and soon Lou and Alan came back from the Dunkin' Donuts. It was still raining, although not as hard as it had been before. A few minutes before the scheduled 4:44 PM departure, our train was brought around the loop, now in push mode, and it came to a stop at the platform for loading. We said goodbye to Brad, and then the rest of us boarded the train.
Chapter 2.11: MTA/Metro North Railroad Danbury Branch, Train #6849, Danbury, CT to South Norwalk, CT
We noticed that we had a fresh crew for this trip; hopefully they had been warned by the now off-duty crew about the slippery rail conditions.
As we started south towards South Norwalk, the rain eased up. But we knew the ground and the leaves on the tracks were still wet. Luckily there were no mishaps on this trip. Perhaps the sand applied by this train's previous run had taken hold.
We arrived back in South Norwalk, and after joining the mainline we stayed on the right side of the right-of-way. Our train stationed on Track 5, which is directly across from Track 6 where the train boards when it is Danbury-bound. Before its next run, and in between the passage of mainline Metro North and AMTRAK trains, the diesel train would be repositioned over on Track 6.
Discharging Danbury Branch passengers on Track 5 gives passengers a same-platform transfer to the New York-bound train. However due to the weather, most of the passengers at the station opted to stay inside the waiting room.
Chapter 2.12: MTA/Metro North Railroad New Haven Line, Train #6549, South Norwalk, CT to New York-Grand Central Terminal
Our last Metro North train of the day, and of the Fest, arrived in South Norwalk a few minutes behind schedule. The five of us boarded and found a group of seats together, but only four of us would need them for long. John left us in Stamford, to return to his car and drive home from there. That left Alan, Lou, Michael, and me returning to New York City.
Our train made up some time in its express portion beyond Stamford, and we got into Grand Central Terminal on time. The scheduled Saturday portion of Metro New York RailFest 2003 was over, but the participants still had to get either home or to their hotels.
Chapter 2.13: After the Saturday Fest
At Grand Central Terminal, Alan left us to catch his 7 train and head home for dinner out with his wife. Lou, Michael, and I decided to try our luck at finding dinner on Herald Square, since this is where we would have to change from the subway to the PATH train. There were many ways we could get there, but we decided that since it was raining, the best way was to take the S Shuttle train to Times Square, and then the Broadway subway one stop to 34th Street/Herald Square.
Chapter 2.13.1: MTA/New York City Transit, S train, Grand Central Terminal to Times Square
This trip was quick and painless. The S shuttle trains were running constantly back and forth on two tracks, so there was one waiting for us with plenty of seats when we got to the station. Another shuttle train arrived on the adjacent track and discharged its passengers, and I hoped that it would not go out first. Soon our train's doors closed and we were on our way for our two-minute voyage under 42nd Street.
After detraining at Times Square, we made our way towards the Broadway subway.
Chapter 2.13.2: MTA/New York City Transit, Q train, Times Square to Herald Square
Since we were only going one stop, from one express station to another, we had our choice of trains: the R or W on the local track, or the Q on the express track. After we waited for roughly two minutes, a Q came in first on the express track, followed quickly by a W on the local side.
We boarded the Q and in literally seconds we were at Herald Square. We ascended the stairs to the street, where it was now pouring. We began to search for a place to eat quickly before we headed to New Jersey.
Chapter 2.12.3: Dinner in Manhattan
We found a combination KFC and Nedick's right in Herald Square, and had dinner there. Lou had something from Nedick's, while Michael and I opted for the Colonel's chicken. Like most fast food restaurants in New York City, the food was overpriced and the service was very slow and impersonal. Lou was done with his dinner before we even got to the table.
After we all ate, we were glad to get out of there into the rain and head for the subway entrance that leads to the PATH station.
Chapter 2.13.4: PATH Train, 33rd Street to Pavonia-Newport
Once in the PATH station, we paid our fares and then were faced with a choice. We could take a Journal Square train, get off at Pavonia-Newport, and walk two blocks to our hotel. With that choice, we ran the risk of having to walk outside in the rain. We also could take a Hoboken train, and once in Hoboken walk under cover to the Hudson-Bergen Light Rail (HBLRT), which would bring us to the Harsimus Cove station next to the Doubletree. We chose to gamble with the more direct train to Pavonia-Newport, hoping the rain would let up before we got there.
The headway on each PATH line is roughly 15 minutes at this time of the evening, and it seemed that we must have just missed one train because our wait was quite long. While we got on a train right away, we had to sit for a while before moving. Naturally, the Hoboken train departed before ours.
It was a smooth ride to Pavonia-Newport. When we got there and detrained on the station's island platform this time, we began the long walk through the station's corridor. This station, despite its escalator, platform, and decorative improvements is still not laid out too well. Everyone detraining has to pass through one of two long corridors to well east of the platforms, ride an escalator or an elevator to the surface, and then walk west again to Washington Street if they need to access buses, the mall, and the light rail line, or the hotels and other attractions of Newport.
Before starting our walk to the hotel, I found an NJ TRANSIT ticket machine outside the PATH station. I purchased my HBLRT ticket there for the next morning. Luckily the rain had let up, so we were able to stay dry during our walk to the hotel.
Day One of our Fest was finished for us, and we prepared to rest up for our second and final day.
Continued in next section
---
| | |
| --- | --- |
| Group poses at New Canaan Metro North station (John Corbett photo) | Group arrives back at New Canaan station after a short walk (John Corbett photo) |