Trip Report
---
Washington, DC Minifest
April 17-20, 2002
by
---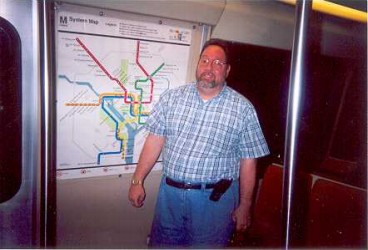 Mike Hammond on a Washington DC METRO train
Introduction
This trip to Washington was born from my wife's idea to go to the Daughters of the American Revolution Library (DAR) and do some family research as one of her relatives was the first officer killed in the Revolutionary War and she is a direct decendent of this person. This would also be the perfect opportunity for me to ride trains as I have never ridden the Metro except for a small piece here and there.
Our original plans were to leave Cleveland on Thursday and return back on Saturday so that she would have a full day to visit the library and do what she needed to do. She got the idea that we could possibly go on Wednesday afternoon and get there in time to start doing stuff on Thursday.
We had already made reservations at Courtyard by Marriott in New Carrollton for Thursday and Friday nights. We had decided to make the reservation for Wednesday as well. Upon contacting the hotel, all they could offer was a room at $128.00/nt for Wednesday when I was paying $69.00/nt for the other two. I then declined and started looking for alternate properties on Wednesday morning (yes, 5 hours before we were supposed to leave!). We found one at Homestead Studio Suites in Fairfax, VA, for $55.95 Wednesday and Thursday and $45.95 on Friday. It was an "instant purchase" reservation, but so what?
Wednesday, April 17, 2002
We departed Cleveland at 2:30 PM and went non stop (no food or restroom breaks) to Fairfax, VA. We arrived there at approximately 9 PM. We checked into the hotel and everything was in order. This room had a small eating area, stove, microwave, and fridge. The only inconvenience is that they only do weekly housekeeping and they do not have a 24-hour front desk. Other than that, it was fine. We could live with that.
We were also only about 5 miles from the Vienna Metro Station. Although Metro did have a bus from the hotel to the station, we chose to drive instead. That way we could have our car available and would not have to wait for a second bus to get us back.
Dinner Wednesday evening was at a place called the Silver Diner. They are a small regional chain of diners in the Virginia area and it was delicious. The prices weren't bad either. Following our dinner it was time to hit the hay as the next day would be a full one.
Thursday, April 18, 2002
We slept until we naturally woke up, and then got ready for the day. We made our way to the Vienna Metro Station where we would take the Orange Line into town, get off at Foggy Bottom, and then go to our destination. We purchased our farecards, since the Visitors Pass is not valid until after 9:30 AM. As a matter of fact, they have the fare machines that sell the passes taped up until then.
We departed Vienna at approximately 9:10 AM and since Lynn and I were together on this movement, this actually may have been considered a "minifest." (We had several of these throughout the trip.) We then rode to Foggy Bottom and got off, looking for the 80 bus. (Lynn had accidently left the Metro maps in the car.)
But I was so proud of her! She had gone to Metro's site and actually planned her own transit movements on her own without any help from me other than me telling her which Metro stop we would leave from. This included bus transfers and fare calculations as well. I told her that she could plan the next fest. She wasn't quite that enthusiastic.
We arrived at Foggy Bottom at approximately 9:30 AM and I decided to get my Visitor's Pass. I had put a $20.00 bill in the machine and it gave it back to me. I then placed the same bill in again and I had accidently pressed the wrong button, giving me 4 Visitor's Passes. I explained my dilemma to the guard at the desk and he actually took 3 of the passes and sold them for me to customers, so that worked out.
Because we did not have our maps handy, we had difficulty finding the 80 bus. We ended up calling Metro and they directed us one block south where we did locate the bus. We also discovered that the Metro Visitor's Pass is not valid on busses. You have to buy a separate $2.00/day pass for that. They did let us ride free, however, which was pretty nice.
We finally arrived at the library and after making sure that Lynn was okay, I departed for my adventures. By this time, it was almost 11:00, and I really needed to get going as I had to be back to get Lynn at 4 as that is when the library closes. I got on the 80 bus again, intending on going to Ft. Totten and picking up the Red Line and riding that in its entirety. On these busses they are satellite positioned, so the LED display tells you automatically where the next stop would be. I noticed that it would be "I" street and I could connect there with the Orange Line. I asked the driver how far a walk it would be, and he indicated that it would only be about 3 blocks.
My intention was to ride up to New Carrollton and reverse back to where I started. This Station was Farragut West. I also had to have something to eat and there happened to be a "slop wagon" outside the station, so I filled my belly with a polish sausage sandwich.
My one pet peeve about Washington Metro is that all of the stations are very dimly lit. Once you go down inside the tunnel, it does take a few minutes for you to become acclamated to the darkness and even then you're still not used to it--at least in my case. I finally paid my fare and then went downstairs. After arriving I had realized that I was on the Vienna platform. I did not want to do that, so I went upstairs and back down to the other side for New Carrollton.
Well a train came and it was actually a Blue Line to Addison Road. I got on that instead and rode all the way out to Addison Road. It was about Noon before we got out there. I then stayed on the same train and rode back to Franconia/Springfield. We then reversed directions and I got off at King Street to transfer to the Yellow Line to Huntington. While I was waiting in the station at about 1:25 PM I noticed a southbound Amtrak consist at the station adjacent to Metro with sleepers, etc on it. I am assuming that it was one of the Silver Service trains. I also noticed a Virginia Railway Express (VRE) consist with the new bi-level cars, similiar to Tri-Rail in Florida. I then went down to Huntington and then returned back in the reverse direction to Mt. Vernon Square/7th Street/Convention Center. I then transferred to the Green Line which I took to the Greenbelt station. I then reversed and took the same train back to Branch Avenue, the subject of the previous "MetroFest" in January of 2001 when that station opened. I then returned northward and transfered at L'Enfant Plaza back to the Orange Line, which took me back to Farragut West. I then walked the few blocks back to pick up Lynn as it was now 4:00 PM and her library was closing.
One thing that I hadn't done: In all my riding on the system, I never exited a turnstyle anywhere, and therefore when I got back to Farragut West, upon putting my farecard in the exit turnstyle, it informed me to see a manager. He then scanned my card and told me that I didn't go anywhere. The card actually thought that I stayed in the station all day. So, next time I will remember to at least leave the system once before I make my final run. I wondered after thinking about that if I could have gotten by with just a smaller farecard.
Lynn was very surprized at the fact of how crowded the rush hour trains were. I didn't think they were bad at all compared to New York City.
Upon arriving back at our car in Vienna we noticed this "green stuff" that was kind of coating our car, almost like a film. We looked for a car wash and found one to take the stuff off. We later found out the this area of the country is known for its thick pollen during the spring and it coats just about everything.
Vickie and Denny and Family
My Aunt Vickie and Uncle Denny live in Woodbridge, about 20 minutes from where we were staying and we had made plans to have dinner with them on Thursday evening. I had called her and she was interested in a Japanese steak house called Sakura's. (The web site for this steak house is not the same location as the one we ate at but the menu is the same.) One of the highlights of this was having the waiter throw shrimp in the direction of our mouths to see if we could catch them and eat them.
It was good to see my Aunt and Uncle again as well as my cousin and her boyfriend. We haven't seen Vickie since my stepfather's funeral last October and I haven't seen Denny in about 13 years--way too long. After you spend 5 minutes with them, you are made to feel right at home.
After a very enjoyable dinner we reluctantly left to go back to our hotel as the next day would be another full day in Washington.
Friday, April 19, 2002
We again woke naturally and repeated our directions just like the previous day. We took the Orange Line back to Farragut West and then walked back to the Library where Lynn was going to do a second day's worth of research. This time we were much earlier and were at the library by 9:30. Again after making sure that Lynn was okay I then departed for my day's adventures.
My goal for today was to go to Baltimore, and ride the subway which I had not gotten to ride in January of 2001 (while in the area for the "MetroFest"), so I wanted to do that. This would then completely finish up my Baltimore transit as I had ridden the light rail previously.
I walked out to 18th Street and got on the 80 bus again in the direction of Ft. Totten, except this time I would get off at Union Station and catch Maryland Rail Corp. (MARC) to Baltimore's Penn Station. I got off the 80 bus about a block from Union Station. The bus makes a left turn at the Post Office and you then walk one block to the station - very easy.
Checking the schedules for MARC's Penn Line northbound to Baltimore, I learned I had just missed the 10:20 AM. The next train was in one hour. I had an hour downtime in Union Station so what's a railfan do with downtime? Eat! This would probably be my only opportunity to get something probably until dinner tonight. I then ate at Mama Iiadro's pizza downstairs in the food court.
Afterwards I went upstairs to Gate A, from where the MARC train was scheduled to depart. Instead of staying inside I went out onto the platform to watch the train action. I got to see the 11:00 Metroliner depart and also saw an inbound MARC train (mine, delayed by about 15 minutes). I also noticed on the platform in front of me a MARC bi level train so I went further up on the platorm to investigate as I had not seen those new cars yet--wrong thing for me to do. In almost an instant, 2 "official" looking people approached me on the platform and asked me what I was doing. I had explained that I was just looking at the new train, and was immediately told to go back to the end of the platform where all the other people were waiting. I complied. I guess that Washington DC is extra sensitive these days about who goes where in light of September 11th. Who can blame them?
Finally it was time to board the MARC train. I went to the front of the platform to the first car where everyone was disembarking from their trip southbound from Baltimore. A bunch of us were in line and this car was the last car to detrain. The other cars behind this one were already boarding as people standing in those lines had boarded. Then the conductor decided to close the door on this forward car. So, we ended up going to the cars that were previously boarded. Surprizingly this train was only lightly patronized and there were plenty of seats to be found in the rear car. I found myself a good window seat and settled in for the ride.
We departed Washington, DC nine minutes in the hole because of the delay inbound. It did not get any better going to Baltimore. We had constant signal problems where we had to wait for other trains, etc. to go ahead. I also got to see an Acela Express train pass to our left on the express track as my train was a local train making all stops. I finally arrived at Penn Station at 12:40 PM, about 23 minutes off from the scheduled 12:17 PM arrival.
I went into the station and located the light rail which I had ridden on my previous trip but had to take it this time two stops to Cultural Center. The one complaint about Baltimore is that when they built the light rail they did not connect it to their Metro system in any way. You have to walk about 2-3 blocks from the light rail station to connect with Baltimore's Metro system. Also Baltimore has only one subway line which travels to Johns Hopkins in one direction and Owings Mills in the other.
I caught the train at 1:25 PM from the State/Center stop and rode to Owings Mills, and then all the way back to Johns Hopkins on the return and back to State/Center. Keep in mind that I needed to be back in Washington by 4 PM to get Lynn. I ended up getting back to Penn Station and just missed the 2:40 PM departure southbound. I now had to wait until 3:25 PM which would put me at New Carrollton at 3:56 PM or Union Station at 4:19 PM. In either case, I was not going to make it back by 4 PM. I had also warned Lynn earlier in the day that if I am late to wait for me.
Well the 3:25 train came and I was on my way south. The good thing was that this was an express train, so the first stop would be New Carrollton (after the brief pickup stop at BWI Rail station). Lynn did call me and I explained what was going on. Also because of looming thunderstorms in DC, she was going to be soaked waiting for me as I would not get to her until between 4:30 and 5 PM. I then had an idea: She should take the 80 bus to Ft. Totten and I would meet her there. She agreed and then I told her that I would see her there.
This would give me sufficient time to get off at New Carrollton and ride the portion of the Orange Line that I did not get a chance to finish, so I was able to ride that to Metro Center and then change to the Red Line towards Glenmont for Ft. Totten. I got to Ft. Totten a little past 5:00 and I was afraid that Lynn would be there waiting for me, but she wasn't. I then waited a few minutes and her bus came in. She stated that her ride was an adventure, to say the least.
I then explained to her that I needed to ride the Red Line in it's entirety, and she actually agreed! She had her book with her so she would read. We then rode to Silver Springs as we had boarded a short-turn train, got off there and then caught the next Glenmont train.
When we got to Glenmont, Lynn had suggested that I call Vickie and see what is going on. I had called Vickie from the Glenmont platform while waiting for the departure of the next train and had told her where we were and what we were doing. We had asked her if she wanted some company again that evening for dinner, as we really had nothing to do and thought that we would try again for dinner.
We then continued the ride on the Red line, this time to Shady Grove. We then returned on the Red Line from Shady Grove to Metro Center and transferred to an Orange Line train back to Vienna and the final ride of our Metro experience.
After arriving in Vienna, we then drove to Woodbridge to meet with Vickie and Denny for dinner. When I had called, I told her that I wanted to try this new place called the Charcoal Grill. This is a Brazilian steakhouse where it is all-you-can-eat served to you on a skewer. They have a salad bar, plus several different kinds of meat-lamb, fried turkey, roast beef, ribs, steak, and chicken and pork. This is also a fun atmosphere. After a hearty dinner to say the least, we went back to their house and visited for awhile before saying our farewells for this trip and heading back to the hotel for our final night in Virginia before heading home on Saturday.
Saturday, April 20, 2002
We arose on Saturday and packed up for the trip home. The hotel's front desk hours are limited and on Saturday they did not open until 9 AM. After checking out, we began our homeward trek. After the necessary comfort stops, we arrived home just past 3 PM. Another fun-filled trip with plenty of time on the rails was complete!