Auto Train Travel Tips
by Don Weinstein
Easy Print Version
Last update April 16th, 2015
---
Introduction

Amtrak's Auto Train is a one-of-a-kind service in the U.S., enabling travelers to take along their car, small van, or motorcycle when they travel along the east coast. Passengers ride in either wide coach seats or private first-class sleeping compartments while their vehicles are safely carried in enclosed auto carriers. Originally a private venture, the Auto Train is now operated by Amtrak, the Federally chartered corporation that operates interstate passenger trains in the United States.
The author of these "Auto Train Hints" is not associated with Amtrak or the Auto Train, other than as an occasional passenger. The material contained herein is not an official publication of the National Railroad Passenger Corporation (Amtrak). It is hoped that these hints will be of help to fellow travelers who are considering a trip on the Auto Train.
The Auto Train operates every day of the year non-stop between Lorton, Virginia and Sanford, Florida. THIS IS ITS ONLY ROUTE. All passengers must have a car, van or motorcycle with them. Auto Train can also handle trailers, travel trailers, boat trailers with boats, and trailers that handle jet skis and motorcycles, with conditions. Contact Amtrak for details at the special Auto Train toll free number 1-877-SKIP-I-95 (1-877-754-7495) or the normal Amtrak number, 1-800-USA-RAIL (1-800-872-7245).
Lorton is about a half-hour drive south of Washington, DC, just off I-95. Sanford is about a half-hour drive north of Orlando, a short distance from I-4. Both the Lorton and the Sanford terminals are used exclusively by the Auto Train.
The Auto Train is arguably Amtrak's finest train. Since it is a great revenue generator, Amtrak's management treats the Auto Train with "kid gloves", using some of their finest train attendants and best-maintained cars. (The retiree snow birds would complain loud and clear about bad service!) The Auto Train is very popular and is often crowded, particularly during the months when the snow birds travel. It's also used by quite a few families traveling to Disney World (which is a 40 minute drive from Sanford). Many people from Pennsylvania, New York and the New England states also use the Auto Train as a way of knocking 900 miles off their time on the Interstates.
If traveling during peak periods, it's best to book several months ahead. Sleeping car reservations can be difficult to get on short notice. Keep trying though, right up to when you arrive at your departure terminal, since there are typically last minute cancellations and the occasional "no-show".
---
Stations and Vehicles
Traveling to the Station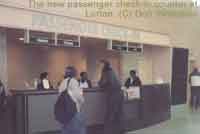 The Auto Train is scheduled to depart each afternoon at 4:00pm, although it may actually leave a bit earlier if boarding is finished and the engineer receives a green light to proceed. The Auto Train is scheduled to arrive at its destination at 9:00am the next morning, making this a 17 hour trip. If the track is relatively clear of freight traffic, the trip may actually be an hour or two shorter. You are asked to arrive at the train by 2:00 and MUST check in no later than 2:30 (2:00 for motorcycles and for people paying for priority unloading). Amtrak is not kidding about this and enforces it strictly! For the train to pull out on time they must stop loading vehicles by this time. I suggest arriving at the station between 12:30 and 1:30pm.
Leave a comfortable cushion of time if you're driving some distance to get to the station. Expect heavy traffic, including on weekends, on I-95 through the DC area and on I-4 through the Orlando area. It's a good idea to have an alternate route in mind in the event of a major highway traffic jam, such as using US 1 through Northern Virginia, which more or less parallels I-95, or Routes 17/92 north of Orlando, which basically runs alongside I-4. Another alternate driving route around the Orlando traffic is the use of route 417, a toll road that runs to the east of Orlando and ends in Sanford (expect to pay over $5 in tolls between Sanford and the DisneyWorld area). If using Route 417, look for signs directing you through downtown Sanford, then west on Route 46 to the Sanford terminal.

In the past few years there has been a great deal of retail construction near the Lorton and Sanford terminals, making it easier to purchase lunch, find a hotel for an overnight stay, pick up a soda, and buy gas. In Sanford, the stretch of Route 46 between I-4 and the Auto Train terminal is now filled with restaurants, small hotels, and drugstores.

Just past the Lorton terminal, off Lorton Road, is a new strip mall ("Lorton Station") with a couple of restaurants and a full-service grocery store. Also, a few short exits south of Lorton on I-95 is the massive Potomac Mills outlet mall (one of the largest in the country) and a short drive south of Sanford is the interesting and attractive college town of Winter Park, which has numerous restaurants in its downtown shopping area, plus the Charles Hosmer Morse Museum, which contains one of the finest collections of Tiffany Glass in the country. The Seminole Towne Center shopping mall, which includes a variety of department stores plus a food court, is just off I-4 at the exit for the Sanford station. Another option is the Altamonte Mall located about halfway between Orlando and Sanford at I-4 exit 92. All are good places to spend some time and have lunch if you arrive in the station area too early (Amtrak begins to check in cars at 11:30, but it seems pointless to arrive that early). Signs on I-95 and I-4 note the exit for the Auto Train, making finding the station very easy. The Lorton station is literally alongside I-95 at exit 163. The Sanford station is about three miles east from I-4 exit 101C, just off Route 46. Click the following links to see maps and driving directions in separate browser windows:
Arriving at the Station

When you arrive at either Lorton or Sanford and turn up the entrance driveway, you will encounter an attendant in a small check-in booth. There may be a brief back-up of cars at this point but don't worry; the line typically moves rapidly. With the advent of eTicketing the old tickets printed on Amtrak ticket stock are long gone. One simply prints out the reservation confirmation that you receive via email and brings that along just in case. But normally all one needs to do is provide your name to the person in the booth. They'll look up your name on a list, fill out a bit of information on a small booklet with information about the Auto Train, and they'll apply a magnetic placard with a number to the driver's door. That number will be written on the booklet to serve as a reminder of your car's number when you arrive the next morning.
The attendant will then instruct you to drive forward to the station building. When you pull up, leave your car, take your carry-on luggage and any valuables. There are small luggage carts that will help you to move your carry-on luggage into the terminal building. Leave your key in the ignition, do not apply your parking brake, and, if requested, leave your drivers-side window open. Be absolutely sure to turn off any auto alarms in your car-you don't want the alarm to go off during the trip and drain your battery!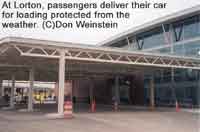 You will not be able to get to your auto until it is unloaded 855 miles away, so be sure to take from your car any items, including medications, that you may need while on-board. The placard placed on your car has a claim number by which your auto will be identified when it is unloaded at your destination. Luggage and any loose change remaining in your car should be locked in the trunk. Amtrak's loaders/unloaders are hard-working and honest, but there's no point in tempting them by leaving out cash or other valuables.
Amtrak is careful of the way they handle the autos. You'll see a variety of cars being loaded, ranging from luxury models to family sedans. There will be an Amtrak contractor who will quickly make a video of the outside of your car to document its condition when you arrive at the terminal.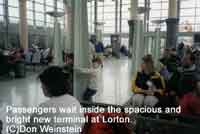 After delivering your car, you will walk to the nearby waiting room and check in at the counter. You'll need to present either your paper tickets or your E-ticket/barcoded confirmation. All adults in your party will be asked to show picture id's, such as drivers licenses. You will be asked which dinner seating you prefer and will be given a coupon for dinner. There are usually two or three choices of seatings, typically 5:00, 7:00, and 9:00. If the train isn't crowded, there may be fewer seatings (on occasion during very off peak times, I've seen where there was only one seating for dinner). Families tend towards the 5:00 seating. When there are three dinner seatings, the middle one (around 7:00pm) is usually the most popular. For the best selection of dinner seatings, check in at the station by 1:00pm.

The Lorton terminal opened in 2000, and provides a large, modern waiting area with high glass walls. There's a small gift shop and snack bar with some tables to eat and relax at away from the general activity of the main waiting room. The Lorton gift shop carries a small variety of Auto Train souvenirs, such as tee-shirts, caps, and postcards. There is also a small play area for young children, south of the waiting room, near the greeter's booth.
The Sanford Auto Train terminal opened in the fall of 2010, replacing structures built in 1971 for the original Auto-Train Corporation. Somewhat similar to the Lorton terminal, the 10,000 square foot facility is airy and spacious, with high windows letting in the Florida sunshine. There is seating for 600 passengers, a ticket counter, a small cafe and gift counter, and a play area for the children at the opposite end of the building from the main entrance.


Outside the waiting room are the tracks where you will find the cars of the train set out for boarding. In Lorton there is one long track; in Sanford there are two tracks on which the passenger cars are located. Off to the side and rear are a number of tracks where Amtrak employees load your car onto the auto carriers. This is a fun operation to watch between around 2:30p.m., when you can begin boarding the train to find your seat or compartment, and 3:00 p.m. when all passengers are required to be on board and the train doors are closed. If you leave the train between these times, don't wander far, and listen for announcements over the station's PA system; it's always possible the train may leave a bit ahead of schedule.
Vehicle Limitations
Automobiles must be 65" or shorter in height. Vans must be 85" or less in height. If taking a van, motorcycle, trailer, travel trailer, boat trailer with boat, or jet ski trailer be sure to tell Amtrak when you make your reservation.
All vehicles must have a ground clearance of at least four inches (this should not be a problem unless you have an exotic or custom-built car).
The Auto Train cannot carry vehicles with temporary luggage or bike racks on top, but empty factory-installed luggage racks, provided they meet the overall height restrictions, are not a problem.
Special racks are used to secure motorcycles. The motorcycles are held in place with wheel locks, side straps, stabilizing bars and an optional padded clamp for the seat. Motorcycles with standard and factory-approved farings and saddlebags are carried on the Auto Train, but custom motorcycles, motorcycles with sidecars and chopped motorcycles cannot be accommodated. You will be asked to help position and secure your motorcycle on the flatbed carrier before the train departs, and to assist in taking your bike off the carrier when you arrive at your destination. You can expect a number of motorcycles around the time of the Daytona rally.
Upon Arrival at Your Destination Terminal

When you arrive in Sanford you'll have to wait on the train for a few minutes while it is divided into segments and positioned alongside the platform. Track improvements at Lorton make this a much quicker process. You then de-train, walk to the waiting room, and wait for your car to be unloaded and driven up. If the train has been crowded it can take well over an hour until the last car is unloaded. Passengers who choose to pay an extra $50 fee when they make their Auto Train reservations and arrive by 2:30pm will have their vehicles among the first 20 that are unloaded. On average, expect to wait about 45 minutes before you receive your car. The process is random and independent of the order in which the cars were originally loaded. As soon as your car's number is called (remember the numbered placard placed on your car?) you can climb in and drive away.
I-95 is the easiest way to drive to points north and south of DC; I-4 will take you directly to the Orlando/Walt Disney World area. I-4 also connects with the Florida Turnpike (a toll road using Florida's own "Sun Pass", rather than the EZ-Pass toll collection system commonly used in the Northeast and mid-Atlantic states) in the south Orlando area for an easy drive to Palm Beach County and Miami. If you go east from the Sanford station on Route 46 you'll connect with I-95, which will take you along Florida's east coast. Auto Train staff at Lorton and at Sanford will be happy to provide you with directions to nearby highways and destinations.
---
On Board the Train
Boarding the Train

The train is usually ready for boarding by 2:30 p.m. If you have coach tickets you'll be seated in one of several modern Superliner coach cars. The seats are wide, have foot rests, and lean back (about equivalent to flying first class). Families with kids are usually seated in the same car, which works out best for all passengers: the kids play together and the older travelers are not bothered by the noise.
The sleeper portion of the Auto Train uses Superliner II sleepers-arguably the best sleeping cars in the world. They offer a choice of Roomettes for up to two passengers, Family Bedrooms for two adults and up to two small children, Bedrooms for two adults with a private washbasin, toilet and shower, and Accessible Bedrooms for a mobility-impaired passenger and a companion. Be aware that there are only a handful of Family Bedrooms and Accessible Bedrooms on each trip of the Auto Train. If you want one, it's best to reserve several months in advance. For more information on Superliner accommodations see the Amtrak Tips on this web site.
Sleeping car passengers will have been assigned a car and room number when they made their reservations. For instance, their ticket may read "Car 5241, Room B". The first two numbers (in this case "52") indicate the ticket is for the northbound Auto Train, which Amtrak has designated as Train 52. Similarly, Amtrak has designated the southbound Auto Train as Train 53. The third and fourth digits of the car number (in this case "41"), designate which sleeping car you'll be in. So, when you're ready to board the train, look for the sleeping car numbered "5241". There are signs along the platform, plus electronic signs on the sides of the coach and sleeping cars right beside the door, indicating the car number. Your sleeping car attendant will direct you to the correct compartment, some of which are on the lower level of the car, and some on the upper level.
Food and Entertainment

All Auto Train passengers receive meals as part of their ticket price. Dinner will consist of a salad, rolls, a choice from several entrees, vegetables and potatoes, and a choice of dessert. The entrees typically include a beef, chicken, fish, and vegetarian selection. The dessert is usually a choice of pie (a la mode if you like!), cake or cheesecake and ice cream with syrup. You will be offered iced tea, coffee (regular or decaf), hot tea or water to drink. Soft drinks, as well as red and white wine are available for purchase during your meal.
All passengers are served by waiters/waitresses at four-person booths that have excellent views of the passing countryside. Sleeping car passengers, on request, can be served in their compartment, particularly if they have mobility problems. Coach passengers with mobility problems can also request that meals be brought to them at their seats.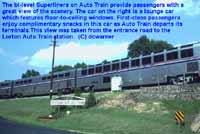 The café area in the lounge car sells drinks-both soft and alcoholic-until late in the evening. When you board, there will be complimentary fruit (such as apples and bananas) and bowls of a salty snack mix in the lounge car. After dinner, there will be complimentary cookies. In the sleeping cars the train attendants keep an urn of coffee warmed up well into the night, and at your request will bring coffee, tea and juice to your room in the morning.
Smoking is no longer permitted anywhere on the Auto Train. Smokers may, however, stand on the station platform to smoke while the Auto Train stops during the night for servicing in Florence, SC.
You may use your personal cellphone while on the Auto Train, but be aware that reception may be sporadic while passing through the more rural areas. If you are in a coach car or other common area, please be respectful of your fellow passengers while making calls.
The Auto Train now offers free wi-fi on the Auto Train as well as inside the Lorton and Sanford terminals. Amtrak restricts you from using data-intensive applications, such as watching streaming videos, to ensure there is sufficient bandwidth for your fellow passengers.
The Auto Train is extremely long -- Amtrak claims it's the longest passenger train in the world! The exact length and composition of the train depends in part upon the anticipated number of passengers expected to ride the Auto Train at that time of year. The train typically includes two Superliner observation/lounge cars where all passengers so inclined can look out over the darkened countryside as they speed at 69 mph [110 km/h] over the 855 mile route. In his (or her) welcoming announcement when you board the train, the Chief of On-Board Services will inform you of the number of passengers traveling that day and the number of autos being carried on the train.
Most of the lounge cars were specially designed for the Auto Train and feature lounge and booth seating and an upper level attendant service area where you can purchase snacks, and beverages. Be sure to visit the lounge car often throughout the trip-they are the focus of activity on the Auto Train.
After it becomes dark outside the lounge cars remain active with people talking and enjoying the trip. A PG-rated movie is shown on video monitors in the lounge cars two or three times during the evening. The movie will be of recent vintage (about what you would see on a cable "Pay Per View" channel), probably a comedy or light drama. By around 11:00 p.m. the sleeping car passengers will have retired to their compartments and the snack counter will have closed. Most coach passengers will have gone back to their seats and will be trying to get some sleep.
All bedding is supplied for sleeping car passengers. Coach passengers may wish to bring their own pillow and blanket. Parents typically bring along pajamas for children. A few passengers in coach choose to stay up all night in one of the lounge car, playing cards and socializing.
The Auto Train attendants start to fade away into their crew dormitory car around 10pm for a few hours of sleep. (In case you're curious, they all live on the northern end of the Auto Train route, rather than in Florida, and work a round-trip, followed by several days at home. They are divided into five teams, each managed by a Chief). If you need emergency assistance during the night you can always find senior crew members, including a train attendant, the Chief of On-Board services, or one of the two conductors, available somewhere on the train (often doing paperwork at a table in one of the lounge or dining cars.)
The only stop during the night is in Florence, South Carolina, where the two engines are re-fueled, fresh drinking water is pumped into the train, and the engineer, assistant engineer, and conductors change. In the still of the night the work is done very quietly, to avoid waking sleeping passengers.
Expect the train to slow down periodically to move through freight yards, or past freight trains waiting at a siding. Travel through Jacksonville is particularly slow due to curving track. Don't be concerned though--these are all figured into the Auto Train's schedule.
Around 7:00 the next morning a PA announcement by the Chief of On-Board Services will awaken any still-sleeping passengers, informing them of the estimated arrival time and the weather at their destination, and inviting everyone to one of the dining cars for breakfast. A light continental breakfast is served in the dining cars beginning around 6:00am, consisting of juice, coffee or tea, a selection of fresh fruit, cereal, bagels and muffins with cream cheese, jelly and butter. Some of these items will also be available in the lounge car for those who choose to skip the sit-down breakfast in the dining car.
In the event that the Auto Train is delayed en route, the crew will keep you fed and entertained until you arrive; scheduling extra showings of the movie, putting out snacks, and if the train is particularly behind schedule, providing lunch.
Auto Train operates over railroad tracks owned by CSX Transportation. The ability of the Auto Train to arrive at its destination terminal on time is largely dependent upon CSX's ability to keep traffic flowing along the eastern seaboard. CSX has had problems with this in recent years, resulting in the Auto Train often being late. It's best to just relax and consider the extra time on board a no-cost bonus! If the track has been clear and there have been no delays, you might arrive up to two hours early. If the train is running very ahead of schedule, expect the train to slow down, since it can't pull into Sanford or Lorton until the terminal crew has arrived for work. Since CSX runs fewer freight trains on weekends, trips on Saturdays and Sundays are the most likely to arrive at their destination early.
Traveling with Children
The author of these hints has repeatedly traveled on the Auto Train with his wife and young daughter. The experience has been quite good. Children under 2 ride for free; children ages 2-15 typically receive a discount fare. On one trip we reserved a Bedroom and one parent shared the oversized bottom berth with our daughter while the other parent slept in the upper berth. The next year we reserved a Family Bedroom, providing each of us our own bed. Of the two, we preferred the Family Bedroom.
There are no booster seats in the dining car, meaning one parent had to keep a hand on our daughter while in the booth. The Auto Train offers a special children's dinner plate consisting of chicken fingers, macaroni, and mixed vegetables, called "Choo Choo Chewies". Children may also choose a selection from the regular adult menu, if they prefer, and adults can order the Choo Choo Chewies if they like.
Our daughter has always enjoyed the freedom of the train, watching parts of the movie in the lounge car and on the whole sleeps pretty well on the train. The year we traveled during Thanksgiving week there were many other children on the Auto Train off to visit grandparents and Disney World. The year we traveled over Christmas there were special screenings of family videos in the lounge car. We typically take along story tapes and a personal cassette player with headphones for our daughter's use while on the train. On one trip we also took along a personal DVD player for use in our sleeping compartment.
---
Costs and Other Things
Cost Matters
The Auto Train is not inexpensive, although it can be cost-effective when compared with the price of flying and renting a car at your destination. Coach is a pretty good deal; a sleeping compartment, while quite comfortable, runs the price up considerably. Your fare will include a charge for your automobile, a charge for you and any other members of your party, and if you've reserved a compartment, a single charge for that.
Auto Train fares are complex and highly variable, based on your travel date and direction, and when you purchase your ticket. In general, purchase your ticket early for the least expensive fare. Visit Amtrak's website and you will be able to obtain exact fares for any Auto Train trip you are planning. To give you a rough idea of typical fares, during the winter of 2015, Amtrak was quoting a round-trip price in coach of about $1024 for two adults with one child and one standard-size car. Adding a round-trip Family Bedroom raised the round-trip fare to about $1,827.
If you are willing to pay an extra $50 when you make your reservation, Amtrak guarantees that your vehicle will be one of the first to be unloaded at your destination terminal. This perk is limited to the first 25 people to reserve it for that day.And it can only be booked by phone at 1-877-SKIP-I-95 or with a ticket agent at a station; it cannot be booked online. You can still book your reservation online; just not the 'Priority Vehicle Offloading' addon.
If you think you may become a regular Amtrak passenger, it's worth your while to enroll in Amtrak's Guest Rewards program, which operates similar to the airline frequent flyer programs, awarding you free trips and other incentives based on your purchases of Amtrak tickets.
The Auto Train offers a 10% discount on rail fare to members of the National Association of Railroad Passengers and to members of any American Automobile Association (AAA) auto club. Be aware that Amtrak's normal senior citizen discounts do not apply to travel on the Auto Train. Other discount fares may occasionally be available, particularly when traveling against the predominant flow of east coast traffic (for instance, traveling north in January may result in a less expensive fare). Check Amtrak's website and look under the heading "Deals" for Weekly Specials to see if any discounts are available for the period when you plan to travel
Amtrak Vacations operated by a private travel agency on Amtrak's behalf, offers complete packages that include Amtrak travel, hotels, rental cars, planes, and travel insurance. You can call Amtrak Vacations at 1-800-AMTRAK2 (1-800-268-7252) or visit them at the Amtrak Vacations Web Site. Their travel planner can be ordered on line by clicking here.
Tipping is not required, but is a nice touch. At dinner it is suggested to leave $5; at breakfast $2 should be sufficient. Your car attendant, particularly in first class, should also receive a tip. Around $10-$20 is fine for sleeper car passengers who receive good service.
Reservations
Reservations for regular coach, first class, and special fares can be made by calling Amtrak at 1-877-SKIP-I95 (special Auto Train number) or 1-800-USA-RAIL (872-7245) (general Amtrak reservations), or by talking to a travel agent who understands train travel. Ask to receive the special Auto Train brochure. For a vacation package call 1-800-268-7252.
Other Things You Should Know

No pets are permitted on board the Auto Train, with the sole exception of service dogs that are clearly assisting a passenger with special needs. This rule is strictly enforced. Also, do not leave a pet in your car-- the auto carriers are typically frigid in the winter and steamy hot in the summer.
---
Miscellaneous
Railfan Information

Auto Train operations can be easily viewed by railfans at the Lorton and Sanford terminals. Railfans arriving by public transit can use the Fairfax Connector bus to visit the Lorton terminal, and the Lynx bus to to visit the Sanford terminal. Arrive around 1:00pm, when things start to get busy, and plan to stay until around 4:00, by which time the Auto Train should be on its way. There's plentiful visitor parking at Lorton (bear to the left of the greeters booth when entering the station area). Visitor parking is more limited at Sanford. Railfans may also wish to watch the morning arrival of the Auto Train. If you choose to do so, be sure to check the Amtrak website for the estimated time of arrival.

You can expect to see a variety of Amtrak equipment, including vintage switcher engines, auto carriers, all varieties of Superliner cars--mostly Superliner-IIs--and, since their return to service thanks to the Stimulus Program, P40 diesel locomotives. All the equipment is easy to photograph from public areas. Both stations have rest rooms, snack counters, and outside benches. Amtrak's Auto Train crews tend to be friendly towards well-behaved railfans; they take a great pride in their train and enjoy seeing others take an interest in it. With the heightened nationwide concern about security you will be challenged if you stray into non-public areas. If you're asked to leave an area, immediately do so.


The Auto Train operates on CSX tracks along its entire trip. If you wish to see the Auto Train en route (remembering that much of the trip, particularly during the winter months, is in darkness), it follows the general route of Lorton, Fredericksburg, Richmond, Rocky Mount, Fayetteville, Florence, Charleston, Savannah, Jacksonville, Deland, and Sanford. The following frequencies should prove helpful to hear the Auto Train and other CSX operations along its route: 161.550 (particularly useful at Sanford), 161.100 (heavily used at Lorton), 160.590, 160.410, 161.520, and 160.320 MHz. Amtrak and host railroad CSX generally refer to the northbound Auto Train as train P052, and the southbound as train P053, the P referring to Passenger. Please note that there is a zero following the "P" and not the letter "O". You may hear a crew saying P Oh 52 or 53, as that's easier to say than zero. Sometimes they will abbreviate things to just the train numbers, 52 or 53. Other times they'll even add the date of the train's depature, for example either P052-0205 or P052-05, which would indicate the train that departed Sanford on February the 5th.
If railfanning at Lorton expect to see a number of trains operating along the adjacent ex-RF&P tracks, including CSX freights, many Amtrak trains, and, on weekdays, Virginia Railway Express Fredericksburg line commuter trains. At Sanford, you might see the SunRail commuter train on weekdays (their station is on the other side of the Route 46 overpass), and the occasional Amtrak or freight train. Amtrak doesn't distribute its system timetables on the Auto Train, so if you want to identify passing passenger trains, be sure to take along your own copy.
Your Comments
Comments about these tips or your trip are always welcome and may be sent directly to . He tries to respond to questions and comments within a day of receipt. Remember that he has no official relationship with Amtrak or the Auto Train other than as an occasional passenger. The Auto Train material on this website was totally revised and updated in 2015. If you see something that should be changed or added, please let us know!
The contributions of On-Track-On-Line members Alan Burden and Kevin Korell were vital in updating this web material.
Individuals wishing to use all or part of this document on their own websites or in other media, including print publications, must first obtain permission from the author. See also the copyright statement on this page.
HAVE A PLEASANT TRIP ABOARD THE AUTO TRAIN!
---
Auto Train Travel Tips edited by . from personal experience.
---
Amtrak does not endorse this page and other associated On Track On Line pages, nor does it sponsor this or any other On Track On Line page. Amtrak sources were used to compile or confirm some of the information here, but this does not represent official Amtrak information, nor is this information endorsed by Amtrak.